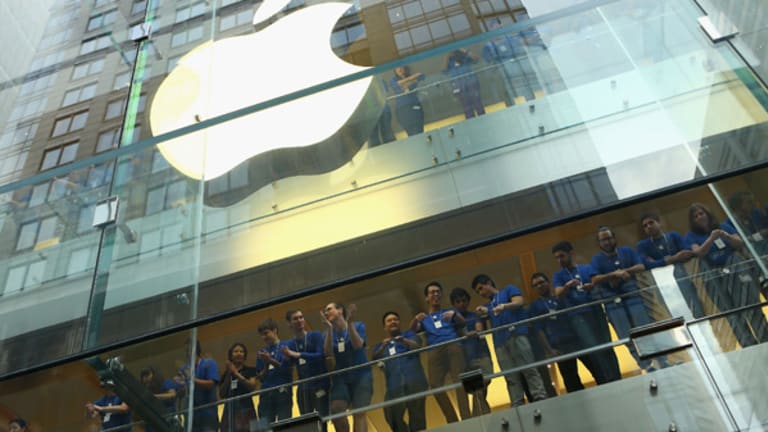 10 Ways Apple Is 'Overpriced'
While market pundits argue over Apple's stock price, there's one area in which Apple is clearly expensive: its accessories lineup.
NEW YORK (
) -- With some 5 million iPhone 5s sold in a matter of days, you don't need an MBA to understand the Apple success story, even though the 5 million was a bit
lower than analysts' expectations, and has renewed debate about whether Apple shares around $700 are overpriced.
When it comes to making the "Apple is overpriced" case, though, there is only one area where there is little argument: accessories.
The iPhone 5 launch and the introduction of the Lightning connector is a prime example: it requires a $29 adapter to be compatible with older accessories like music docking stations. Apple said they didn't make the move lightly knowing the inconvenience it would cause consumers, but pricing the adapter at $29 certainly doesn't suggest much sympathy for the consumer where it counts, even if we don't yet know how much it costs Apple to make a Lightning adaptor, and at least
one report claims it is more complicated than the surface piece of plastic suggests.
Either way, Lightning strikes us as one more in a long line of accessories with which Apple shows its power over the consumer. That is, if the consumer goes straight to the Apple Store and doesn't price shop.
Purchasing a new iPhone, iPad or Mac, the devices are top-dollar and command their premium price -- even if Apple is making a
hefty profit on the iPhone 5 given its recently revealed manufacturing cost -- but adding on the accessories at Apple Store prices makes less sense.
Once you read on, you might find yourself asking,
Why does every cord and piece of plastic I purchase at the Apple Store seem to cost at least $25?
(And that's the cheap stuff!)
TheStreet
polled consumer experts to help consumers learn how to save money on "overpriced" Apple.
1. Screen protector
What's the point of Apple's fancy Retina display if the midday sun, fingerprint smudges, and general wear and tear make it impossible to be impressed by the definition of the image?
That's where the
screen protector comes in -- $24.95 for a measly piece of plastic somewhere between saran wrap and a sticker. Worth it? Yes, considering how this will help prevent future repair costs and improve screen visibility, but there is a way to save.
"Shop on eBay for Apple product screen protectors -- you will pay a fraction of the cost -- up to 50% off," says consumer savings expert
Andrea Woroch.
2. iPhone case
The best way to save on cases? Choose a less expensive brand -- a case is a case! For example, this Tribeca Artisan Wood case sells for $49.95 on Apple.com, but there are plenty of cases for around $30 that suffice - not even to mention the ones sold in discount stores and through Amazon -- and on the streets of major cities -- for $10 or less.
3. iPad case
If you're going to shell out $499 or more on a tablet, it's wise to invest $49 for an iPad case, like this one from Apple.com. So if you drop the device or spill coffee on it, at least the case helps protect it from damage.
This doesn't mean you need to spend full price on a case, though. Consider
this one from MacMall.com, which sells for $33.99.
Do you really need the limited edition diamond-encrusted Damien Hirst-designed Versace-branded case? If you're not a hedge fund manager or Russian natural resource oligarch (or his girlfriend), let's hope saner consumer thinking prevails.
"MacMall often has deals on Mac products or even rebates and free accessories - just make sure you send in the rebate immediately, because some expire quickly," says Bruce Lubin, budgeting expert and author of "Who Knew?"
4. iPad charger
It's easy to lose your iPad charger -- especially when traveling, since there are countless opportunities for your charger to become misplaced. And after spending $29 on a new iPad charger, chances are you'll make the effort to hold onto your charger.
While Woroch also suggests browsing eBay for iPad chargers, she offers one word of caution: "Make sure when buying chargers that they have the UL label to ensure safety."
UL (
Underwriters Laboratories) conducts various safety and standards tests, which is especially important when purchasing a used charger.
5. MacBook Pro power adapter
Need a new power adapter for your Apple laptop? This isn't a minor expense, as they tend to cost as much as $80 on Apple.com.
"I was looking for a new power cord for my MacBook Air that stopped working," recounts consumer Elise Bauer. "At the Apple store it was priced at $79. The same power cord on Amazon.com? $46.46. Both charge tax. Both have free shipping. However, because I'm a Prime account at Amazon, I get it shipped to me within 2 days. I always check Amazon when buying an Apple product," Bauer advises.
6. Apple EarPods
The earbuds that come with your iPhone tend to be delicate, especially if you don't treat them well. When replacing these earbuds you may be surprised by the $29 price tag.
Check out the sales from
CellPhoneShop.net, which recently featured the Apple EarPods for $11.99, instead of $29.
7. AirPort Express
Purchasing refurbished accessories is a guaranteed way to save money -- and you can do so directly on Apple.com's refurbished products page. Even Apple will give the consumer "a deal" when it's of the open box variety.
"Often times refurbished products are those that a consumer purchased, opened and then decided to return due to buyer's remorse," Woroch says, adding, "The goods were never damaged, Apple and other electronic retailers still have to sell it as previously owned and at a discount."
For example, this
refurbished AirPort Express device is discounted 14% off (at $85, compared to a
new one at $99 on Apple.com.
8. iPhone bumpers
Instead of a case that covers the back-side of your iPhone, an alternative is to purchase a bumper, which only protects the phone's perimeter edges. And the bumpers still cost just as much as a regular case -- including this one for $29.
To save money, especially if you're about to sign a new contract, check to see if your wireless provider offers online coupon codes. The shipping code website FreeShipping.org offers
deals from Verizon on accessories, including 20% off three accessories.
9. Cases with batteries
Various iPhone cases go beyond protecting your device from damage -- like the ones which serve as a backup battery.
And if you're not familiar with AccessoryGeek.com, you may be missing out on savings. This battery case on the site is
on sale for $14.99, compared to the original price of $39.99.
10. Car chargers
Charging your Apple devices at home may not be enough, which is why some consumers who travel frequently resort to the car charger to fill in the gap. And this car charger from Incase sells for $24.95 on Apple.com. It's an example of a product where the Apple Store price is comparable to online retailers like Amazon, and not the only one.
But if you're buying the iPhone at a cell phone store, ask the manager or store owner (especially if the store is a franchise or independently owned) for a free charger. Think about it: you're shelling out hundreds for a smartphone and likely signing a multi-year contract -- asking for a free car charger isn't as tall an order as you might think. In this case, it's your contract that's the overpriced item and merits some haggling before the purchase is agreed upon.
More on Apple:
How much it costs to make an iPhone 5
Wait to get $29 Lightning fix for less
How to get the iPhone 5 if you're already on contract
--By Scott Gamm
Gamm is the founder of the personal finance website HelpSaveMyDollars.com. He has appeared on NBC's TODAY, MSNBC and CNN. Follow Scott on Facebook and Twitter.