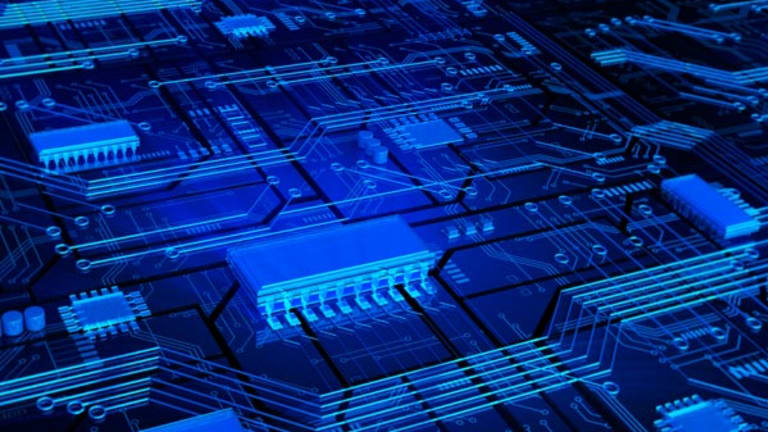 10 Ways Apple Can Hit $1,000
One analyst lays out Apple's road-map for the next three years and how the stock could go to $1,000.
NEW YORK (
) -- Setting a $1000 price target for
Apple
(AAPL) - Get Apple Inc. Report
has become more
for a sell-side analyst to grab some quick publicity but that doesn't mean it's not worthwhile digging in on how that lofty number might be achieved.
Piper Jaffray analyst Gene Munster, who rates Apple shares at overweight with a $910 price target, has put forth a ten-step approach on how Apple can garner a trillion-dollar market capitalization, something that
Greenlight Capital's
David Einhorn
at the Ira Sohn Conference.
Among the reasons that Munster cites in making the case for a $1,000 price target over the next few years are a slew of new products to be released this year, international expansion, and the continued growth of Apple's software strategy to put a stranglehold on customers to keep them from switching.
Here are ten reasons Apple could hit $1,000 over the next couple of years.
2012 product roadmap
Munster is especially positive on 2012 and the products Apple will release this year. Apple has already enjoyed tremendous success with the release of the
in March. "We believe Apple's product roadmap for the remainder for the year will include meaningful updates to core product lines including the iPhone and Mac," Munster wrote in his research report.
He is expecting big things from the next version of the iPhone, and the eventual Apple television, but really believes the Mac refresh, expected in the next six weeks, could be huge.
Munster is looking for the Macs to have Retina Display, and include
Intel's
(INTC) - Get Intel Corporation Report
Ivy Bridge chips, which are important updates. "We note this next Mac refresh would be the first meaningful update in over a year and should reaccelerate Mac sales, which were up 5% y/y in the March quarter," he said.
iPhone 5
Apple's next version of the iPhone is expected to be one of, if not the most anticipated product launch in Apple's history, given the
The iPhone 4S was more of an evolutionary upgrade than revolutionary, but Munster expects a completely different design, despite worries over
Qualcomm's
(QCOM) - Get Qualcomm Inc Report
of 28 nanometer chips. He expects metallic rear paneling, the potential for a 4-inch screen, the ability to run on the 4G networks from
Verizon
(VZ) - Get Verizon Communications Inc. Report
and
AT&T
, a higher megapixel camera and a better processor and memory.
"We continue to believe there is an 80% chance that Apple can make our 49 million iPhone 5 unit estimate without supply difficulty in the December quarter."
Apple television
The prevailing rumor is that Apple will release a
television set later this year
that will revolutionize the industry. Munster believes that Apple could announce the product in December.
Munster believes the Apple TV should cost anywhere between $1,500 and $2,000 with various screen sizes, perhaps 42 inches to 55 inches and feature various Apple products as accessories. "Aside from user interface control enabled by an iPhone/iPad app, we believe the TV may include a Siri based voice-control system as well as the App Store to enable consumers to play games, listen to music, etc. on their Apple Television set."
Piper Jaffray analyst Michael Olson believes the market for a television like Apple's is approximately 110 million units in 2013, and Munster thinks Apple could get 10% of this market between one and three years following the launch of the product. One million units would equal 1% of revenues.
Carrier subsidies
One of the major concerns about Apple achieving continued growth in the smartphone market is the subsidy the iPhone gets from the carriers. CEO Tim Cook dismissed those concerns on the company's
second-quarter earnings call
.
"And at the end of the day, I think that carriers, the vast majority of carriers, or maybe even all carriers, want to provide what their customers want to buy. And that's what they're motivated for. And so the most important thing by far is for Apple to continue making great products that customers want. And we are deeply committed to doing this and are innovating at a rate and pace that's unbelievable in this area," Cook said.
Munster believes the subsidies for the iPhone will last at least for the next two or three years, but doesn't expect the concern to go away anytime soon.
Gross Margins
Apple has been able to generate gross margins above 40% for some time, largely due to the iPhone, which accounted for 57.9% of revenue in Apple's last quarter. Munster thinks the iPhone has gross margins of around 60%, which are much higher than the iPad (~40%) and Macs (~25%).
Apple has come under fire for its labor practices in China with manufacturing partner
Foxconn
. Wage increases have happened as a result, which should not affect Apple's extraordinary margins much, according to Munster, who believes "only between 10-15% of component costs are labor related."
"Heart transplant" strategy
The Piper Jaffray analyst also thinks Apple will benefit from what he calls its "heart transplant" strategy, which involves getting rid of older product models shortly after new ones come along.
"We believe one of Apple's key product philosophies is the "heart transplant" strategy where the company tries to eliminate old products from its offering as quickly as possible," Munster wrote in his note.
Munster believes Apple will continue to offer the two most recently updated iPhones at discounted prices, and one other version of the iPad, as Apple refreshes its products.
China
Munster expects China to be a big driver of Apple's growth over the next several years, as developed markets are saturated with the company's products and Asia offers much higher growth rates. Apple said in its most recent quarter that overall iPhone sales grew 88% year-over-year, with iPhone sales in Greater China rising five times in the same span.
"China iPhone sales enabled Apple to beat Street iPhone expectations in the March quarter. We believe Apple sold 8-9 million iPhones in China in the March quarter compared to 9.5 million activations and likely ~1 million in channel fill in the US," Munster noted.
Apple guided third-quarter revenue significantly lower than what Wall Street was expecting, low even by Apple's standards, as the company prepares for a iPhone refresh in its fiscal fourth quarter, which ends in September. Munster believes that the growth in China will not slow as much as it will in developed markets because of under penetration in that market.
"We expect this growing middle class and under penetration of smartphones in China compared to the rest of the world will enable China to continue to demonstrate healthy smartphone growth," he wrote.
iPad
The iPad has captured the minds and market share of consumers, as growth continues to soar in this nascent market. Apple sold 11.8 million iPads in its fiscal second quarter ended in March, which included just one month of new iPad sales.
Munster expects Apple to capture two-thirds of the tablet market, selling 66 million iPads this year.
"Longer term, we believe the total tablet market will exceed the PC market." He goes on to note that 2015 PC sales could be 484 million, according to research firm
IDC
. "Thus the gap will be significantly closed between tablet and PC unit sales by 2015," Munster said.
Enterprise strategy
The popularity of Apple's iDevices are driving a BYOD (bring your own device) to work strategy, and companies are starting to incorporate the iPhone and iPad into their IT budgets.
"We believe that Apple thinks about the consumer and enterprise opportunities as significantly different verticals," Munster wrote. He notes that consumers are continuing to drive enterprise adoption, with 93% of iPhone users saying their next phone will be an iPhone.
Software
Apple's software, including iTunes, the App Store and iOS has helped and enhanced the Apple ecosystem. Greenlight's Einhorn said Apple is misunderstood because it is a software company, not a hardware company. Customers tend to want to buy more Apple products because of the "stickiness" of Apple's software, and there are no privacy problems.
"We note that with 225+ million registered iTunes accounts and 125+ million iCloud accounts, Apple has one of the largest registered user based in the tech world," Munster wrote.
Interested in more on Apple? See TheStreet Ratings' report card for
this stock
.
Check out our new tech blog,
Tech Trends
. Follow TheStreet Tech
.
--
Written by Chris Ciaccia in New York
>Contact by
.
Follow @Commodity_Bull