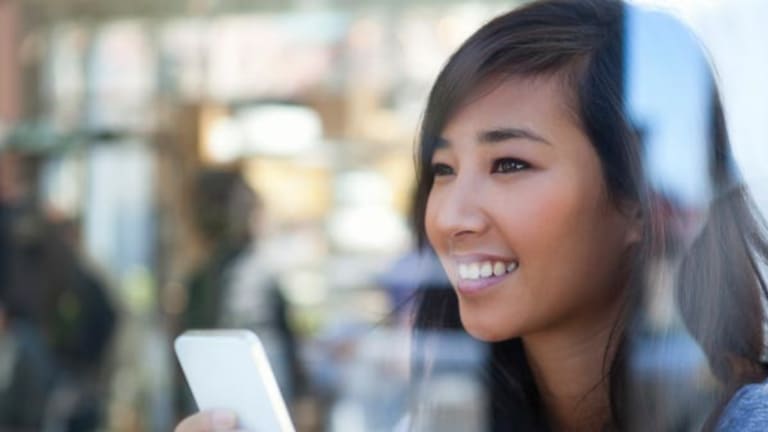 10 Top 'Branded' iPhone Apps
Most apps sponsored by big corporations fail, but there are exceptions. Here are 10 of them.
NEW YORK (
) -- While tons of
Fortune
500 companies are scrambling to create an
Apple
(AAPL)
iPhone app that helps promote their brand, the effort doesn't always pay off.
More than 80% of apps put out by major consumer and health care brands are downloaded less than 1,000 times, according to a new study released by Deloitte. And only 1% of these so-called branded apps are downloaded more than a million times.
The majority of these fail to gain traction because they simply aren't noticed, the report said. Many brands just aren't spending the resources they need to actively market their apps in a crowded environment -- passively posting an app and hoping for the best just won't do.
This problem is only likely to get worse for brands as the number of apps increases exponentially. Apple's market-leading App Store boasts more than 350,000 apps -- up from less than 200,000 just a year ago.
But while most of these branded apps have trouble gaining traction with consumers, there are a few exceptions. Read on for the most popular -- and interesting branded apps, put out by well-known companies.
Zippo Lighter
Cost: Free
It may be somewhat pointless -- it doesn't help you organize, pay or play anything -- but the most popular branded app of all time is the virtual
Zippo
lighter, which has been downloaded more than 17.2 million times since its launch in early 2009. Its developer, Skyrockit, also received $2.6 million in venture funding also earlier this month from
Intel Capital
(INTC)
.
Especially popular at concerts and sporting events, users can enjoy a virtual animated lighter that they spark by flicking their fingers across the flint wheel -- the app even makes a sound when it's lit up.
Move your hand and the light will sway back and forth, as if blowing in the wind. And once you're done, just blow into the bottom of your phone and the light will go out (a feature that took several tries for us to work).
You can even select a lighter design from 28 free options and then purchase additional images, which range from the Harley Davidson logo to Ozzy Osbourne from a virtual lighter store, for 99 cents. You can also "engrave" the lighter by entering in the text of your choice.
Starbucks
Cost: Free
Extremely useful for those who love the Seattle coffee behmoth's strong brew, the
Starbucks
(SBUX)
app comes in handy after you purchase a Starbucks card online. Enter your card number into the app, and it displays a special barcode that you use at Starbucks counters to pay for your coffee -- the barista just scans your phone at the register.
The app worked very smoothly for us, displaying the new balance of the card automatically once we had paid for our drink. You can load your Starbucks card and track your Starbucks Rewards via the app, as well.
The app also lets you keep a running list of favorite drinks, either your own or friends' -- particularly useful if you're going on a coffee run for a big group and can't memorize a dozen different orders. You can customize by type of drink, size, toppings, syrups and add-ins (milk type).
In addition, you can send a Starbucks gift card through the app to a friend -- just enter his or her contact information, the amount you'd like to spend and the payment type (default is through PayPal or you add your credit card).
The app also includes a store finder that lets you locate the nearest Starbucks, drinks' nutrition information and food offerings, photos of different coffee beans and info about career opportunities at the chain.
Tiffany & Co Engagement Ring Finder
Cost: Free
Tiffany's
(TIF)
Engagement Ring Finder is designed for brides-to-be dreaming of receiving one of the famous jeweler's diamond rings.
The app lets users view diamonds by shapes, settings, metals and designs, and users can browse stones of up to six different carat sizes. While all of the rings are shown true-to-size, users can also zoom in to view the ring's details and pair it with a wedding band.
The rings can be saved within the app to be viewed later and shared via e-mail, Facebook and
Twitter
, though they can't be purchased through the app. For that, customers need to make an appointment for a diamond consultation, which they can do by sending a note to Tiffany's via the app.
The app's best feature: a ring sizer that allows users to place a ring they already own on the screen of their iPhone and align it with the circle guide to determine their ring size.
Tiffany's is also planning a new update for the app sometime this summer. Though the company wouldn't comment on specifics, reports have said the app will let users create a private Facebook page to share saved rings and see comments from friends. You'll also be able to view rings on different hand models.
O.P.I
Cost: Free
For folks heading to get a manicure,
O.P.I.
, the ubiquitous maker of nail polish, offers an iPhone app that helps them select from 200 colors, which feature wacky names like "Blushingham Palace," "Lunch at the Dehli" and "Melon of Troy." Users can search for a color by shade or name -- useful if you can only recall part of a hard-to-remember name ("I'm Not Really a Waitress").
The app also shows what the polish will look like on a hand; users can adjust the shade of the skin to match their own coloring. In addition, the app lets users "tag" favorite colors so they can quickly access the names when they're in the salon.
We wish the app had more features. A few of our ideas: information about pricing, news about current nail trends, a step-by-step guide about how to give yourself a manicure, the closest locations to buy O.P.I polish and a nearby nail salon locator.
Zappos
Cost: Free
Shopping for stuff on Zappos -- the speedy-delivery, online market place that
Amazon
(AMZN)
bought in 2009 -- is now easier thanks to its iPhone app. Much like they do at Zappos.com, users can browse footwear, clothes, beauty items and housewares by entering keywords ("red flats") or tapping categories ("chef's tools," "what's new").
After logging in with their Zappos username and password, repeat shoppers can look up account details, check the status of current orders, place an order and view their saved "favorites" list.
The app is intuitively and cleanly designed, making it easy to narrow results of wide-reaching searches -- just tap the wrench picture, which pulls up ways to filter and sort the list -- see alternative views of the products (double-tap the item) and find reviews from other buyers.
Domino's Pizza
Cost: Free
For fast-food pizza lovers, the
Domino's Pizza
(DPZ)
app is the quickest way yet to order the company's pizza for delivery.
After entering your delivery information into the app, you can browse Domino's complete menu of pizzas, pastas, sandwiches, etc. Once you select a pizza, you choose from a pre-made pie (Pacific Veggie or Philly Cheese Steak), or design your own. You pick your size and crust style, then customize the pie with cheese, sauce, meats and veggies.
You can also specify what to put on each half -- say, mushrooms on the right, sausage on the left.
The best part of the app: a pizza tracker that lets you follow your pie from the oven to your doorstep.
From the time we ordered our pizza via the app, it took around 30 minutes for it to reach
TheStreet's
office.
Charmin's Sit or Squat
Cost: Free
An odd but useful utility,
Charmin's
Sit or Squat app gives iPhone users locations of the nearest public bathrooms, complete with cleanliness reviews and availability of handicapped access or changing tables.
The app uses GPS to determine your location and displays on a Google map nearby restrooms found in coffee shops, stores and restaurants. It also shows -- on the map -- if the bathroom is currently available (a red box means it's currently closed; green means it's open).
Ratings related to cleanliness are available; each bathroom is rated either a "sit" (meaning it's clean enough to use) or a "squat" (you're better off going somewhere else).
Sit or Squat has data on more than 65,000 toilets around the world.
Barclaycard's WaterSlide
Cost: Free
U.K. credit card company
Barclaycard's
WaterSlide app, a game that lets players ride a virtual waterslide, has scored more than 12 million downloads since its mid-2009 launch, making it one of the most successful branded apps of all time.
The app follows a
popular Barclaycard commercial
that featured an office worker tearing off his clothes and riding through the city on a waterslide while using his card to pay for things like groceries.
Gamers steer their way down the waterslide by tilting or rotating their iPhones, controlling their speed as they go. They win points by collecting virtual items and avoiding obstacles like evil ducks and crabs that will slow them down through nine different levels.
Players can choose to navigate through the urban waterslide as a male or female character and decide if they want a camera view through first or third person.
We were impressed with the game's quality and especially liked how you could see virtual water bubbles appear on the screen, but found the levels somewhat repetitive.
Kraft iFood Assistant
Cost: Free or 99 cents for paid version, which includes coupons
Kraft's
undefined
iFood Assistant consists of thousands of recipes that can be searched through by ingredient, meal type or prep time.
All recipes come with photos, step-by-step directions, reviews, nutrition info and pairings for drinks and sides. They also all incorporate Kraft products -- a recipe for a Crispy Chicken BLT Salad included Shake N' Bake Extra Crispy Seasoned Coating Mix, Oscar Mayer bacon, Kraft ranch dressing and Kraft natural three cheeses crumbles.
The app boasts handy features like directions to the nearest stores with Kraft products. You can add ingredients to your shopping list by scanning the barcode of the ingredient or typing it in by hand to check off items as you shop.
While we're a fan of simplicity, we found the recipes in this app a little
too
basic. We wish Kraft could have incorporated its products -- some of its most beloved brands like Oreos, Miracle Whip, and Ritz --- in a slightly more gourmet and creative fashion to create dishes we actually want to eat.
Sherwin-Williams Color Snap
Cost: Free
Sherwin-Williams'
(SHW)
Color Snap app helps painters at home find the perfect color for their walls.
Snap a photo of any color that's inspiring -- a clear blue sky, a flower petal -- and the app spits out a corresponding Sherwin- Williams paint. If you don't like what pops up, you can adjust the lightness, saturation and hue. The app also recommends coordinating colors based on the primary color you've selected.
We snapped photos of a few items around the office and the app matched the colors flawlessly.
You can also browse paints by hue and locate the nearest Sherwin-Williams store via the app.
--Written by Olivia Oran in New York.
>To follow the writer on Twitter, go to
.
>To submit a news tip, send an email to:
.