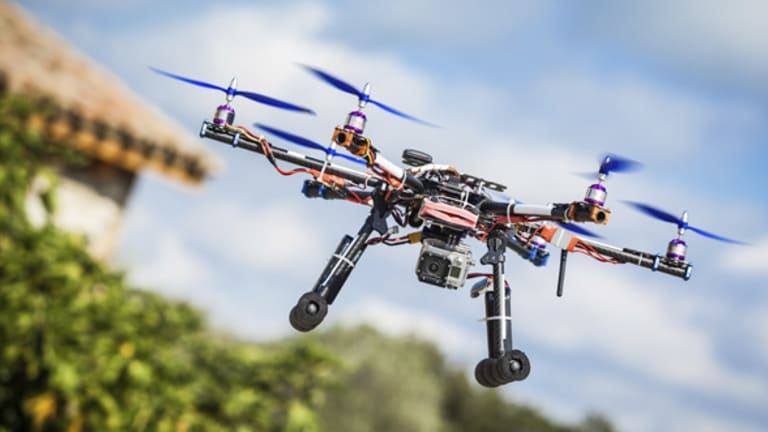 10 Technology Trends That Will Affect the Markets in 2015
As 2015 arrives, what tech trends will move markets? U.K.-based Juniper Research has the insights.
NEW YORK ( TheStreet) -- In 2014, technology continued to evolve at a blistering pace -- and continued to rock the markets.
Innovative tech companies including Apple (AAPL) - Get Report , Tesla (TSLA) - Get Report , Google (GOOGL) - Get Report  and Alibaba (BABA) - Get Report were among the most popular this year for investors and traders.
What new inventions and trends will these companies and others come up with in 2015 that will have markets moving?
Juniper Research, a U.K.-based technology research firm, has isolated 10 tech trends to watch in 2015.
1. Securing your data
Following a spate of high-level cyber security breaches, including most recently at SONY, leading to a leak of thousands of gigabytes of sensitive documents, consumers will be keen on securing their own personal data. Apple Pay with Touch ID, which links your fingerprint to your ability to access payments, is just one way that this is already happening, according to Juniper Research.
2. Smartwatches get smarter
The smartwatch market is now flooded with competition with companies like Apple, HP (HPQ) - Get Report , Samsung (SSNLF) and others joining a host of smaller competition. As the market matures, it will get smarter and pay more attention to aesthetics, according to Juniper Research.
3. NFC
For several years it has been promised the NFC, or near field communications, would be the wave of the future. Well, this is the year. In 2015, more people will move their connected devices in close proximity to one another to share information, according to Juniper Research.
Must Read:
Warren Buffett's Top 10 Dividend Stocks
4. Data takes over from voice
There has been a multi-year trend of wireless carriers charging less for voice calls and more for data. This trend will continue, according to Juniper Research.
Must Read:
Jim Cramer's 5 Best Stock Picks for the Biotech Sector
5. Cryptocurrency rises
Bitcoin suffered a setback in 2014 with the shutdown of Mt Gox, an exchange for the currency made of code. But that won't stop the rise of strange, new, similar currencies, according to Juniper Research. PayPal has said that it is experimenting with letting merchants accept Bitcoin in exchange for digital goods.
Must Read:
10 Stocks George Soros Is Buying
6. Drones
Civilian drone usage will increase -- for both businesses and consumers -- even as authorities struggle to regulate the new devices, according to Juniper Research.
Must Read:
10 Stocks Carl Icahn Loves in 2014
7. Digital health
With more data about our lives available now than ever, and wearable devices and smartphones recording yet more every day, consumers will start to take more control of their own health through the use of data, according to Juniper Research.
Must Read:
Jim Cramer's 4 Best Stock Picks for the Defense Sector
8. Budget 'phablets' go global
The rise of mobile gaming will mean that large smartphones, or phablets, will become more popular worldwide -- and that means prices for the devices will come down, according to Juniper Research.
Must Read:
Jim Cramer's 8 Best Stock Picks for the Housing Sector
9. Location-based services get more precise
One failing of location-based services has been with elevation. Wi-Fi, which has traditionally been used for indoors location-based services, can't discern between different floors of a mall, for instance. A technology called Bluetooth Low Energy will solve this problem in 2015, according to Juniper Research.
10. Indexing apps
Apps for your phone or tablet are great but, aside from the most popular ones, they're hard to find. In 2015, Google and Apple will work hard to make sure that apps are easier to find through the Web, according to Juniper Research.
- Written by Laurie Kulikowski in New York.