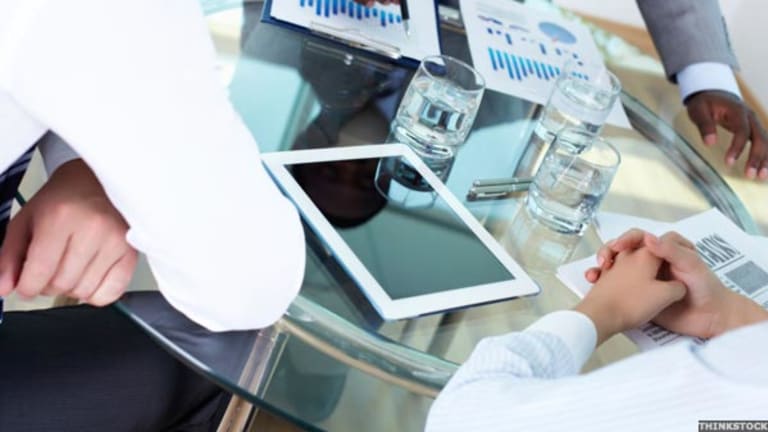 10 Stocks to 'Like' When Facebook Goes Public
These companies stand to benefit as Facebook makes its debut on the Nasdaq this month.
NEW YORK (TheStreet) -- Now that
Facebook
has set the
for its initial public offering and kicked off its
, investors are looking for ways to play the year's biggest stock sale.
Some have questioned whether buying
on their first day of trading is worth the risk, considering that revenue is declining and costs are rising.
In an updated S-1 filing,
its first-quarter revenue rose 45% year-over-year to $1.06 billion, but that was down 6% from the fourth quarter. Costs also rose 66% year-over-year as the social networking giant expanded data centers and its staff.
There are several ancillary companies -- including suppliers, competitors or partners -- that offer ways for investors who aren't members of Wall Street's elite a chance to profit from the IPO.
Here are
10 stocks that may benefit from Facebook's IPO
.
1. Fusion-IO
Fusion-IO
(FIO)
is best known for its solid-state-drives (SSD), and counts Facebook and
Apple
(AAPL) - Get Apple Inc. (AAPL) Report
as its
SSDs allows Facebook to have access to data at faster speeds with lower power and cooling costs.
The company recently reported third-quarter earnings that beat analysts' estimates, but shares slipped on gross margin concerns. Revenue rose 40% year-over-year to $94.2 million, earning 6 cents per share, excluding items.
Former Apple co-founder Steve Wozniak is the chief data scientist at Salt Lake City, Utah-based Fusion-IO. Shares of Fusion-IO have lost 9.4% this year.
2. Zynga
Social gaming company
Zynga
(ZNGA) - Get Zynga Inc. Class A Report
is the closest way to invest in Facebook without owning the shares.
Facebook generates a significant portion of its revenue from Zynga (approximately 11% of 2011 revenue and 12% of first-quarter 2012 revenue), and is so important to Facebook that it was listed as a major risk factor in its S-1 filing. "If the use of Zynga games on our platform declines for these or other reasons, our financial results may be adversely affected," the S-1 said.
San Francisco-based Zynga has been diversifying itself away from Facebook, launching its Zynga.com platform and there are rumors that the company is expanding into online gambling.
Draw Something
maker
OMGPOP
for $200 million to diversify beyond Facebook.
Shares of Zynga have lost 11.37% this year.
3. Digital Realty Trust
Facebook said in its recently amended S-1 that its costs soared 66% year-over-year as it expanded data centers and staff.
Digital Realty Trust
(DLR) - Get Digital Realty Trust, Inc. Report
counts Facebook as a major tenant
, and as Facebook's needs for server farms continues to grow, Digital Realty is poised to benefit.
The San Francisco-based real estate investment trust (REIT) recently reported healthy first-quarter earnings. Barclays analyst Ross Smotrich, who rates shares "overweight" with an $80 price target, says demand for its data centers remains strong and is growing. The company is also adding commercial space designed for multiple tenants and redeveloping vacant space at its Internet gateway data centers, Smotrich wrote in a recent research note.
Shares of Digital Realty have gained 10.74% this year.
4. Equinix
Equinix
(EQIX) - Get Equinix, Inc. Report
, like Digital Realty, is a data center company that counts Facebook among its customers. In addition to Facebook, it has customers in financial services and data networking.
The Redwood City, Calif.-based company recently posted strong first-quarter earnings and revenue that jumped 25% year-over-year as its cloud computing, mobility and data management businesses grew at healthy paces.
Equinix reported earnings of 71 cents per share on $452.2 million in revenue. Wall Street analysts polled by
Thomson Reuters
were looking for 49 cents per share on $445.1 million in revenue. Equinix also raised its second-quarter and full-year revenue forecasts.
Shares of Equinix have gained 55.17% this year.
5. GSV Capital
Investors looking for a way to buy Facebook before it goes public can look no further than Woodside, Calif.-based
GSV Capital
(GSVC)
.
GSV Capital buys stakes in private companies that are in the development stage, like a venture capital fund. It acquires positions from the companies themselves and through secondary markets.
GSV owns 225,000 shares of Facebook as well as stakes in
Twitter
,
Groupon
(GRPN) - Get Groupon, Inc. Report
and
Bloom Energy
.
Shares of GSV Capital have gained 30.68% this year.
6. Microsoft
Microsoft's
(MSFT) - Get Microsoft Corporation (MSFT) Report
attempts at social networking have never been anything noteworthy, but investors have to laud CEO Steve Ballmer's decision to buy part of Facebook.
In 2007, Redmond, Wash.-based Microsoft purchased 1.6% of the social networking giant for $240 million, which gave Facebook a whopping $15 billion valuation. Facebook's value has increased fivefold since then.
Microsoft is selling 6.56 million shares of the 32.8 million Facebook shares it owns. At the mid-point of the IPO price ($31.50), Microsoft stands to make $206.5 million, nearly recouping its initial investment with more than 26 million shares left.
Shares of Microsoft have gained 18.07% this year.
7. Goldman Sachs
Goldman Sachs'
(GS) - Get Goldman Sachs Group, Inc. (GS) Report
leaders may consider investment banking
but the New York City-based bank is a pretty good money manager too.
Goldman Sachs is selling 13.2 million shares of its 65.9 million-share stake in the company. At the mid-point of the IPO price ($31.50), Goldman Sachs stands to make $415.5 million nearly recouping its initial investment with more than 42 million shares left.
Shares of Goldman Sachs have gained 21.69% this year.
8. LinkedIn
LinkedIn
(LNKD)
was the first social networking site to go public, holding
in May 2011 at $45 per share, reaching $122.70 at the high that day.
LinkedIn proved the demand for profitable social networks. As "Facebook fever" continues, it doesn't hurt that LinkedIn just reported
Mountain View, Calif.-based LinkedIn reported earnings of 15 cents per share on $188.50 million in revenue for the quarter that ended in March. Analysts polled by
Thomson Reuters
were expecting earnings of 9 cents on $178.58 million in revenue.
LinkedIn doesn't compete directly with Facebook, but
BranchOut
, a Facebook app that launched in July 2010, has been gaining traction, with more than 25 million registered users, according to its
website.
Shares of LinkedIn have gained 76.92% this year.
9. Renren
Facebook has more than 900 million users already, but one market it can't access is China. That's where
Renren
(RENN) - Get Renren Inc. Sponsored ADR Class A Report
, the "Facebook of China." comes in.
American companies have had difficulties complying with Chinese regulations says Sterne Agee's Arvind Bhatia, who initiated
Companies such as
Amazon
(AMZN) - Get Amazon.com, Inc. Report
and
eBay
have entered China through acquisitions with mixed results.
Shares of Beijing-based Renren have gained 80.28% this year.
10. Jive Software
Called the "Facebook for enterprise" by some, Jive Software went
and has been a stalwart since then. Shares have gained 41.69% this year.
Shares recently fell after a
questioned the company's valuation and fundamentals.
Analysts polled by
Thomson Reuters
expect Jive to report a loss of 13 cents per share on revenue of $23.38 million in its first quarter. Jive will discuss the results after the close of trading on May 8.
>>To see these stocks in action, visit the
10 Stocks to 'Like' When Facebook Goes Public
portfolio on Stockpickr.
--
Written by Chris Ciaccia in New York
>Contact by
.
Follow @Commodity_Bull