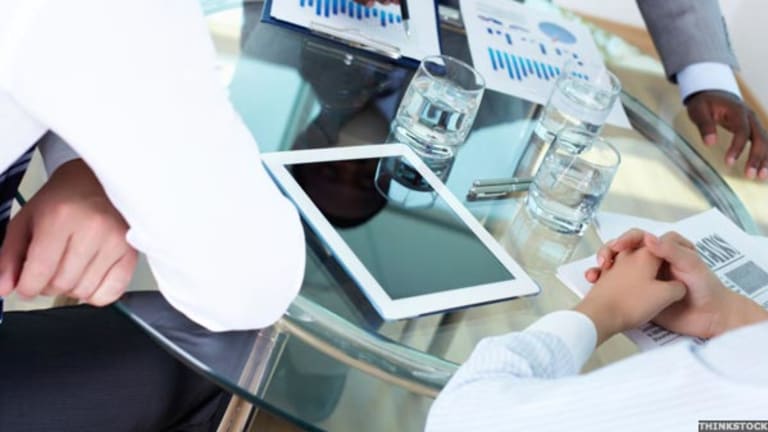 Publish date:
12 Top Android Apps
TheStreet checks out 12 top Android apps as the Google Android Market commemorates hitting the 100,000-app mark.
TheStreet checks out 12 top Android apps as the Google Android Market commemorates hitting the 100,000-app mark.
Top Android apps story updated by adding Intuit's "Mint" app.
NEW YORK (
) --
Google's
(GOOG) - Get Alphabet Inc. Class C Report
Android Market reached its 100,000-app milestone last week. While that's about two-thirds less than the number available in
Apple's
(AAPL) - Get Apple Inc. (AAPL) Report
App Store, all signs are pointing toward growth for the ecosystem surrounding Google's mobile OS.
More than 200,000 Android phones are activated daily -- double the number of activated devices just several months ago, according to Google, and just a bit behind the iPhone, of which Apple says it activates more than 275,000 per day. And according to a recent report by IDC, Android's OS market share will jump from 16% today to 25% in 2014.
So what does all the hype mean? Scads of developers and programmers around the world are scrambling to create games, content and every type of app imaginable for the Android platform.
Culled from a variety of rankings -- from tech blogs to
CNET
to the Android Market itself -- here are 12 of the most-downloaded, free Android apps, tested by
TheStreet's
tech team on a
Motorola
(MOT)
Droid X.
Mint
Intuit
(INTU) - Get Intuit Inc. (INTU) Report
, the longtime tax prep software provider to small businesses, continues to
push into mobile
for new customer growth. Mint, which allows users to manage each aspect of their finances from their smartphone, is a big part of that strategy.
Once Mint users download their bank, credit card and other account information at Mint.com (the site uses bank-level encryption), the app displays expenses in categories like restaurants, groceries, and health and fitness. While it's a little weird seeing the entirety of your household income and every cent spent in the palm of your hand, we liked going to one place to set up bill due-date alerts.
You can also set spending goals and receive notifications if you're over-budget for the month. The only functions missing on the app are the ability to display data in pie charts and custom graphs and suggestions about how to save your money, which are all offered on Mint's website.
Amazon Kindle Reader
The Android version of
Amazon's
(AMZN) - Get Amazon.com, Inc. Report
Kindle Reader is the best thing to happen to Android users who often find themselves alone with just their phone.
While the quality of an Android Kindle reading experience depends on the size of one's screen and one's ability to find a shaded area -- it's too hard to make out the words in bright sunlight -- reading one of the 725,000 books on Android is not much different from reading on the Kindle itself. Users can bookmark, add notes and highlight passages and look words up via
Dictionary.com
.
The app also allows books bought on Amazon to be shared between phone and Kindle at no extra cost.
Yelp
Longtime online search outfit
Yelp
has transferred to Android nicely. Besides scouring local business reviews for places in one's neighborhood, Yelp integrates mapping technology that directs users to locations as they walk -- in a pop-up, interactive Google map.
Even better is the Monacle feature, which allows lost users to see a red dot on their screen as they hold their phone up on the street, helping guide them to the exact location of where they want to go.
Our only gripe: While users can draft restaruant/shop reviews from within the app, they can only publish the write-ups by going to Yelp's website.
Angry Birds
While Internet games developed by privately-held companies don't fall into what
TheStreet
normally covers,
Angry Birds
is worth mentioning.
Ranked as the most popular iPhone app, the incredibly addictive -- and imaginative -- game sees players hurling birds from slingshots to knock down targets protecting evil pigs. Android users love
Angry Birds
, too: According to its developer,
Rovio
, the game has been downloaded more than 2 million times on the platform.
Stay tuned. Besides offering continuous, free updates to the game, the folks behind
Angry Birds
, which has already spawned t-shirts and a plush toy line, are reportedly exploring a movie deal.
Slacker Radio
We've always loved Internet radio stalwart
Pandora
, but
Slacker Radio
offers a greater number of songs and playlists searched and compiled by genre artists. The resulting playlists seems to be a little more relevant to our tastes than what we heard via Pandora.
Despite the annoying audio ads that come with the free version of the app, the Slacker experience -- especially the paid versions, which are either $4 a month or $47.88 a year -- exemplifies what we've come to expect from Internet radio: the ability to customize our own "radio station," more allowance of song skips and the option to cache our stations, so we're able to listen to songs even when in an area without wireless accessibility.
Bump
Bump's
technology, available for iPhone and Android users, allows folks to exchange contacts, pictures and calendar events between two phones by -- as you would expect -- tapping them together. Users can also connect on
Facebook
,
Twitter
and
LinkedIn
using the app.
Additionally, Bump, downloaded so far by more than 10 million users, can be used for mobile payments, enabling
PayPal
app users to transfer money by bumping phones.
Advanced Task Killer
Owners of juice-sucking Androids like the Droid X and the
HTC
Incredible might not realize that Android apps often run in the background, draining the battery and slowing down functionality. Enter
Advanced Task Killer.
It shuts down these programs (with a user's permission, via a checklist like the one above), but keeps the essential services running to free up memory.
Astrid
Like an electronic personal assistant,
Astrid
provides users with a customized to-do list. Users start by adding simple tasks -- a wake-up alarm or "buy milk," for example -- then follow up with tags that help with prioritization. Astrid tracks the time spent on a task; we like the encouraging, youthful language that pops up with the reminders, like: "You said you would do it: Edit Android App Story."
Astrid also syncs with Google Tasks.
Barcode Scanner
Aimed at avid comparison shoppers, Barcode Scanner lets Android users scan a product's barcode with the camera phone; the app then pulls up prices, reviews and shipping labels associated with the item.
For example, users can discover if a book found at a
Barnes & Noble
(BKS) - Get Barnes & Noble, Inc. Report
store is cheaper online or at a competitor's store or website. The app, powered by Google, can also scan QR codes -- those big, square-shaped barcodes often placed on companies' websites that contain URLs, addresses and contact information.
Dial Zero
Dial Zero provides a directory of toll-free customer service numbers for more than 600 companies, allowing users to bypass the automated recordings to more quickly reach a person. While it didn't work for
Cablevision
-- we weren't able to reach a live person who we could complain to about its ongoing
-- we found the forum for sharing comments interesting and useful for companies that have changed their number.
Just make sure search terms are entered in lower case letters, or the service won't work.
Seesmic
While the native Android Twitter app works fine most of the time, social media aggregator
Seesmic
allows users to manage Facebook and multiple Twitter accounts and updates in one easy-to-use interface.
The social media-managing space is crowded with similar apps, but Seesmic seems to work a little more seamlessly and also lets users record and upload videos to
YouTube
, share photos on yFrog or TwitPic and shorten URLs.
Tripit
Tripit
compiles all upcoming travel itineraries into an easy-to-read list separated by date. Just forward airline and hotel confirmations to plans@tripit.com, give it a few minutes, and the app shows departure times (in huge numbers), distance of flight covered, arriving city information (with pop-up Google maps), confirmation codes and airline/hotel contact information. There's even a "seating advice" link that helps travelers avoid the worst seats on the airplane.
We're just bummed that you have to buy the premium version of Tripit if you want the app to manage various mileage accounts.
--Written by Olivia Oran in New York.
>To follow the writer on Twitter, go to
.
>To submit a news tip, send an email to:
.