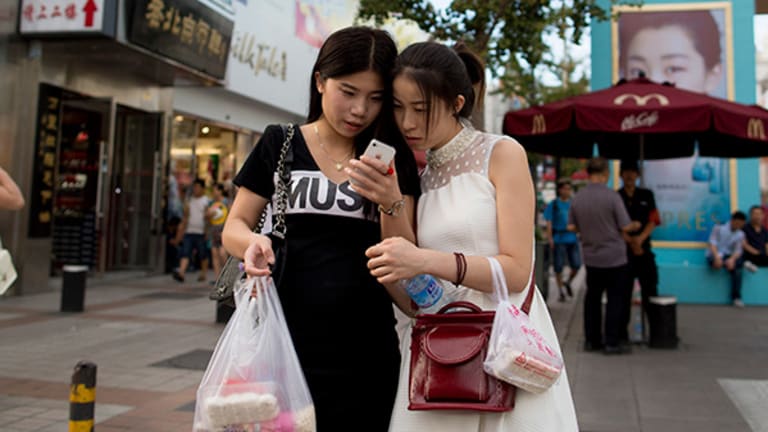 10 Most Popular Messaging Apps With Millennials
Facebook Messenger and WhatsApp have accumulated the largest millennial followings as the mobile messaging war heats up around the globe.
Facebook Messenger and WhatsApp have accumulated the largest millennial followings as the mobile messaging war heats up around the globe.
SAN DIEGO (TheStreet) -- Facebook (FB) - Get Report Messenger and WhatsApp are duking it out for messaging domination among the world's young adults.
Both of Facebook's messaging properties are used by around one-third of all millennials, according to GlobalWebIndex's first-quarter 2015 Audience Report, which includes survey responses from more than 32,000 millennial Internet users in 32 countries.
Millennials are defined here as young adults between the ages of 17 and 31. They account for 48% of the online population, according to GlobalWebIndex, and spend an average of 4.56 hours per day online via their PCs, and another 2.87 hours online on their smartphones. Nearly all, or 93%, of millennials have a social-network account, and social networking and micro-blogging combine to take up most of their online time, together totaling 4 hours a day.
Though Facebook Messenger and WhatsApp, which Facebook acquired last year, have accumulated the largest millennial followings, it's not all sunshine and rainbows for the world's largest social network.
Millennials' usage of Facebook proper is falling, according to the report. Though 90% of the age group have a Facebook account (excluding China), a little less than half are active on the site. It's a noticeable drop in active usage, considering that 66% of millennials said they were active on Facebook in 2012. As should come as no surprise, those who reported using Facebook less said they were bored of the social network.
Still, millennials love messaging, and both Messenger and WhatsApp s properties have the lead in this category. Ranked by reach, here are the 10 most popular messaging apps:
Facebook Messenger
More than one-third of millennials, or 35%, use Facebook's hit messaging app, which works across desktop computers and smartphones, making it the most popular messaging app among this group in the world when excluding China. Consider this proof that Facebook still has a lock on young people's attention, something advertisers and investors like to hear, even if this group is not necessarily using the social network as a whole.
In total, Facebook Messenger has a monthly audience of more than 500 million people. The number was grossly inflated last year after Facebook made the controversial decision to extract the messaging experience from its primary mobile app and instead force people to download the Facebook Messenger for iPhone or Android app to keep in real-time communication with their friends. The company has repeatedly defended the decision as necessary to maintain the service's speed and quality.
"The reason we wanted to do this is because we really believe this is a better experience," CEO Mark Zuckerberg told users during a public question-and-answer session in November. "We know messaging is one of the few things that people actually do more than social networking ... Even though it was a short-term, painful thing ... we knew we could never deliver the quality of experience inside the tab of the main Facebook app."
Zuckerberg's statement also gives away the company's real motivation: to solidify its place as the leader in mobile messaging. 
WhatsApp
Facebook's $22 billion buy of messaging app WhatsApp, which has grown to more than 700 million active users, is paying off handsomely, by attracting millennials in droves.
The 6-year-old app is used by 32% of young adults and is immensely popular in fast-growth countries where Messenger is not, according to GlobalWebIndex.
WhatsApp's claim to fame is that it's a bargain -- just 99 cents a year after the first year -- and it works with your mobile phone number, meaning it's a cheaper alternative for people outside the U.S. who can't afford texting plans. The app is actually now more popular than SMS, handling more than 30 billion messages a day compared to the global SMS (short message service) system, which sees more than 20 billion messages per day.
The app has other targets in sight. WhatsApp is currently testing a voice calling feature and eventually will allow its users to make and receive Internet phone calls, which could, especially for the millennial crowd, obviate the need for other apps such as Microsoft's (MSFT) - Get Report Skype. 
Skype
It might surprise you to learn that Skype, the original voice and video Internet calling app, is quiet popular with young people. The nearly 12-year-old service is used by a quarter of teens and adults between the ages of 17 and 31.
The multipurpose app, which works across smartphones, tablets, desktops, consoles and television sets, was purchased by Microsoft in 2011 for $8.5 billion and at last count had 300 million users. Though Microsoft doesn't break out revenue from the product, the Skype unit was said to be approaching $2 billion in annual sales in 2013. 
Microsoft also continues to invest in the product as evidenced by the December release of a new feature called Skype Translator, which automatically translates speech during voice and video calls. The feature currently works for the English and Spanish languages, but more languages are said to be coming soon.
Viber
Viber, like Skype, is equal parts instant messenger, mobile messenger and Internet calling service.
Viber has apps that work across PCs, Windows Phones and Apple (AAPL) - Get Report iOS, Google (GOOGL) - Get Report Android, BlackBerry (BBRY) and Nokia devices. The service is used by 10% of millennials around the globe, excluding China, according to the GlobalWebIndex report, and has a total monthly active audience of 236 million people.
Founded in 2010, Viber was purchased by Japanese e-commerce company Rakuten for $900 million in 2014. The acquisition was questioned at the time because Viber, which charges for calls to non-Viber users, had a net loss of $29.5 million in 2013. Rakuten reports Viber results in an "other" category that saw 42.45 billion yen in sales during 2014, which equates to around $357 million. The category, however, lost 639 million yen, or $5.4 million.
The service recently started catering to celebrities with a feature called "public chats." Public chats are the inside-out version of Viber's private conversations threads and give users a way to follow the photo, video and stickers of their favorite personalities using Viber for pubic broadcasts. Though the product seemingly smacks of Twitter (TWTR) - Get Report , chief executive Talmon Marco toldTheNew York Times that public chats won't let the average Joe converse with celebrities.
WeChat
Chinese messaging sensation WeChat, owned by Chinese Internet and media juggernaut Tencent, ranks as the fifth most popular messaging app with millennials, reaching 9% of people ages 17 to 31 around the world, when excluding China. But in China, 60% of youngsters in this age group turn to WeChat to get their mobile messaging fix. The country has an estimated 450 million online millennials, the most in the world, according to GlobalWebIndex.
In total, the app reaches 468 million people on a monthly basis, according to Tencent's third-quarter 2014 earnings report.
WeChat offers all of the new standard features in mobile messaging: push-to-talk voice messaging, group chat, audio and video calling, and stickers. It works, of course, across a variety of Web and mobile operating systems.
Line
Japan-based Line, a Naver company, is used by 8% of millennials, and is thought to be the originator of the sticker craze in mobile messaging. Stickers have since been emulated by most chat apps, including Facebook Messenger, likely because they've turned into a lucrative business for the company. In the fourth quarter, Line grew revenue by nearly 62% over the previous year to 221.7 billion won, which equates to more than $201 million.
The Line application resembles both Viber and WeChat in its feature set, and is an all-in-one messaging app for multimedia chat, with calling to mobile phones and landlines, voice messaging and even mobile payments. It has 181 million active users on a monthly basis.
Though most popular in Asian markets such as Japan, Thailand and Taiwan, Line has been advertising aggressively in the U.S. with frequent spots on radio and television. Global expansion appears to be the top priority at present with Line putting off its plans to separate from Naver and list on the Tokyo Stock Exchange.
Snapchat
Snapchat, the popular photo and video-sharing app where messages disappear, is tied with Line in reaching 8% of millennials around the globe. The percentage may seem markedly low considering that it has a reputation for being most popular with young people and has a reported monthly audience of 100 million people. Snapchat's appeal, then, seems limited to certain regions. One-quarter of millennials in Ireland use Snapchat while one-fifth in the U.K. and the U.S. do so, according to GlobalWebIndex.
Snapchat is not your standard messaging app. It blends social networking with chat for a hybrid experience that exists entirely behind closed doors. As such, the company has drawn the attention of top-tier venture capitalists and potential buyers, including Facebook, which reportedly bid $3 billion to snatch up Snapchat. A little more than a year later, Snapchat is said to be worth more than $10 billion on the private market following the raising of $485.63 million.
The app's original claim to fame was offering users a way to send photos and videos that vanished after friends viewed them, but it has since gone on to introduce an ephemeral daily diary feature called Stories, support video chat and give friends a way to send cash to each other. Most recently, Snapchat rolled out "Discover," and became a news and entertainment hub with branded channels hosted by networks like ESPN and CNN.
KakaoTalk
South Korea's KakaoTalk, owned by Web portal company Daum Kakao, is used by just 4% of millennials around the world, but reaches 93% of South Korea's smartphone population.
The messaging app, which was initially released in March of 2010, now has a monthly audience of 48.5 million people, according to Daum Kakao's latest earnings report in which it posted revenue of 254 billion won ($230.6 million) and a net profit of 50.6 billion won ($46 million). The company attributed revenue growth to the popularity of its KakaoTalk Gift Store, which grew revenue 171% over the previous year.
The app, like its cousins, works across desktop and mobile, and offers multimedia messaging, free calling, stickers and games. It also comes with its own gift shop, a polling tool, a mobile payment service and a feature called "Plus Friend" for following brands, media companies, and celebrities.
Kik
Waterloo, Ontario-based Kik has a reputation for being the preferred chat app among teens in North America -- the company has said that Kik is used by 40% of American youth -- but its reach to millennials around the global is far smaller. Roughly 4% of 17- to 31-year-olds use the chat app.
Launched in 2010, Kik appeals to young kids who can sign up with a username and chat for free with friends from their iPod Touches, no phone number required. The app works on iOS, Android, Windows Phone and BlackBerry devices, albeit unofficially. In addition to chat, Kik comes with games and a mobile browser.
The company claims to have 200 million registered users, but it does not report how many people are active on a monthly basis. A study commissioned by Kik found that its users, on average, spend 35 minutes per session in the app, besting Facebook Messenger and Snapchat, whose users spend 27 minutes and 21 minutes per session, respectively.
Tango
Founded in 2009 and based in Mountain View, Calif., Tango is another all-in-one, cross-platform chat app with a bit of everything: group chat, video and voice calls, music, channels for branded content and games. It's used by 4% of millennials, and touts a total audience of more than 250 million registered users.
Tango extends beyond letting users communicate with friends, and includes a feature for viewing other people nearby. It also has member profiles and a News Feed, making more of a full-featured social network than a messaging app.
The startup has raised nearly $370 million in funding to date.
-- Written by Jennifer Van Grove in San Diego.
>Contact by Email.