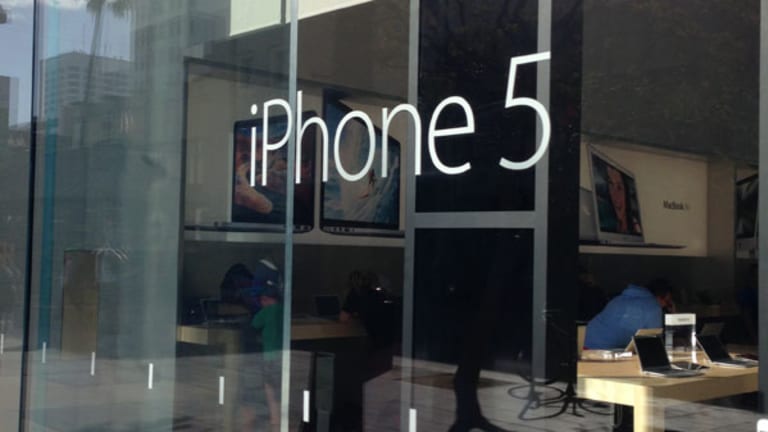 10 Everyday Items Your Smartphone Can Talk To
Put your phone in touch with your clothes, your food and your body.
NEW YORK (
) -- Over in Tennessee, Memphis Grizzlies point guard Mike Conley talks to a basketball -- and it talks back through an iPhone. A baby onesie being developed in Boston alerts parents when a sleeping baby rolls on his belly. There's even a fork that will tell you that you're eating way too fast.
Thanks to a new generation of wireless, power-efficient technology, developers are adding smartness into ordinary objects so they can communicate with a smartphone. Going beyond the familiar headsets and hands-free car speakers, this next-generation Bluetooth powers a rather remarkable set of unremarkable items from food scales and grilled steaks to door locks and key finders.
The key improvement is the low-energy feature of Bluetooth Smart, which is the consumer friendly name of Bluetooth 4.0. The technology uses much less energy than prior versions. Errett Kroeter, director of global industry and brand marketing for the Bluetooth SIG organization, likens the difference to a device lasting one month on AA batteries versus lasting a year with a smaller Bluetooth Smart battery.
"The impact to power usage isn't so much on the phone. The phone is always on and listening to things. The real impact is on the peripheral device, like the Bluetooth forks, (health-tracking bracelets like) Fitbit and garage door openers. That's where the real power savings comes," Kroeter said.
Apple's
(AAPL) - Get Free Report
iPhone 4s was the first to get Bluetooth Smart inside, so much of the market is iPhone-app centric. But
Google
(GOOG) - Get Free Report
began supporting the technology over the summer and a larger smattering of smartphones now include Bluetooth Smart. To find a list of phones with Bluetooth Smart, see the previous story,
"Don't Buy a New Smartphone Unless It's Really (Bluetooth) Smart."
You may have heard of the more common and publicized Bluetooth Smart appcessories, including door locks like Kwikset's new Kevo and Lockitron or key finders like Hone and StickNFind. But you may not be familiar with other products that are also getting smarter. Here are 10 in development or available:
Baby onesie
The Smart One onesie by Sensible Baby adds a Bluetooth sensor into a chest pocket of a baby onesie. Linking to a smartphone app, Smart One tells you three things: If your baby moved (or is no longer on his back), is breathing, and whether the room temperature changed.
The app also keeps track of movement trends and helps parents analyze and predict behavior patterns. The Smart One is still in development but the Boston company is looking for parents to test the product.
Basketball
Forget about a casual game of pick-up basketball. The 94Fifty Basketball is for serious players, coaches or people who just want to learn more about how high they jump, how fast they shoot and how forceful they dribble the ball.
As the only basketball with Bluetooth and an 8-hour battery (and a charger), the 94Fifty ball tracks various moves and offers instant results on an accompanying app. Based on its website, the basketball is a hit with coaches who find the extra insight helpful in improving a player's skills or seeking out new recruits.
Your Body
Even though our brains are connected to our bodies, most of us don't really know what's going on inside. Going to the doctor helps, and hopefully if it's bad enough for an Emergency Room visit, you'll find out a whole lot more.
The Scanadu Scout reads a body's vital signs by touching a person's forehead and analyzes what's wrong. It checks vitals like temperature, respiratory rate, oxygen in the blood, heartbeat, systolic blood pressure and diastolic blood pressure.
The potential benefit is decreasing hospital readmissions and the cost of managing chronic conditions, says the company. Plus, the information stays with you and you're not forced to share it with outsiders. Scanadu Scout is still in development. But you can request updates at its site,
.
Urine
Another Scanadu app in development is Scanaflo, a urine test kit to help monitor levels of glucose, leukocytes, nitrates, blood, bilirubin, urobilinogen and pH. It also can determine if a woman is pregnant. The smartphone app would keep track of signs, early warnings and alert users if something is wrong. Scanaflo is in early development.
Your Back
People with poor posture don't usually realize when they're slouching or leaning to one side. At least your back isn't going to tell you, "C'mon, straighten up!" But the LUMOback, a device attached to a strap that one wears like a belt, senses your position. Start slouching? It vibrates.
Technically, LUMOback's goal is to get you into a neutral pelvis position, a key to good posture. So it measures pelvic tilt. If you link it to a compatible iPhone (4S and newer), LUMOback also tracks your steps, time spent sitting, calories burned and your sleep habits. An Android is coming soon.
Meat
What was it again? Medium rare feels like the palm of your hand? Or was it your fist? Let the meat tell you with the iGrillmini, a Bluetooth meat thermometer that pairs with newer iPhones and a brand new mobile app.
While its main task it to let you know when the meat reaches the perfect temperature, iGrillmini and its mobile app includes a lot of other quirky features like a globe feature to see what other people are cooking around the world, a graphing function to track your cooking history and, of course, share your grilling adventures on Facebook or Twitter. IGrillmini is available for pre-order for iPad 3s and iPhones 4S and newer. An Android version is coming soon.
Shoes
Athletes are constantly trying to improve their game so it's no surprise that Nike added Bluetooth Smart to its Nike Hyperdunk+ basketball shoes. With the sensor in the soles, it'll communicate with a smartphone app to tell athletes how high they jumped, play intensity and speed.
To add even more competition to the technology (or motivation), Nike created the Nike+ community for users to share their "Fuel Points" and best one another.
Basketball isn't the only sport needing such details. There's also Bluetooth in the Nike Lunar Hyperwork, a training shoe that tracks movement. Look for Nike+ Sport shoes add a smart component that interacts with an iPhone 4S or newer.
A Fork
If you find yourself finishing your meal before everyone else has cut their meat, that should tell you something about the way you eat. But if you don't realize that you're eating too fast, the HAPIfork will tell you to slow down.
While it won't verbally say, "Slow down!" HAPIfork will vibrate or flash tiny LED lights in its handle to let you know that you're not in an eating competition. With Bluetooth inside, HAPIfork also connects to an iPhone app to help you view and control eating habits over time.
Food scale
There are all sorts of food and health apps out there, but few combine the app with a food scale like The Orange Chef Company, the food geeks with a knack for clean design.
The Countertop + Prep Pad is a sleek looking slab of recycled wood and paper composite sitting on top of a silver, aluminum base. That's the scale, which is powered by 4 AAA batteries and with the next-generation of Bluetooth.
It works best with an iPhone app to measure the type of food you're about to put into your mouth. By placing food on the scale, Countertop can instantly tell you the ingredients, nutritional value (protein, fat, carbs) and, of course, the weight so you can use the information for your diet.
Because it can determine what nutrients and ingredients are in food, it can track your diet and tell you what nutrient you're missing or getting too much of.
theorangechef.com, pre-order for $150
Your bike
For the most part, the products mentioned in this story are a specific item. But the Helios Bars will turn almost any bicycle into a smart one. You need a bike with a handlebars holder that has threadless forks. Otherwise, you'll need a quill stem adapter.
You'll also need an iPhone 4S or newer to get features like turn-by-turn navigation, a visual speedometer and the ability for the lights to turn on as you approach the bike or turn off as you walk away. There's also a low-powered GPS module inside (just add a pay-as-you-go SIM card) so you can track your bicycle if it's mysteriously gone missing.
Without a smartphone, Helios still works as a headlight and turn signals (via LEDs in the front and tips of the handlebars).
At its brightest setting, a full charge lasts 9 hours. It includes a USB cable and power adapter for recharging. The company is taking pre orders and expects to start shipping on December 16.
This article was written by an independent contributor, separate from TheStreet's regular news coverage.
Tamara Chuang is an outside contributor to TheStreet. Her opinions are her own.