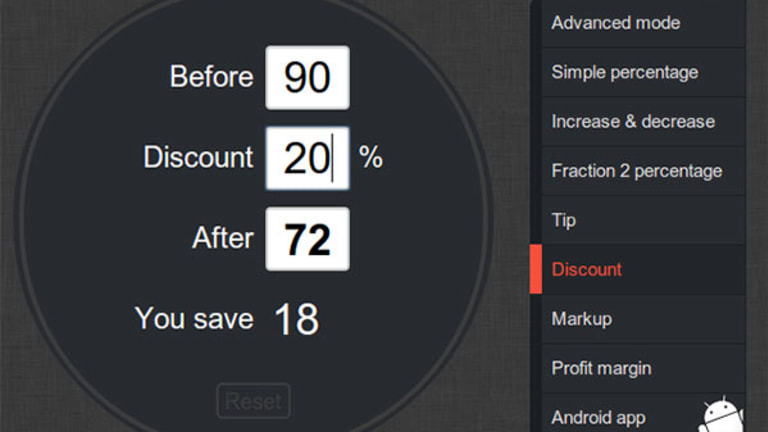 [video] 10 Black Friday Shopping Apps for the Unprepared
Still stuffed from the turkey? Ready to face the mall? Take along these apps.
NEW YORK (TheStreet) -- The turkey is digested. You're refreshed from a long nap that began post-Thanksgiving dinner. For some crazy reason, you feel like going outside to shop -- on Black Friday.
Unlike the maniacs who prepared for weeks researching deals, clipping coupons or setting their alarm clocks so they could wait outdoors in the wee hours before stores opened, you are sleeping in and winging it. You aren't prepared for what's out there. But never fear, we've got you covered (we hate going out there, too).
Here are 10 free shopping apps for the unprepared shopper to get you through the day.
If you must see Black Friday sales: FatWallet Black Friday Deal Finder 2013
Popular deal site FatWallet's Black Friday app lets users look at actual Black Friday print ads -- page by page -- on a smartphone. The comprehensive site also offers an advanced search to locate items that are doorbusters, Black Friday specials or Cyber Monday deals. For people with limited time or crowd tolerance, there's also FatWallet Checkout, which lets registered users buy certain items with two clicks on a smartphone. For planners, you can research deals ahead of time on FatWallet.com and save items to a wish list to check while shopping.
fatwallet.com/black-friday, iOS and Android
Clueless on gift ideas? BOND Gifts
If you don't want to bother researching perfect gifts for friends and family, BOND's app offers suggestions based on various categories, like type of person or price. The curated collection of products is limited but if you buy something, they'll send a hand-written note to the recipient. If you don't have a recipient's mailing address, BOND tracks it down for you via a text or email.
bondgifts.com, iOS
Plot fastest way to get to the store: MyCityWay Now
Geared toward city dwellers (and only available for about 40 U.S. cities currently), MyCityWay Now offers a quick glance at the current weather, traffic cams and public transit schedules to get a better idea of the fastest way to get to the store. Using your location, it'll also tell you the cheapest gas prices, weather and nearby deals.
mycityway.com/overview, iOS and Android
Don't know where the deals are? RetailMeNot
Deal hunters have been rummaging through the Black Friday ads online for weeks. Who has time for that? With RetailMeNot's app, you just need to be near a deal to get an alert. The site RetailMeNot.com is already one of the most prolific deal sites for print and digital coupons.
The app takes advantage of your phone's GPS to figure out exactly where you are and pop up deals within walking distance. No registration necessary. Bonus: If you do have time to plan, you can register with the site and save deals to your account so they'll automatically pop up later.
retailmenot.com/mobile, iOS and Android Where am I? Point Inside
If you rarely go to the mall, you should probably avoid malls on Black Friday. But if you insist, make sure to download the Point Inside app, which offers quick access to interior maps of 1,110 malls. It'll help you locate stores, ATMs, the elevator or the bathroom. Plus, it'll alert you on new deals while you're walking around the mall. Bonus: This also works at some airports, theme parks and museums. Another good mall app is FastMall, which not only offers walking directions from store to store, it works offline.
One major caveat: The app hasn't been updated for a year and some mall maps are out of date. Still, for the 1,610 malls in its database, FastMall is easy and simple to use.
Point Inside, iOS and Android; FastMall.com
Need a bathroom: Sit or Squat
Some mall apps offer directions to the nearest bathroom, but if you're not in a mall, where to? The Sit or Squat app, which is from toilet-paper maker Charmin, rates the cleanliness of public restrooms. The app gets input from users, who simply say whether you can sit or you'd better squat. They can also add features, but also add important features, like if it's pay-per-use or "for customers only."
sitorsquat.com, <href=" https://itunes.apple.com/us/app/sitorsquat-restroom-finder/id511855507?mt=8" target="blank" rel="nofollow">iOS and Android
How much is it: Percentage Calculator
If you and math never equaled much, try a simple Percentage Calculator app helps you quickly figure out what 30% off saves you when you're at the register. You just need to type in two things: The price and the percentage off. Similar apps with the same name but from different developers are available.
Percentage Calculator, Android and iOS
Don't settle for just a gift card: Jifiti
When all shopping fails, you could thoughtlessly settle for a gift card. The app Jifiti goes a step further by allowing people to choose an actual item. It sends a picture to the recipient via email or SMS. Then the recipient can choose either to accept the gift, change the size or color or change the gift entirely. Essentially, Jifiti sends the person a gift card in the amount that would cover the item you handpicked. They get exactly what they want. And you get credit for putting thought into choosing a gift. Win, win!
jifiti.com, iOS and Android
Keep your receipts: Return Guru
Better than messing with paper receipts, Return Guru lets you take a photo of a receipt and store it digitally for later returns. It also offers handy features like a database of store return policies and ability to share gift receipts. A paid version eliminates ads and offers price change and better deal alerts.
returnguru.com, iOS and Windows Phone
Do the rest online: Slice
If Black Friday was just an exercise in people watching and you prefer to shop online at home, get the Slice app to automatically track online purchases and get updated shipping and delivery details. Slice also tracks product recalls and prices, in case you're due for a price adjustment.
slice.com, iOS and Android
This article was written by an independent contributor, separate from TheStreet's regular news coverage.
Tamara Chuang is an outside contributor to TheStreet. Her opinions are her own. Email her at
and follow her on Twitter
.