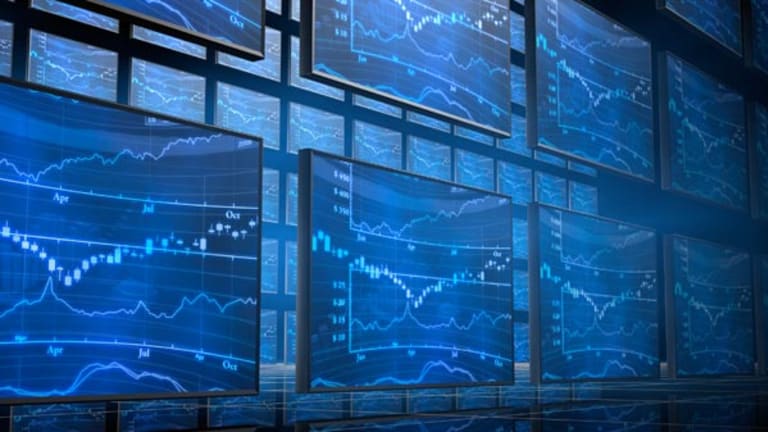 10 Best Black Friday Tech Deals
Apple doesn't go for bargains, but Google and Microsoft certainly do. Here are tech's best Black Friday deals.
NEW YORK (TheStreet) -- Black Friday, the red cape to you shopping bulls, is the day when retailers and gadget makers make their last best offer to get your money and gain some desperately needed market share from equally determined rivals.
Well, the economy still stinks as much as it did last year when
TheStreet
started this annual Black Friday tech deal roundup. And the desire to get you into the stores for the holidays, or perhaps lure you into service contracts, is just as big this time around.
With that in mind, here are 10 of the sweetest gadget deals being dangled by the biggest players in the sector, presented in discount size order.
No. 10: Apple iTunes
Apple's
(AAPL)
"stingiest-of-tech-discounters" reputation remains intact this year. Starting the list with the smallest discount, Apple has charitably offered a 20% off deal. But don't get too jazzed; it's for Apple iTunes gift cards.
The numbers.
Retailers like
Costco
(COST)
and
Best Buy
(BBY)
are selling the $50 Apple iTunes cards for $40, largely in hopes that people will end up standing so close to iPod display that they might consider springing for a bigger purchase.
The stock.
No surprise, but Apple doesn't play the Black Friday price game. It doesn't need to. With iPhones and iPads flying (Apple will likely sell more than 5 million iPads during the holidays), who needs discounts? The hot gadgets have pushed Apple shares up 50% over the past year.
No. 9: Barnes & Noble's Nook
Barnes & Noble
(BKS)
isn't letting
Amazon's
(AMZN)
Kindle win the e-reader contest without a bloody fight. Barnes & Noble recently took out the hammer and broke the $100 price barrier for the new Nook.
The numbers.
The Nook WiFi e-reader tablet is marked down 33% to $99 at Best Buy for Black Friday only. Strong move -- the new price beats the $139 price Amazon cut its WiFi Kindle to this summer. The Nook may never catch up to the 4.8 million Kindles expected to be sold this year, but you can get a $99 e-reader to help them try.
The stock.
Barnes & Noble has dropped more than 20% in the past year amid a stakeholder proxy battle and slumping sales. Meanwhile, Amazon has risen more than 20% on the continued strength of online retailing and sales of the super-popular Kindle.
No. 8: Cisco's Flip
Cisco
(CSCO)
also shattered the $100 price barrier by cutting its Flip UltraHD video camera by 33% for some special Black Friday action. Cisco's simplistic point-and-shoot video cameras now offer image stabilization to help make everyone a driver of the company's video networking business.
The numbers.
Cisco's Flip is listed in Best Buy's Black Friday ad for $99, a third off the $149 regular price. The Flip competes against tens of millions of video-shooting smartphones and pocket cameras being sold this season. But Cisco doesn't really care if it has the winning horse in that race. Cisco
builds
the racetracks.
The stock.
last week after reporting that big segments of its business dropped sharply. Bears saw it as a crack in Cisco's foundation and a sign of market share leakage. Bulls were willing to believe CEO John Chambers' promise that these were mere "air pockets" in long, upward flight. Either way, you get a great video shooter for a song.
No. 7: Garmin's nuvi 205W
Garmin
(GRMN)
takes a familiar turn in its effort to navigate the tricky GPS market. Garmin is selling its popular nuvi 205W navigation device at a 36% discount this season to hold its ground among a flood of cheap, even free direction-finding gadgets.
The numbers.
Garmin's nuvi 205W
, which is more than a third less than the so-called street price for the device. Unfortunately for Garmin, price cuts will always be necessary in a market where Apple's iPhone and
Google
(GOOG)
Android phones offer the same GPS navigation service for free.
The stock.
It has been a rocky road for Garmin shares, which are down 2% for the full year. And the stock has dipped 12% in the past three weeks amid concerns about its competitive strategy. Garmin had to
effort with
Asus
earlier this month and promised to focus more intensely on its core device businesses.
No. 6: Hewlett-Packard's DV6 laptop computer
Hewlett-Packard
(HPQ)
has a $500 laptop that will make you think twice about spending the same amount or more on Apple's iPad. For Black Friday, Best Buy is cutting the price of its HP DV6 by 36%.
The numbers.
The 15.6-inch laptop runs on
Intel's
(INTC)
Core i3 processor and boasts 4-gigabytes of memory, a 500-gigabyte hard drive and a $499 price tag -- a nice break from its $782 regular price. In a Web search,
Dell
(DELL)
couldn't put together a comparable unit for less than $800.
The stock.
HP has been on a buying trip to build its non-PC business as competition from lower cost rivals like
Acer
and
Asus
threaten to slim the profit margins further. HP shares are down 14% in the past year, due to all the money it's tossing around on buyouts like
3Par
(PAR)
. Dell, for all its woes, is only down 10% in the same time frame.
No. 5: Western Digital's Elements external hard drive
The Black Friday price of
Western Digital
(WDC)
Elements 2-terabyte external hard drive at
Target
(TGT)
flies past the $100 barrier where rival
Seagate
(STX)
had been standing. At $69, it is 47% below its usual price.
The numbers.
The price war in hard drives has created an explosion of capacity for a fraction of its previous cost. Last year, Wal-Mart cut the price of Western Digital's 320-gigabyte external hard drive in half to $49. On a price-to-capacity basis that was a mere 16 cents a gigabyte. This year, the numbers are eye popping: The $69 WD Elements 2-terabyte drive gets you down to 3.4 cents per gigabyte; that's better than last year's 16 cents-per-gig by nearly a factor of five.
The stock.
The hard drive duo of Western Digital and Seagate had a rough year after what had been a fantastic 400% rise in 2009. Both stocks are down 16% and 15% respectively for the past year, as oversupply and a slowdown in PC sales took the steam out of the story. A mere $70 for 2 terabytes of storage -- more than you could fill in a year of your silly Flip-cam kid videos -- is a screaming bargain. Unless you feel like waiting until next year, on hopes that terabytes will sell for pennies.
No. 4: SanDisk's Cruzer USB flash drive
SanDisk's
(SNDK)
16-gigabyte Cruzer USB flash drive sports a hefty 54% Black Friday discount at Amazon this year. Unlike hard drives, flash drive storage is still capacity-constrained, but that is changing quickly.
The numbers.
Amazon is selling the 16-gigabyte SanDisk Cruzer for $27.50, a big chunk off the usual $60 price. On a price-to-capacity ratio, that works out to be $1.75 per gigabyte. That's not necessarily a steep price decline from the $2-per-gigabyte rate during the 2009 Black Friday extravaganza.
The stock.
SanDisk has enjoyed the tech industry's move to flash memory. Small devices need bigger storage capacity and flash is making it happen. Even computer makers like Apple are on the bandwagon, moving toward solid state flash drives and away from hard drives in its MacBook Air lineup. SanDisk shares are up 80% over the past year.
No. 3: Microsoft's Surround phone
Microsoft's
(MSFT)
Windows Phone 7
HTC
Surround is one of nine phones introduced last month on the new operating system. In a matter of weeks, the price has been cut in half as big promotions kick in.
The numbers.
AT&T
(T)
started selling the phone on Nov. 8, and as
TheStreet
reported, Ma Bell managed to help get the first day sales of Win7 phones to a
. That's not even close to a blowout, but it's still early and promotions are just starting. To wit, the phone is now listed on
Wirefly
, an online phone seller, for $99.
The stock.
Microsoft tumbled out of the smartphone market over the past three years as Google and Apple took charge. It will take strong holiday showing and a big year in 2011 to determine whether Microsoft is really back in the game. After a long run of ineffectiveness, Microsoft's shares are down 11% for the past year.
No. 2: Research In Motion's Torch
Research In Motion's
(RIMM)
BlackBerry Torch gets a 66% price cut at Best Buy to ring in the holiday season.
The numbers.
Introduced by AT&T in the scorching heat of early August,
RIM's Torch was the best effort yet
to get into the touchscreen phone business. The phone used a new BlackBerry OS 6 software, a small 3.2-inch screen, an under-powered 624-megahertz
Marvell
(MRVL)
processor and a 5-megapixel camera. The price started at $200 with a two-year contract and quickly fell to $150. Best Buy is now offering the Torch for $49.
The stock.
RIM has struggled against Apple and Google as smartphones fans gravitated to the top two players. RIM shares have suffered amid the reshuffling phone market, falling to a one-year low at the end of August. Since then, though, the stock has rallied more than 30% to $58 as investors see no reason to count RIM out of the game.
No. 1: HTC Incredible
The Google Android-powered
Verizon
(VZ)
HTC Incredible is, incredibly, the best Black Friday deal of the year. With a price of $0 -- an 100% mark down -- there's little wonder why.
The numbers.
The HTC Incredible sales launched April 29 at
. The phone was the second in the Droid lineup fashioned for Verizon and it was originally priced at $200 with a two-year contract. But it turned out that HTC had trouble making enough Incredible phones and as the scarcity grew and the reviews glowed, Google's Android movement started its second leg.
The stock.
Google shares have traveled through a valley this year. The stock started at $600 and by mid-year had fallen below $450. But as ad sales and Android sales increased, the great Google growth engine seemed to reignite. The stock is close to $600 again and Android phones should have a pretty solid holiday. The incredibly free Incredible will certainly help.
--Written by Scott Moritz in New York.>To contact this writer, click here: Scott Moritz, or email: scott.moritz@thestreet.com.To follow Scott on Twitter, go to http://twitter.com/MoritzDispatch.>To send a tip, email: tips@thestreet.com.