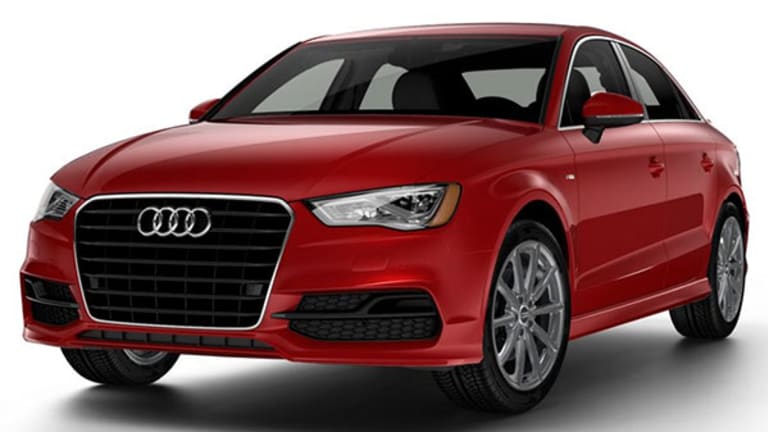 10 Best and Worst Gadgets For Your Car
TheStreet speaks with the auto gurus of Edmunds.com and Kelley Blue Book and compiles a list of cutting edge technologies for your car, as well as cautionary advice on gadgets that are not worth your time or money.
NEW YORK (TheStreet) -- After speaking with auto gurus Edmunds.com and Kelley Blue Book, TheStreet compiled a list of tech gadgets for your car. Some items in the list charge a premium that the experts say aren't worth the money, while others are pricey devices that are worth the investment as they can up the future resale value of your car. Others are highlighted for the convenience and safety they bring to the driver through their cutting-edge technology.
The one common, unifying theme behind the entire list is summed up by Kelley Blue Book analyst Zach Vlasuk: "the fundamental essence of in-car technology boils down to improving the quality of life while behind the wheel."
With that, here's a list of 10 tech gadgets for your car, which starts off by eliminating three less desirable gadgets, then clearing the way for the advanced technology that have been garnering enthusiasm in the auto industry...
Infotainment Systems
Complete infotainment systems like the Cadillac CUE charge a hefty premium for a product could become a trying experience for the driver, according to Kelley Blue Book analyst, Zach Vlasuk. 
"The Cadillac ATS or the Cadillac CTS without CUE are great," said Vlasuk. "But when you put it in there, it completely ruins the driving experience. It makes it more dangerous and it takes three steps to complete a process that should take one, such as changing the climate or adjusting the audio."  Vlasuk points out the navigation feature of the infotainment system doesn't add much value either, as the driver can just go with the base model using Bluetooth instead.
Many of the touchscreen infotainment interfaces are "just awful," said Vlasuk.
Vlasuk advises that smartphone owners in particular  should hold out on making any auto infotainment system purchases because it won't be long before their smartphones likely become fully and deeply integrated into car systems, essentially providing a seamless alternative to the infotainment system. Apple's (AAPL) - Get Apple Inc. Report CarPlay, which will become fully integrated over the next year or two, enables the car to become a second screen for the iPhone to create an interface for the driver for music, voice-based actions as well as maps.
Android also has a version that's yet to be named and is expected to be launched in the coming years.
In-Vehicle Navigation Systems
As Kelley Blue Book's Vlasuk underscored, the navigation features that come with the infotainment systems may wind up being as superfluous as the rest of infotainment system for drivers that already own  smartphones or Bluetooth devices.
On that note, Vlasuk generally advises against luxury in-vehicle navigation systems. "Expensive integrated in-vehicle navigation systems don't make any sense anymore," he says. "You see them most of the time in luxury makes, so the Audi, BMW, companies like that. You have to spend $2,000 to $3,000 on these things and you really don't get much. Expensive navigation only makes sense for people who don't own a smart phone."
Like the complete infotainment system, Vlasuk sees expensive navigation systems being replaced by the less costly features of Android car integrations and Apple's CarPlay. While expensive, in-vehicle navigation systems also require annual payments to keep the maps current, the navigation systems running on smartphone devices are not only familiar, they're continuously updated for free.
Vlasuk says for now, luxury car owners can simply buy an aftermarket mount for hands-free smartphone navigation or use Bluetooth audio-enabled, portable navigation devices for easy turn-by-turn directions while they're still awaiting the full integration of smartphone devices into car systems.
Rear-Seat Entertainment Systems
Rear-seat entertainment systems are another technology that Vlasuk says not to waste your money on.
These are typically mounted to the front passenger headrest for the rear-seat passenger. Today, these entertainment sets are still asking for $1,500 to $2,000, when it's easier and cheaper just to buy two tablets for $500 to $600 and to strap them to the back of the headrests; though the tablets may not even need to be strapped to the back, as your kids could just share and pass them around.
"Nobody really watches DVDs anymore ... everything is digital content, so you've got a more capable and more future-proof technology right there with tablets and you save yourself between $1,000 and $1,500," Vlasuk pointed out.
And now, onto the advanced products that have been generating excitement in the auto industry...
Cars Equipped With 4G LTE
LTE (Long Term Evolution) was a hot topic at the 2014 Consumer Electronics Show (CES). This year, the 2015 Audi A3 sedan and a number of 2015 Chevrolet vehicles will offer 4G LTE on the AT&T (T) - Get AT&T Inc. Report network.
Also See: CES 2014: Day One Recap
"Do you really need high-speed access to the Web in your car? -- Maybe," said Edmunds.com consumer advice editor Ron Montoya, who purchases and sells cars for the Edmunds' long-term fleet. "One of the major benefits to having an embedded modem in the vehicle is that it can use the Web to download apps and updates from the manufacturer without having to make a trip to the dealer."
Montoya says an LTE connection gives the Audi the speed it needs to download Google Earth maps with street view. It's also fast enough to stream videos and provide Wi-Fi hotspots for passengers.
Tesla's (TSLA) - Get Tesla Inc Report Model S is also equipped with 4G LTE service provided by AT&T.
Cars That Park Themselves

Mall parking lots are a hassle on the weekends and a nightmare around the holidays. But what if you didn't have to worry about driving around to find a space or even parking the car at all?
"Enter Audi's piloted parking," says Edmunds.com's Ron Montoya.
Here's how it works: you drive your Audi to a specially-designated car lot, leave the car at a drop-off area, choose an open space with a smartphone app and then let the car do all the work. Montoya says from there, the vehicle uses its Light Detection and Ranging (LIDAR) cameras to navigate the lot and park itself in the predetermined space. Once you're finished shopping, you enter a command in the smartphone app, asking for the car to meet you at the drop-off area.
Piloted parking needs two major components to work, Montoya explains: a self-driving car and a parking lot outfitted with laser sensors to record the car's movement. Businesses may be more likely to add the sensors to their parking lots once self-driving cars are on the road in sizable numbers.
In the meantime, Ford (F) - Get Ford Motor Company Report and Toyota (TM) - Get Toyota Motor Corp. Report already have vehicles that can assist with parking. In these cars, the driver has to be in the vehicle to manipulate the gas and brake pedals. The car will automatically take care of steering into the space. Edmunds' test drives found that while these two self-parking systems work well enough, they often require a large parking space to operate in.
Cars With Matching Wearable Tech
Edmunds.com's Montoya says wearable gadgets are the new trend these days, and that two of the most new and notable ones were recently prominently displayed by Mercedes-Benz and BMW at CES 2014.
Developers for Mercedes-Benz were showing off Pebble smartwatches running the Digital DriveStyle App at this year's CES. The DriveStyle app will display basic car information on the smartwatch as well as vibrating alerts of upcoming traffic or accidents on the road.
Similarly, BMW showed off a Samsung Galaxy Gear Smartwatch with an app that ran its "i Remote" app for use with the 2014 BMW i3 electric vehicle. The i Remote app will display information on the battery's charge status and remaining range. The application can also show whether the doors and windows are closed and can adjust the climate control. The app will even recognize voice commands to give it navigation directions.
Cars That Double as Wi-Fi Hotspots
People are used to being online all the time, whether at home or at work. The rare exception is when we get into our cars. Sure, you can pull out a smartphone to check your e-mail or Facebook (FB) - Get Meta Platforms Inc. Class A Report, but what if you want to get some work done on your laptop or browse the Web on a larger tablet?
Edmunds.com's Montoya says that "the 2013 Ram 1500 with Uconnect Access has a solution that is catching on with other automakers."
Uconnect Access is a $505 upgrade -- more if you want navigation-- to the Ram 1500's infotainment system. Although the value of complete infotainment systems are debated, these add-ons do undeniably add an element of convenience for users with the addition of a 3G cellular modem running on the Sprint (S) - Get SentinelOne, Inc. Class A Report network, which provides a Wi-Fi hotspot for multiple devices up to 150 feet away.
Chrysler has confirmed that Uconnect Access will be available on the high-performance 2013 SRT Viper and the more affordable 2014 Jeep Cherokee. Data prices range from $9.99 a day to $34.99 per month, according to Montoya.
The 2013 Audi A6, A7 and A8 also offer 3G Wi-Fi hotspots, albeit at a much higher cost for the car, according to the Edmunds.com analyst. Data prices for Audi connect range from $15 per month on a 30-month contract, to $30 per month without a contract.
By 2015, General Motors (GM) - Get General Motors Company Report plans to equip most of its models with a 4G LTE modem that will also provide even faster WiFi hotspots, says Montoya.
Cars That Replace Old-School Tire Pressure Gauges
"Nissan's Easy-Fill Tire Alert system is a convenient alternative to the inaccurate or sometimes nonexistent, tire-pressure gauges at gas stations," Montoya notes.
When you connect an air hose to the tire and the air starts flowing, the vehicle's emergency lights flash to indicate that the filling process has started. The horn chirps when the tire pressure reaches the recommended setting. If the driver spaces out and keeps filling the tire with air, the car horn honks until the air hose is disconnected. Once the driver has let air out of an overfilled tire, the horn chirps again to signal that the proper tire pressure has been reached.
The Easy-Fill Tire Alert debuted on the 2013 Nissan Altima sedan and will eventually make its way to other Nissan vehicles, states the automaker.
Adaptive Cruise Control
"Unless all you do is city driving, adaptive cruise control is a really good feature," says Kelley Blue Book's Vlasuk. "It's one of the helpful new features that really takes the stress out of commuting, especially on long drives. Put it in adaptive cruise control and you won't have to worry about a thing."
They're costly, and well worth the money: "as people learn more about new technologies like adaptive cruise control, it's going to raise the resale value of your car if you have these types of features in your car," the analyst explained. "Technology is going to play a huge role in car resale values in the years to come," he adds.
The prices for these system vary widely because some of them are camera-based, some of them are radar-based, some of them come as standalone options, and some of them can only be found on certain vehicles. Toyota (TM) - Get Toyota Motor Corp. Report for instance always sells these systems as a part of an advanced technology package that typically costs $3,000. With the new Cadillac ELR, the adaptive cruise control can be bought a la carte for about $1,900 to $2,000. The range of prices for camera-based systems are typically cheaper, roughly half the price of the higher-end a la carte features and advanced technology packages, but based on Vlasuk's test drives may not be as reliable. The Subaru Forester's EyeSight is an example of a cheaper option.
LED Car Headlights
Although this is isn't really advanced technology, anyone who drives at night can see the value of having an LED headlight. It's 2.5 times to 3 times brighter and more efficient than halogen lights, it can see much farther, and it more closely resembles natural daylight.
"It's a big safety thing, it makes the car look better, and it will really up the resale value of your car because some people flat out won't buy a car if it doesn't have LED headlights," Vlasuk explains. "Some people can't see at night without them."
The cost of the LED lights depends on the car, says Vlasuk. For instance, a brand like Jaguar doesn't have an LED supplier network and therefore is unlikely to offer such features on the cheap. However, Toyota can, as it has a tight partnership with auto parts manufacturer Denso, which produces very inexpensive LEDs that can go into compact cars.
-- Written by Andrea Tse in New York
>Contact by Email