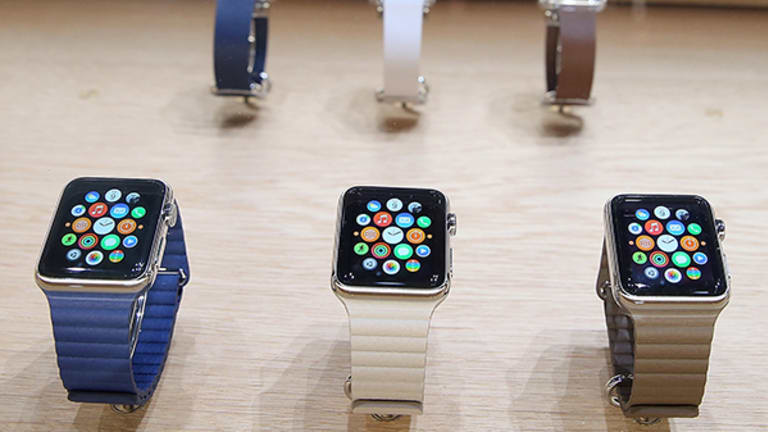 10 Apple Watch Reviews That Everyone Is Talking About Right Now
Do you plan to buy an Apple Watch? If not, perhaps one of the tech media's reviews of Apple's new device will sway you.
NEW YORK (TheStreet) -- Do you plan to buy an Apple Watch? If not, perhaps one of the tech media's reviews of Apple's (AAPL) - Get Apple Inc. Report new device will sway you -- one way or the other.
The company's first new product line since it introduced the iPad in 2010, the Apple Watch is due to hit stores on April 24. (Preorders start April 10.)
The Apple Watch is available in three collections: the Apple Watch Sport, which is priced at $349 in the U.S. and $399; the Apple Watch, which is available from $549 to $1,099 in the U.S.; and the Apple Watch Edition, with pricing starting at a whopping $10,000.
JimCramer's charitable trustAction Alerts PLUS owns Apple. Read his latest analysis on the stockhere.
For the most part, the tech media had positive things to say about the Apple Watch -- even if it does have some kinks that need working out.
Here are 10 of the most interesting reviews we've seen so far.
1. Re/code
Re/code's Lauren Goode gets right to the point in her first sentence: "Of the half-dozen smartwatches I've tested in recent years, I've had the best experience with Apple Watch."
Yet Goode cautions that the watch is not for everyone. "Not everyone has an iPhone 5 or later, which is required for the watch to work. Not everyone wants her wrist pulsing with notifications, finds animated emojis thrilling or needs to control an Apple TV with her wrist. Smartwatches can sometimes feel like a solution in search of a problem," she wrote.
2. The Wall Street Journal
"If you can tolerate single-day battery life, half-baked apps and inevitable obsolescence, you can now wear the future on your wrist," wrote The Wall Street Journal's Geoffrey A. Fowler.
More importantly, he goes on to answer the big question that many people have: Do I need a watch that has the same functions as my iPhone? According to Fowler, you do.
"I've found the Apple Watch isn't a replacement for the iPhone, but it's the right screen for many important things," Fowler wrote. "I only look at it in blips, for rarely more than five seconds. It shows me the weather with one finger swipe. It gets physical, gently tapping my wrist when something important needs my attention and lighting up when I lift my arm to look. It nudges when I've been sitting too long."
Fowler also says that it's a smartwatch that "finally make sense."
"The measure of their success shouldn't be how well they suck you in, but how efficiently they help you get things done. Living on your arm is part of that efficiency-as a convenient display, but also a way to measure your heart rate or pay at a cash register. This is a big idea about how we use technology, the kind of idea we expect from Apple," he wrote.
3. Yahoo! Tech
Yahoo!'s David Pogue makes three distinctions between the Apple Watch and its competitors.
First, it descends from watches. "Apple has put as much effort into the style of this device than the electronics," he wrote. "The Apple Watch is much smaller, sleeker, and more beautiful than any other smartwatch. That is so important. It's the difference between wearing jewelry and strapping on a little phone."
Second, Apple indeed answers the question of why would anyone want a smartwatch by making it clear that they do need it. The "average person pulls out his phone 100 times a day. This watch, like all smartwatches, serves as a gatekeeper, a filter."
Third, its way more sophisticated than competitors' watches. "The designers have obsessed over the details of this teeny-tiny operating system to an almost absurd degree," Pogue wrote. "They created a new operating system that's intended for human interactions that last only seconds. They made a new font whose letter spacing tightens as the size changes -- because that's what looks best on a tiny screen. They created animations that make information glitter and leap. On the Mickey Mouse watch face, they designed the curvature of the little rodent's hands to match the curves of the font."
4. USA Today
USA Today's Edward C. Baig is ready to buy an Apple Watch despite the big learning curve to use it, daily need to charge the device and, so far, small amount of apps available, among other key takeaways.
"As with most first-time products, it isn't flawless or essential. But among smartwatches, Apple Watch is second to none. I want one," Baig wrote.
5. Daring Fireball
"My big concern, from the get-go, is the fact that Apple Watch's screen remains off until you tap the screen (or one of the buttons) or it detects, via its accelerometer and gyroscope (and perhaps other sensors?) that you've moved your wrist into a 'tell the time' position," wrote Daring Fireball's John Gruber. "I'm generally wary of 'magic' features, and a watch that detects when you're looking at it is 'magic.'"
He conceded, "This feature, which Apple calls 'Activate on Wrist Raise' works pretty damn well. It's not perfect, alas, but it's far more accurate than I feared it would be."
6. The New York Times
Prepare for a steep learning curve on the Apple Watch, said The New York Times' Farhad Manjoo. But once you figure it out, you will love the Apple Watch, he added.
"By notifying me of digital events as soon as they happened, and letting me act on them instantly, without having to fumble for my phone, the Watch became something like a natural extension of my body -- a direct link, in a way that I've never felt before, from the digital world to my brain," Manjoo wrote. "The effect was so powerful that people who've previously commented on my addiction to my smartphone started noticing a change in my behavior; my wife told me that I seemed to be getting lost in my phone less than in the past. She found that a blessing."
7. The Verge
"Wearing a smartwatch like the Apple Watch is a far deeper commitment than carrying a smartphone in your pocket; you are literally putting the technology on your body and allowing it to touch and measure you while you display it to the rest of the world," Nilay Patel of The Verge wrote. "Committing to technology that's a little slow to respond to you is dicey at best, especially when it's supposed to step in for your phone. If the Watch is slow, I'm going to pull out my phone. But if I keep pulling out my phone, I'll never use the Watch. So I have resolved to wait it out."
That said, Patel later adds, while the Apple Watch is a "supercomputer on your wrist," it's also a "bulbous, friendly little thing, far more round than I expected, recalling nothing quite so much as the first-generation iPhone. It is unbelievably high tech and a little bit silly, a masterpiece of engineering with a Mickey Mouse face. It is quintessentially Apple."
8. Mashable
Mashable's Lance Ulanoff was a skeptic going into his review. He's now a believer.
"I started this review process as a serious skeptic, but not a denier. I wear a smartwatch (the Pebble Steel) almost every day. When I started testing the Apple Watch almost a week ago, I insisted on wearing the Pebble on my left wrist while wearing the new device on my right to compare. However, a few days in, I realized I was no longer glancing at the Pebble," Ulanoff wrote.
"I finally left the Pebble behind, and I don't miss it. That's because the Apple Watch is an excellent, elegant, stylish, smart and fundamentally sound device."
9. Bloomberg Business
Joshua Topolsky of Bloomberg Business is still a skeptic.
"So Apple has succeeded in its first big task with its watch. It made something that lives up to the company's reputation as an innovator and raised the bar for a whole new class of devices," Topolsky wrote. "Its second task -- making me feel that I need this thing on my wrist every day -- well, I'm not quite sure it's there yet. It's still another screen, another distraction, another way to disconnect, as much as it is the opposite. The Apple Watch is cool, it's beautiful, it's powerful, and it's easy to use. But it's not essential. Not yet."
10. CNET
Perhaps CNET's Scott Stein sums up the Apple Watch perfectly: "The Apple Watch is the most ambitious, well-constructed smartwatch ever seen, but first-gen shortfalls make it feel more like a fashionable toy than a necessary tool."