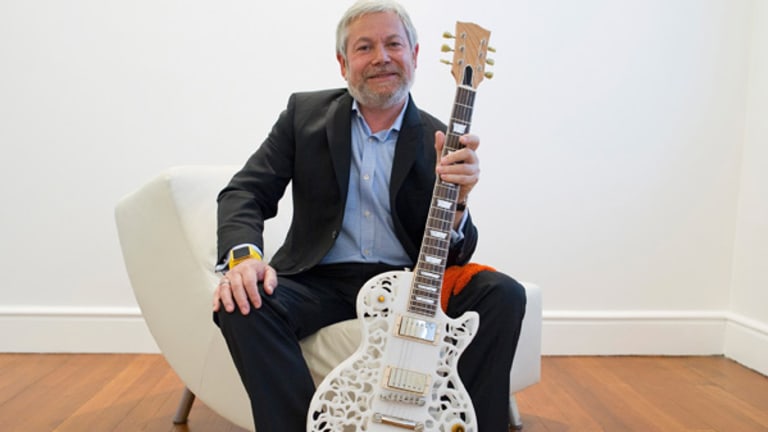 10 Amazing Things 3-D Printers Can (or Could) Make
Bicycles, planes, guns, human tissue -- you won't believe what innovators are creating these days with 3-D printers.
Bicycles, planes, guns, human tissue -- you won't believe what innovators are creating these days with 3-D printers.
NEW YORK (
) -- When 3-D enabler
debuted its first factory in New York last week, Mayor Michael Bloomberg cut the ribbon with a pair of scissors freshly printed on a 3-D printer (shown in this
photo posted by the mayor's office).
It's truly amazing to
peek into the future-- and the present -- of the printing industry. Already, consumers can design objects using 3-D software and then upload the files at Web sites like Shapeways,
and
. The sites then print out designs and ship them to you. Or you can just go buy a sub-$2,000 3-D printer yourself and watch the magic as a machine melts the plastic "ink" and creates the object layer by layer.
And while you're getting used to that idea, there are already a number of 3-D printing prototypes and realities that were unfathomable just a few years ago. Here's a look at some of the amazing objects that can be printed with a 3-D printer.
Tissue
: No, not the kind you blow your nose in but human tissue that could save your life. San Diego's
Organovo
(ONVO) - Get Report
is making news with its NovoGen MMX Bioprinter, shown at
www.organovo.com
, a special 3-D printer that prints functional, living human tissue layer by layer. It uses a person's own cells to produce veins or a heart patches so there is less chance of rejection.
>>Also see
:
For now, the printers are being used by the company and researchers to print tissue. A recent article in
speculated that this will lead to producing personalized body parts and implants on demand.
Drugs
: Researchers at the University of Glasgow in Scotland, used digital blueprints and a $2,000 3-D printer to print out drugs. The printer printed the lab equipment, which then "squirts the ingredients into the right places to make the desired compounds," according to an article in
. Of course, you'll need access to the right ingredients, but lead chemist Lee Cronin suggested on
Web site that consumers could eventually use the technology to make their own headache medicines.
Furniture
: The massive
is a movable building with a built-in 3-D printer used to print very large objects of up to 2-meters long by 2-meters wide by 3.5 meters high. At this stage, KamerMaker is an experiment, but backers at
DUS
, a Dutch architecture firm, says it can produce plastic furniture, temporary shelter and other on-demand architecture. If you happen to be in Amsterdam,
invites you to stop by and take a look at the KamerMaker in action.
Cars
: Printing cars is far from mainstream, but the first car, the Urbee, shown at
, rolled off the 3-D printer line two years ago (its exterior panels were made on a 3-D printer from
Stratasys
(SSYS) - Get Report
).
It worked! Urbee, designed by Canadian firm
Kor Ecologic
, has a one-cylinder engine and can zoom to 70 mph. The three-wheeled vehicle carries only two people, and drivers would definitely attract stares for its futuristic and aerodynamic design. But Urbee won't be hitting dealerships anytime soon. Funding hasn't materialized, according to Winnipeg's
.
Airplanes
: Airplanes are even further behind 3-D-printed cars on the road to commercial viability. But the niche is taking off. Students at the University of Virginia just built and tested an unmanned airplane that was printed on a 3-D printer. As part of a summer internship with the
MITRE Corp.
, Steven Easter and Jonathan Turman built an unmanned plane with a 6.5-foot wingspan, made from parts printed on a 3-D printer. Hitting 45 mph, the plane made four successful test flights last month, according to the
University of Virginia Web site
.
Bicycles
: A working, 3-D-printed bicycle was printed and tested last year by
The EADS Group
in Europe. Parts were printed on the machine and then assembled. A bit wobbly, yes, but the Airbike did the job. Today, bike manufacturers like
Trek
and
Giant
use 3-D printers during the design process for prototypes, according to
. That could change once 3-D printers are large enough to produce an entire bike frame.
Prosthetic Limb Cover
:
Bespoke Innovations
uses 3-D printing to make "fairings," which are anatomically shaped covers for prosthetic limbs that can be decorated with different colors and graphics -- even tattoos. Co-founded by Scott Summit, an industrial designer, and Kenneth Trauner, an orthopedic surgeon, Bespoke uses digital photos of a customer's existing limb to create an anatomically unique cover for the artificial limb. The fairings can be printed within an hour. Bespoke was acquired by
3D Systems
(DDD) - Get Report
in May 2012.
Acoustic Guitar
: Scott Summit, the same guy who created the prosthetic limb covers, is obviously into 3-D design. His latest pet project started on vacation and resulted in a working 3-D-printed acoustic guitar that actually sounded "rich and full," Summit told
. You can make your own 3-D-printed electric guitar
.
Guns
: According to
, the first working 3-D-printed gun was printed over the summer by a member of the
gun-enthusiast forum named HaveBlue. Actually, HaveBlue printed out parts of a gun, called the lower receiver, and combined them with parts of an ordinary pistol.
House
: Behrokh Khoshnevis, a professor at USC's engineering school, wants to build a 3-D printer so large, it'll spit out concrete to create a full-sized house quickly and affordably. His company
Contour Crafting
has been talking up the idea for nearly a decade, but its viability is still far in the future. Although Khoshnevis gave a TED talk (available
) on 3-D-printed buildings earlier this year, the closest we've gotten to seeing this in action is an
animated cartoon on the company's site
.
Tamara Chuang is an outside contributor to
TheStreet
. Her opinions are her own. Email her at
and follow her on Twitter
.
Tamara Chuang is an outside contributor to TheStreet. Her opinions are her own.