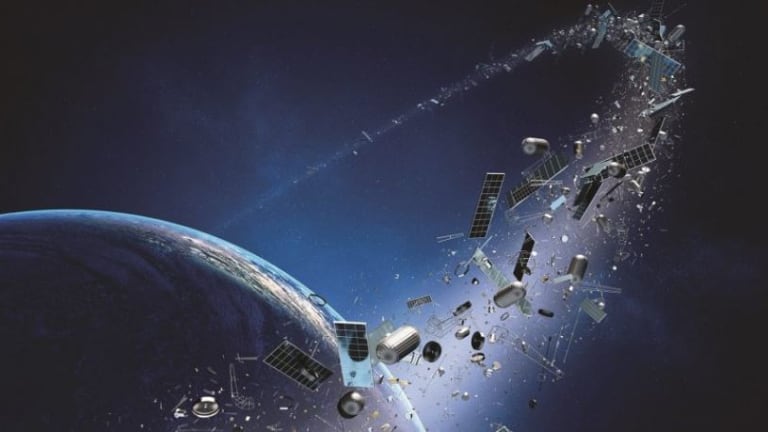 Tiny Imagery Firm Hitches a Ride With SpaceX
Maxar Technologies provides cutting-edge geospatial data to broadband carriers and military and is line to blast higher in synch with higher satellite demand after slipping 75% in the past five years.
Maxar Technologies provides cutting-edge geospatial data to broadband carriers and military and is line to blast higher in synch with higher satellite demand after slipping 75% in the past five years.
Investors have been giddy about new satellite businesses for years. Now Morgan Stanley has slapped a head-turning valuation on one of the most talked about private space businesses.
Analysts at the investment firm believe SpaceX, the rocket company founded by Elon Musk, could be worth as much as $175 billion, according to a note to clients. Not quite as much as Musk's electric car firm Tesla ( (TSLA) - Get Report) but way up there.
Investors can't buy SpaceX, but they can buy Maxar Technologies ( (MAXR) - Get Report), a smaller firm intent on piggybacking on its success.
When the space shuttle Columbia exploded Feb. 1, 2003, NASA changed. Withering political confidence led to reduced funding. The federal agency that put a man on the moon was forced to nurture relationships with innovative commercial partners.
SpaceX, founded in 2002, was the direct beneficiary of that shakeup.
The Hawthorne, Calif.-based company reimagined rocketry. Its reusable solid rocket boosters changed the economics of space. The cost to deliver a kilogram to the cosmos under the space shuttle program was $54,500. Reusable gear from SpaceX, according to The Conversation, reduced that expense to only $2,720.
This new math opens up lots of new business models.
In addition to ferrying astronauts to the International Space Station, Musk has commercial ambitions for earthbound high speed passenger travel, space tourism and Starlink, a really big idea to deliver high-speed internet access to the entire world. The project would blanket the planet with a constellation of 12,000 Low Earth Orbit communication satellites.
Morgan analysts note that SpaceX has had about 90 successful launches with its Falcon 1, Falcon 9, Falcon Heavy and Crew Dragon programs. The development of these rocket types furthers the company's target markets of satellite development and contract satellite launch, earth to earth transport, and deep space exploration.
While each of those businesses are interesting, Morgan researchers are focused on Starlink. If SpaceX can deliver broadband on a global basis, that part of the business alone could be worth as much at $130 billion, based on a $5 per month subscription cost.
These valuations are important because they make it easier for smaller aerospace firms to raise capital and build out new business models.
Maxar Technologies may be a small fry compared to big aerospace firms, but the Westminster, Colorado-based company is on the cutting edge of space imagery and data analytics. The firm operates a constellation of geospatial satellites that managers claim is the evolution of GPS. Their tech helps application developers understand where things are in the physical world, and where they are moving to.
In June, corporate managers announced the company would take full control of Vricon, a jointly owned 3D analytics firm that makes digitally enhanced, photorealistic satellite imagery. The $140 million buyout vertically integrates Maxar.
Dan Jablonsky, chief executive officer, noted that Vricon had $40 million in sales during 2019, with approximately $20 million in gross profits.
For the past several years, Jablonsky and his team have been furiously investing in next-generation hardware. The company raised $600 million to develop the first six Legion satellites, and will work on deployment next year with SpaceX, its launch partner.
All of these developments come as demand for 3D imagery from space is finding new applications. For example, Sprint uses Vricon 3D modelling to lay out its 5G infrastructure plans. And the US Army uses Maxar data to build 3D models of actual battlefield environments for training.
A company blog post highlights the many operational benefits of a highly immersive synthetic training environment.
Beaming the internet from space, or using satellite images to build photorealistic models for planning might have seemed like crazy ideas a decade ago. Now real, valuable businesses are developing.
Maxar has an uneven history of sales growth. The company had revenues of $2.2 billion in 2019, a decline of 5.5%. However, shares trade at only 0.7 times sales. This is inexpensive given the potential that lies ahead and mostly reflex a lack of confidence among analysts frustrated by the company's uneven track record to date.
The ambitious new business plan is clearly impressive. It's one that investors should keep an eye on as Maxar could shoot much higher if it executes and enjoys some well earned luck.