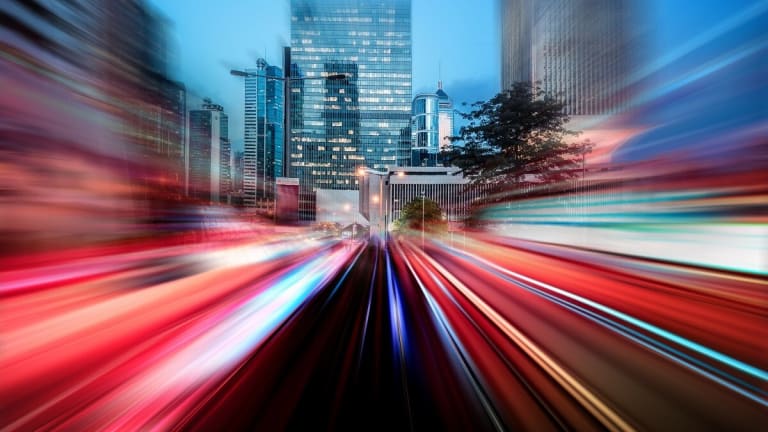 How Accenture Became the New GE
As iconic General Electric lost its way in the era of digital transformation, the void of industrial and software leadership has been filled by super-consultants at Accenture.
Digital transformation is changing the way most large businesses operate. General Electric ( (GE) - Get General Electric Company Report), with its reach into the industrial world, seemed like logical facilitator. Then reality caught up.
That's the gist of a big Wall Street Journal story out today. It chronicles the rise and fall of GE Digital, a division that was supposed to turn the industrial conglomerate into a software company.
In hindsight, the division never had a chance. Software platforms are hard work.
Oddly, the real winner, Accenture ( (ACN) - Get Accenture Plc Class A Report), was hiding in plain sight.
Admittedly, in 2016, it was hard not to root for GE. Everyone loves a good comeback story. GE Digital ticked all of the right boxes. It was the perfect makeover of an iconic American company.
Founded in 1892, in part by Thomas Edison, GE has always been a beacon of American ingenuity. From light bulbs and massive hydroelectric power plants to the use of phenolic resins to mold plastic, and the world's first jet engines, the Boston, Mass.-based company became synonymous with innovation.
Its prowess in the industrial world afforded forays into banks, financial services and brokerages. GE even got into media through the purchase of NBC. For a long time the conglomerate was the most valuable U.S. publicly traded company.
Since then, company fortunes have faded. Managers lost their way. Significant investments in media, aerospace, healthcare, and energy yielded uneven results.
Financial engineering took precedence over research and development. The company stopped innovating.
GE Digital was supposed to be the big comeback. The bet was smart factories and the industrial internet of things. The concept imagined factory-floor robots and supply chains all connected to a giant network.
Sandwiched in between was the Predix software platform, a carefully calibrated network of sensors and data analytics. The goal was to produce more-predictable outcomes.
There was some reason for optimism. Bill Ruh, the chief technical officer, in 2015 said the Predix platform helped the parent company save $500 million. And a year later GE Digital announced a partnership with China's Huawei, the world's largest telecommunication equipment firm.
The Chinese company was supposed to make Predix its preferred software platform for the internet of things. Unfortunately, the agreement would later be hindered by rising global tensions with the incoming Trump Administration, and software failures at GE Digital.
The Journal notes the Predix development debacle was like a car company hiring workers and building out a production facility, then leaving everyone standing around on the assembly line, while engineers designed the vehicle.
As software engineers worked through a continuous stream of bugs and delays, managers were dreaming up even bigger plans to build new, GE-owned and operated data centers. It was madness that ended with billions of losses and numerous executive departures.
Accenture and GE formed a strategic global alliance way back in 2012. However, where GE failed, Accenture flourished. The Ireland-based management consulting company is now the global leader in digital transformation strategies, like the internet of things.
Julie Sweet, chief executive officer, said in December that the company had 90,000 cloud professionals on staff. Accenture is the leading global partner of AWS, Microsoft Azure and Google Cloud. And company consultants are also embedded at 95% of the Fortune 100. They are building real software. Unlike other consultants such as McKinsey & Co., Accenture actually makes stuff.
The business is No. 1 in North America and Europe. It is No. 3 in growth markets, and recently reached 17,000 consultants in China, according to Sweet. The company's Irish headquarters keep outside of the immediate purview of the White House.
IDC, a global information technology research firm, noted in June that internet of things spending is expected to grow 8.2% in 2020, to $742 billion. However, spending is projected to grow at an 11.3$ compound growth rate through 2024.
Accenture shares traded to a record high Friday at $222. The stock trades at only 27.5x forward earnings and 3.2x sales. The market capitalization has grown to $145 billion, following share price gains of 51% off the March lows.
Investors should use weakness to add new positions.