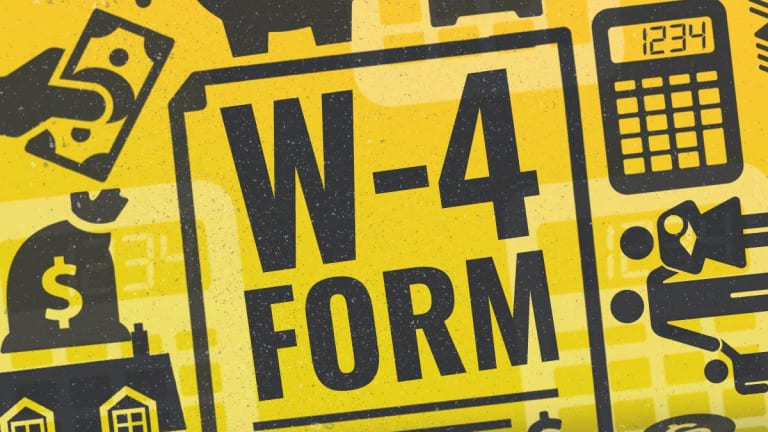 What Is a W-4 Form and How Do You Fill it Out?
A W-4 Tax Form indicates how much money an employer will deduct from your paycheck for taxes - it's up to you get that number right.
Landing a new job comes with various obligations and responsibilities, with paperwork at the top of the priority list.
One important document that a new employee needs to fill out is the IRS W-4 Form, which will dictate how much of your paycheck your employer will withhold for tax reporting purposes.
While new career professionals may look at The W-4 Form as just another piece of paper to complete and file, the reality is that this is one tax document you really want to get right, so you're in compliance with your employer, the IRS, and with your own personal financial situation.
Here's what a W-4 Form is, and why it's so important to use it to hit your tax withholding "sweet spot."
What Is the W-4 Form?
The W-4 Tax Form is an IRS tax document used by employers to withhold the correct amount of wages in each paycheck issued to employees. The two-page document informs a company how much, in wages, it must withhold to satisfy an employee's tax obligations.
Conventional wisdom notes that the W-4 form is largely used when an employee starts to work at a company, and that's true to an extent.
The IRS recommends, though, that employees fill out a new W-4 form every year, to ensure you're getting the right withholding wage amount on an annual basis. Consequently, while you will need to complete a W-4 tax form when you start working for a company, resubmitting and possibly adjusting your tax withholding amount when your personal financial picture changes, or on an annual basis, is good, sound tax management.
By and large, the term "withholding tax" refers to income tax owed to the government that is taken out (or "withheld") from an employee's paycheck. The money that is withheld is redirected to the IRS, and the employee is credited with the deduction against his or her annual tax obligation to the government.
Professional tax accountants call the withholding process a "pay-as-you-earn" tax scenario, which not only squares your account with Uncle Sam, but also provides a glimpse - in every paycheck earned - how much you pay the IRS and the state you reside in taxes on a regular basis. (Often, city taxes are also withheld from specific taxpayer wages, and the amount deducted is recorded on your pay stub. For example, Baltimore, Philadelphia, New York City, and Detroit all have city taxes.)
While employees are required to complete a W-4 form, the IRS will also require tax withholding from any commission or bonuses earned on the job, for retirees, for gamblers who report winnings, and for business owners and independent contractors.
How Do Allowances Work on a W-4 Tax Form?
The term "tax allowances" refers to the amount of wages that is withheld from your paycheck on a regular basis. The more allowances you claim, the lower the amount of cash is deducted from your paycheck. On the other side of the coin, if you claim zero allowances, you'll have the maximum allowable income tax deducted from your paycheck.
Basically, your tax allowances will depend on several key factors, including your tax bracket, and if you file your taxes as a single filer, as a married person, or as a head of household. The actual frequency of your paychecks, i.e. how many checks you get over the course of a year, also factors into your tax allowance scenario.
Thus, getting tax allowances right is an important task for taxpayers.
If you don't take enough tax allowances, chances are you'll receive a tax return from the government, which at first glance seems like a pretty good deal. After all, who doesn't like getting a check for several hundred - or even several thousand dollars? In reality, though, when you get a tax refund from the government you're essentially giving Uncle Sam an interest-free loan.
Yet if you claim too many allowances, you're likely shaping a scenario where you'll owe the IRS money for the year, with the added burden of possibly paying a tax penalty, as well.
Getting Tax Withholding Right
With all of that tax money on the line, what's your best option when considering tax withholding that will impact your paycheck, and your taxes?
For starters, consider the factors that impact your tax allowance, especially your tax bracket and under what tax allowance category you'll file. The key factors include:
Whether you are single or you are married.
If you are single but only hold one job.
If you are married, hold one job, and your spouse does not work.
If your income from a second job or your spouse's wages are $1,500 or less.
Whether you file your tax return as a head of household.
Basically, the more withholding allowances you claim on your IRS W-4 Tax Form, the lower the tax amount withheld by your employer.
Also, note that you may want to adjust your tax withholding amount after big life events that can change your tax liability. For example, getting married (or getting divorced) may warrant a change in your tax withholding amount, as would the birth of a new, dependent child, an increase in annual income, or the purchase of a new home.
How to Fill Out a W-4 Tax Form
Completing your W-4 Tax Form is a fairly straightforward process.
Before you actually get to the form, the IRS does offer some helpful worksheets to help you full out your W-4 Form more accurately and efficiently. These include:
The IRS Personal Allowances Worksheet, which helps anyone figure out their optimal allowances.
The IRS Deductions and Adjustments Worksheet, which helps taxpayers figure out their deductions before completing the W-4 Tax Form.
The IRS Two-Earners/Multiple Jobs Worksheet, which helps individuals with more than a single employer, or who are married to a working spouse, best figure out their allowances and withholding obligations.
By completing these worksheets, you'll give the IRS a good idea of your taxable income, so the agency can pinpoint, more or less, the amount of wages it wants withheld from a taxpayer's paycheck.
With your worksheets completed, now you can start filling in the actual IRS W-4 Tax Form, as follows:
Line 1. Your first name, middle initial, and last name. Underneath you'll see a line for your home address, city or town, state, and zip code.
Line 2. Your Social Security number.
Line 3. This line will show if you are single, married, or married, but withhold at a higher single rate. For example, if you're married but filing separately, check the box, "Married, but withhold at a higher Single rate."
Line 4. If your last name differs from the last name on your Social Security card, the IRS will want to know that here.
Line 5. The total number of allowances you're claiming.
Line 6. The additional amount, if any, you want withheld from your paycheck.
Line 7. On this line, you can claim exemption from withholding for the current tax year, primarily because you have no tax liability. Underneath line 7 is a separate line requiring your signature and date, indicating you have filled out the form in good faith and with all applicable care and knowledge. The IRS cites a "penalty of perjury" if the information included on the W-4 Tax Form is inaccurate, so fill the form out in a "true, correct and complete" manner.
Line 8, Line 9, and Line 10. Here, record your employer's name and address (Line 8), your first date of employment at the company (Line 9), and the employer tax identification number, which you can get from your employer (Line 10).
If you fill out the IRS W-4 Tax Form correctly, you'll have the optimal amount of money deducted from your wages. Ideally, you want to hit a "sweet spot" where you don't get a big tax refund and you don't want to owe a ton of cash to Uncle Sam.
W-4 Tax Form vs. W-2 Tax Form
There may be some confusion between an IRS W-4 Tax Form and an IRS W-2 Tax Form, but the differences between the two forms are actually very distinct.
A W-4 Tax Form gathers tax data withholding data for taxpayers that the IRS will use to calculate income taxes deducted from that employee's paycheck, and put toward his or her tax obligations.
A W-2 Tax Form is an IRS form used at year-end to report that employee's annual income and tax obligations.
Think of a W-4 tax form as an "input" tax document that shows a company how much tax income to deduct from an employee's paycheck.
Think of a W-2 tax form as an "output" tax document that shows the employee's total earnings for the year and all tax obligations, including federal, state, city and local tax obligations on a year-end basis.