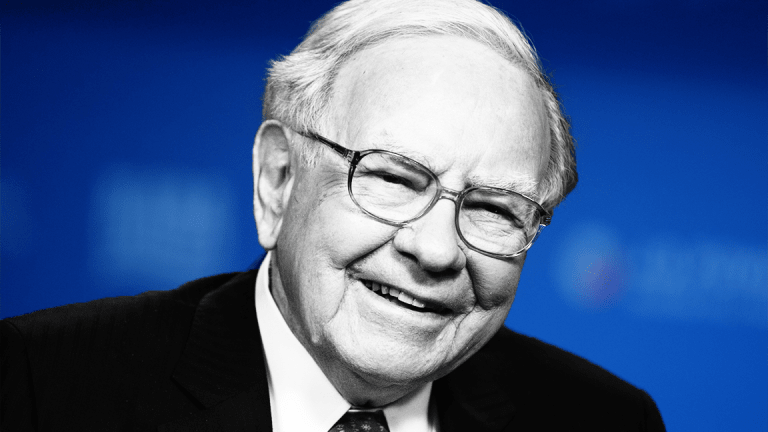 Trump's Tax Plan Could Boost Billionaire Warren Buffett's Net Worth $10 Billion
Billionaire Warren Buffett stands to benefit immensely if the proposed tax cuts are passed by lawmakers.
While billionaire Warren Buffett, who is infamous for his frugal lifestyle, will be taxed like other Americans if the President Trump's proposed tax cuts are passed, he stands to benefit immensely since his assets are tied up in his company.
As CEO and chairman of the board of Berkshire Hathaway (BRK.A) (BRK.B) , Buffett has much of his wealth in his company and not in his personal accounts. He received $487,881 in total compensation last year. His salary consisted of $100,000, and $387,881 came from other types of compensation. And unlike other Wall Street titans, he did not receive any compensation in cash as a bonus nor in stocks or stock options. His net worth is estimated to be anywhere from $73 billion to $80 billion.
If Trump's tax cuts are passed, Buffett's personal income tax level is estimated to decline from the current marginal tax level of 35% to the mid 20% level, said K.C. Ma, a CFA and director of the Roland George investments program at Stetson University in Deland, Fla.
"Personally, Buffett will benefit from say a 15% tax savings on his personal taxable income of $487,881 in 2016," he said.
Buffett's wealth is almost entirely tied up in Berkshire Hathaway, and he has few stocks in his personal holdings, said Robert Johnson, president of The American College of Financial Services in Bryn Mawr, Pa.
"It is such a small fraction that it is inconsequential," he said. "Berkshire is Buffett."
If Buffett were to liquidate his personal holdings of Berkshire Hathaway, he would have to pay long-term capital taxes. The likelihood he would do so is low since he has rarely sold them in recent years, Ma said.
Ultimately, Buffett has long said he thinks he should be taxed at a higher rate and is chagrined by the fact that he's paying lower taxes than his secretary. 
Berkshire Benefits
The largest gain from proposed tax cuts for Buffett's personal wealth is derived from the market value appreciation of Berkshire share values, Ma said. At a minimum, a 15% corporate tax reduction will increase average corporation earnings by 15%.
Since Berkshire is well-known for its acquisitive business model which requires a large amount of capital and cash flow, a 15% increase in after-tax earnings or cash flow will give the company a significant amount of buying power, he said.
This would be perceived by the market as a significant increase in future growth rate, resulting in a much higher price to earnings multiple.
"A 15% increase in earnings accompanying a simultaneous increase in P/E by say 10% will result in a stock price increase by 25%, simply from the tax cuts," Ma said.
This scenario is based on the fact that Buffett rarely sells his stocks for personal reasons, "given his modest lifestyle," he said.
"Most of his wealth...is in his stock holdings which are given to the charitable foundation," Ma said. "Any liquidation of the shares for the foundation is not taxable."
Buffett told CNBC that he would likely "sell the losses now and defer the gains until next year" to pay a tax rate of 25% instead of 35%.
"What it means for Berkshire Hathaway and for Buffett is that it makes sense for Berkshire to wait and sell any winning stocks or those that have appreciated in value until the tax plan is passed, said Johnson. "Basically, Buffett is saying that he is willing to hold onto stocks that have appreciated a couple months longer because if tax reform is passed, the tax bill on the gains will be less."
Since it is believed that the majority of Buffett's income stems from long-term capital gains and because there appear to be no plans from Trump to lower that rate, the billionaire would not benefit in this aspect, said Stan Veliotis, an associate professor at the Gabelli School of Business at Fordham University in the Bronx, N.Y.
Based on Buffett's interest income, he would benefit from a reduction of 39.6% to 35% and for his charitable deduction, the value to him of deducting it on Schedule A itemized deductions will not be as beneficial as each donation would save him 35% instead of 39.6%, he said.
An elimination of the state tax deduction "might hurt Buffett as he likely pays a lot of state income tax," Veliotis said.
The repatriation of the overseas earnings tax holiday that Trump proposed will not benefit Berkshire based on its annual report, compared to many other companies would save hundreds of millions of dollars.
The combination of a reduction on taxes on future earnings, which will add billions of dollars to after-tax income, and Berkshire's deferred tax liability on its $65 billion of unrealized capital gains at end of second quarter would be substantially reduced, resulting in an increase of at least 10% to 15% in Berkshire's price per share, said David Kass, a finance professor at the University of Maryland's Smith School of Business in College Park.
"This would then result in a proportional increase of at least $7 to $10 billion in Buffett's wealth," he said. "It is important to note, that Warren Buffett, who has approximately 99% of his wealth invested in Berkshire Hathaway, plans to donate all of his shares in Berkshire to charity, primarily the Bill and Melinda Gates Foundation."
More of What's Trending on TheStreet: