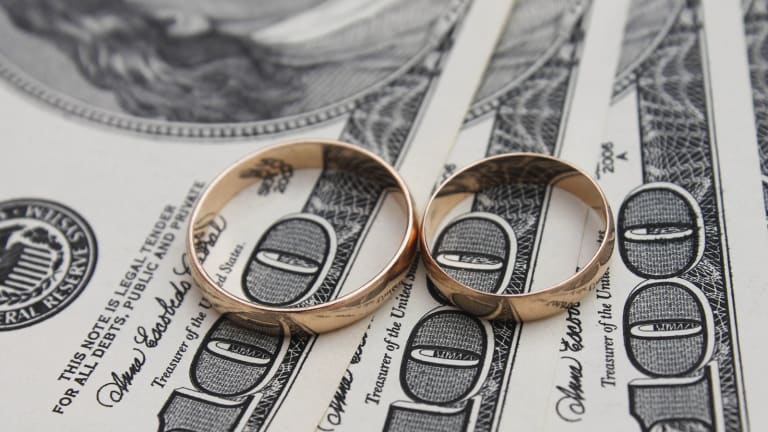 TurboTax: 5 Tax Benefits You Get When You're Married
There are plenty of great reasons to share your life with another, including these 5 tax benefits that you'll enjoy when you tie the knot.
There are plenty of reasons to marry the one you love—primarily giving and receiving a lifetime of love. No one is giving the tax code much thought at their nuptials, but the IRS does offer some substantial wedding gifts when you say, "I do." Here are 5 tax benefits of getting married and some practical tips for extending your honeymoon into tax season.
Get every deduction you deserve. With TurboTax Deluxe, we'll search over 350 tax deductions and credits so you get your maximum refund, guaranteed. It's free to start, and enjoy $10 off TurboTax Deluxe when you file. 
1. You might find yourself in a lower tax bracket
Most married couples pay less tax by filing a joint return than they would if they filed separate returns. Congress has virtually eliminated the marriage penalty, which pushed couples with similar incomes into higher tax brackets than they'd be in as singles. Often, the two spouses have somewhat different incomes, and combining them usually brings the higher income down to a lower tax bracket.
2. You can increase retirement savings
Usually working singles can fund an individual retirement account (IRA), but nonworking singles cannot. However, a married taxpayer is allowed to fund an IRA even when they are not employed as long as one spouse has earned income and the couple files a joint income. People who couldn't fund an IRA when they were single can often make contributions when they're married, building a substantial retirement nest egg.
When each spouse contributes to a separate IRA account, the contributions can substantially reduce the couple's taxable income.
Married IRA contributors can typically save more than singles because the tax benefits phase out at much higher income levels for couples filing joint returns than they do for people filing singly.
In cases where a couple doesn't qualify for tax-deductible IRA contributions because of income limits, the spouses can often make nondeductible contributions.
3. More options for employee benefits
If you and your spouse are employed by different companies, you probably have different benefits packages. This means you can "benefit shop," picking the best benefits from each employer's plan. Having two plans to choose from can increase your tax savings. For example, one of your employers might offer a dependent care flexible spending account (FSA), but the other doesn't. If you have children, using the FSA could lower your taxable income.
4. Protecting an estate
A married person can leave his or her estate to a spouse without triggering the estate tax. Because the estate is not taxed, the surviving spouse can benefit from all of it for the rest of his or her life.
Don't worry about knowing tax rules. With TurboTax Live, you can connect with real tax experts or CPAs to help with your taxes — or even do them for you. Get unlimited tax advice right on your screen from live tax experts as you do your taxes, or have everything done for you—start to finish. So you can increase your tax knowledge and understanding and be 100% confident your return is done right, guaranteed. 
5. Saving time and money in tax preparation
It's simple but true: By filing just one tax return instead of two, you'll likely spend less time gathering your tax documents and spend less money to prepare your return.
The downsides of filing jointly
We've discussed the tax benefits of being married, but there can be downsides, too. They shouldn't be deterrents to tying the knot, but you might consider them wedding crashers.
Each person who signs a joint return is responsible for everything in it. If your spouse prepares the return and makes an error, you're both liable for the consequences. If your spouse deliberately omitted something or fudged a number, you might not be responsible if you can prove you were not aware of it.
Combining incomes can make it more difficult to reach the minimum percentages of adjusted gross income (7.5% in 2020) necessary for deducting medical expenses.
If your spouse receives a garnishment for unpaid child support or an unpaid loan, your tax refund could be delayed or even blocked.
Remember, when you use TurboTax, we'll ask you simple questions and recommend the best filing status for you based on your answers, so you can minimize your tax bill and potentially maximize your tax refund.