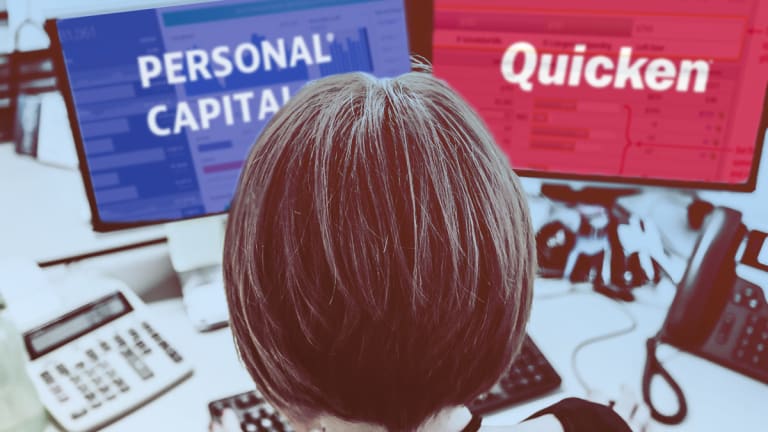 Personal Capital vs. Quicken: Which Software Is Better in 2019?
Personal Capital and Quicken both offer unique money management experiences for digital users. Which one works better for you?
Handling your personal financial management needs online is just a sign of the times.
Whether it's using financial management software on your laptop or turning to a mobile option to handle your budgets, debts, and investments, digital downloads are the way to go in today's personal financial management marketplace.
Two of the leading companies in the sector - Quicken and Personal Capital - are used more than most digital financial management packages, and for good reason - they both get the job done, and at a reasonable price (in one case, no cost.)
Let's take a thumbnail view of both financial management software providers, and see how they stack up against one another.
What Is Quicken?
While Quicken has been around for three decades, the company split off from long-time owner Intuit (INTU) - Get Free Report and re-emerged as an independent firm in 2016, when some of the early founders stepped up and took control of the company.
Quicken, which charges a subscription fee to use the service, offers basic, in-demand financial management services, like tracking spending, creating budgets, and monitoring bank and credit account balances. The software offers bill paying services on its software and its mobile app, and offers digital-age solutions like bill payment alerts and customized financial reporting.
What Is Personal Capital?
Personal Capital is a free, digital-only personal financial management tool that manages all of a user's financial accounts on a single platform. The platform syncs with a user's bank, investment and credit card accounts, listing all assets, liabilities, outstanding debt owed by category, and account transaction histories.
Personal Capital draws high marks from users for its asset and investment management tools to help users keep their retirement savings on track, plan big investment savings campaigns (like college and early retirement) and allows you to see how your investment portfolio is performing dynamically, and in real time.
Personal Capital
$8 billion in assets under management
18,000 investment clients in the U.S.
1.9 million individual users
Features Included in Personal Capital 2019
Personal Capital has a slew of new and improved features in its 2019 release - here's a snapshot:
Retirement Paycheck. The retirement paycheck add-on lets Personal Capital users know how to better withdraw cash from their investment accounts during retirement, and in a tax-wise fashion.
Retirement planner. The retirement planner tool provides users with a snapshot on where they stand with their retirement planning - bad or good.
Budgeting. The improved budgeting feature enables users to track weekly ongoing spending outcomes using the platform's cash flow analyzer spending tool.
Education Planner. The education planner tool allows end users to analyze college costs, and compare those costs on a school-to-school basis. The planner also aids users by providing year-to-year savings needs to meet a family's college savings goals.
Exclude from Advice. This platform management tool allows users to sync an account within Personal Capital, but wall it off from any of program's investment recommendations.
401(k) Fee Analyzer. There's no doubt retirement planning vehicle fees, like 401k plan fees, can mount up. The 401(k) analyzer tool lets a retirement saver know how much of an impact fees are having on fund performance - and how much of a drag it is on one's total retirement savings.
Investment checkup. The investment checkup feature measures the effectiveness of a user's portfolio investment asset allocation. In analyzing an investor's risk profile, the platform will automatically generate an asset allocation model that meets the user's unique financial needs.
Asset allocation target. The Personal Capital asset allocation target tool shows investors where they stand, investment balance-wise, on their portfolio.
Upcoming bills. This feature alerts end users to upcoming bills and the dates those bills are due.
Email notifications - Personal Capital users can get regular updates on portfolio investment performance and on personal budget and spending issues.
Quicken
In business for 30 years
Over 17 million investors
The best-selling personal finance software in the world
Features Included in Quicken 2019:
Quicken, too, has a host of new tools and features in its 2019 release - here's a look:
Quicken on the web. Quicken is now available on a web-based platform - a first for Quicken customers looking for the program to move to an internet-interactive model. Platform data is stored on the cloud, and works seamlessly among other digital devices.
Online bills. Quicken now offers users access to over 11,000 digital creditors, along with Adobe (ADBE) - Get Free Report Acrobat downloads to pay bills online.
Custom reporting. Quicken is also offering customized report layout features along with direct Excel exporting.
Free updates. Users can now connect with free features for the term of your software license - up to 27 months with special promotions - with no upgrade required.
Free online backups. Users can get five GB of secure online backup of Quicken with Dropbox.
Archive investments. Quicken users can transition in and out of their investment archives seamlessly and better track transactions.
Investment performance analysis. Users can also improve their investment selections for select Quicken model options (Premier package and above)
Free Quicken bill pay. Quicken users can take advantage of the platform's bill payment tool - 15 months for free with Premier and higher (a $149.25 value).
Invoice customization. Small business owners can customize customer invoices, including logo, color and payment links with the platform's Home, Business & Rental Property feature.
E-mail Reminders. Quicken's Home, Business & Rental Property tools also enable landlords to alert tenants when rent is due and send payment receipts after payment is received.
Quicken vs. Personal Capital
Despite existing (and thriving) under the personal financial management digital umbrella, Quicken and Personal Capital vary in important ways - and platform users should understand those differences before they start using either program.
Here's a snapshot of five key variations between Quicken and Personal Capital:
Retirement and Investment Planning
Quicken makes its bread and butter on drilling down into a money management problem, and that's evident in its retirement planning channel.
While Personal Capital has a solid analysis tool that takes a deep dive into your portfolio and tracks your progress, Quicken allows a more hands-on experience for users, playing out various "Lifetime Planner" scenarios to see how each plays out.
That gives users a real-world view of what could happen on the path to retirement, and allows the user to have an interactive experience - much more so than Personal Capital.
Budgeting
Quicken has a solid personal budgeting feature that matches up personal spending history with household budget management. That gives users a real-life look at their spending habits, and how they're impacting the household budget, and enables them to create unique budgeting and realistic budgeting goals going forward, while allowing to better manage current bill payment realities, too.
Personal Capital's budgeting platform also enables users to you to easily build a household budget, create a monthly spending target, and check in on budgeting performance in a real-time fashion. The platform allows you to track your income by date and source, even if you have multiple bank accounts (you'll need to sync all your accounts with Personal Capital to take advantage of this feature.)
Your Credit Score
Quicken, like many financial service platform providers, offers users an updated (quarterly) credit score VantageScore from Equifax (EFX) - Get Free Report .
It's not the actual FICO credit score that creditors use to evaluate your credit risk, but it does give you a good snapshot of where your credit stands, and what you can do to improve your credit score.
While Personal Capital does provide personal financial data that definitely impacts our credit score, it doesn't provide an actual credit score to users.
Technology Performance
Personal Capital gets the nod when it comes to lining up your financial account data with the digital financial platform, updating information on an automatic basis, while Quicken draws more complaints from end users about an inferior account synching experience.
The most common complaints about Quicken's synching performance is that users have to download transactions manually and then move those transactions over to the Quicken platform.
Personal Capital also has an edge in updating all financial account data on the company's digital dashboard, while Quicken doesn't update a user's financial data automatically, a user experience that seems dated given the remarkable leaps in financial technology in recent years.
Cost of Usage
You can't be "free" for a quality online financial management platform and Personal Capital certainly delivers on that front. In fact, it's no-cost access to its menu of digital personal financial tools is a huge attraction to budget-minded consumers.
Personal Capital does charge for a customized portfolio investment strategy - between 0.49%-and-0.89% of assets under management, which is generally in line (and better than most) traditional asset management firms. A nice feature is available for higher income earners - a pair of dedicated financial advisers to work on the accounts of platform users who bring $200,000 or more in assets to the table.
It's not that Quicken costs a bundle - it doesn't. The platform, which transitioned to a subscription-only model in 2018, charges between $34.99 and $99 a year for its Quicken for Windows personal financial management package, which gives you access to the company's bread-and-butter budgeting, bill payment and investment tracking services, among other features.
That's a good deal, but if its free basic digital financial management services you're after, Personal Capital offers the ultimate bargain basement price.
Besides, most banks now offer free online bill pay, which does dilute the value of paying for Quicken's bill payment service, which is included in the company's tiered subscription price.
The Takeaway
Both Quicken and Personal Capital offer personal financial consumers a healthy dose of value and creativity in managing their money.
Take a test drive and see which platform meets your unique personal financial money management needs.