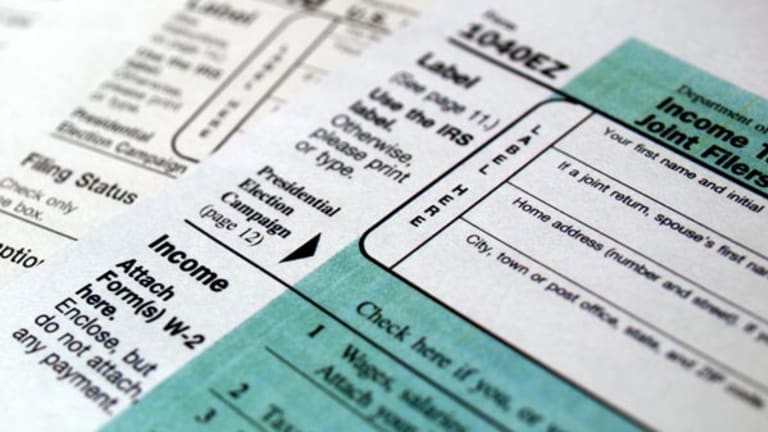 IRS Announces Policy for Tax Treatment of Same-Sex Marriages
Tax changes are here for homosexual couples.
Editor's Note: This article is part of our 2013 Tax Tips series. Robert Flach is an expert with almost 40 years of experience as a tax professional and also blogs as The Wandering Tax Pro.
NEW YORK (MainStreet)—In response to the recent Supreme Court decision that shot down the "Defense of Marriage Act" (DOMA) the U.S. Department of the Treasury announced last month that "all legal same-sex marriages will be recognized for federal tax purposes".
According to the announcement –
"The U.S. Department of the Treasury and the Internal Revenue Service (IRS) today ruled that same-sex couples, legally married in jurisdictions that recognize their marriages, will be treated as married for federal tax purposes. The ruling applies regardless of whether the couple lives in a jurisdiction that recognizes same-sex marriage or a jurisdiction that does not recognize same-sex marriage."
Treasury Secretary Jacob J. Lew tells us –
"This ruling also assures legally married same-sex couples that they can move freely throughout the country knowing that their federal filing status will not change."
Under this new development the "state of celebration" determines the federal tax treatment and not the state of residence.
The announcement further explains –
"However, the ruling does not apply to registered domestic partnerships, civil unions, or similar formal relationships recognized under state law."
My former home state of New Jersey has recognized originally "domestic partnerships" and then "civil unions", but does not permit same-sex marriage.
And the press release reminds us -
"Legally-married same-sex couples generally must file their 2013 federal income tax return using either the 'married filing jointly' or 'married filing separately' filing status.
This bottom line of this announcement is that any same sex couple can file a federal return as a married couple, and receive the federal estate tax benefits of a married couple, as long as they are legally married in a state that allows such a marriage, regardless of where they actually live at the time of the marriage ceremony or where they may move to thereafter.
So it appears that under this new procedure all New Jersey resident same-sex couples who want to be treated by the federal government as a legally married couple merely have to go to New York, or another state that allows same-sex marriage, and become legally married there. The same applies for those who live in other states that do not acknowledge same-sex marriage.
Fellow tax professional Jason Dinesen, EA of the Des Moines IA area, who writes and speaks regularly on same-sex tax issues, verified this for me.
"N.J. residents getting a marriage certificate from NY would be considered married for federal tax purposes because they hold a marriage license that is valid in the state in which they received it. This appears to be true regardless of where they actually lived at the time the license was issued."
Here's what the ruling says on this subject:
"For Federal tax purposes, the Service adopts a general rule recognizing a marriage of same-sex individuals that was validly entered into in a state whose laws authorize the marriage of two individuals of the same sex even if the married couple is domiciled in a state that does not recognize the validity of same-sex marriages."
Dinesen explains that things are different for Social Security benefits -
"For Social Security Benefits, the SSA says it bases marital status on the laws of the state you live in when the benefit claim is made.
So for example, a person in a same-sex marriage makes a benefit claim while living in Iowa -- SSA will treat them as married. This treatment will continue even if the person moves to a state that doesn't recognize same-sex marriage.
But if that person presently lives in Nebraska, Texas, etc., and then puts in a benefit claim SSA will treat them as unmarried because the state they are presently living in doesn't recognize same-sex marriage.
Dinesen says that Medicare is following the IRS treatment of marriage.
The announcement further states -
"Individuals who were in same-sex marriages may, but are not required to, file original or amended returns choosing to be treated as married for federal tax purposes for one or more prior tax years still open under the statute of limitations."
So a same-sex couple who was legally married in an appropriate state in 2009 can elect to amend their separately-filed individual 2010, 2011, and 2012 federal income tax returns to file jointly as a married couple. But they do not have to do this. The only requirement is that from 2013 on, as long as they remain legally married, they must file federal returns as a married couple.
In many cases, due to the "marriage tax penalty", a same-sex couple will actually pay more federal income tax filing as a married couple, either jointly or separately, than they would if they could continue to file as two separate Single individuals. In such a situation there is no requirement for a married same-sex couple to amended prior year "open" federal returns to pay additional tax.
There are still several issues that need to be addressed on the state level by the individual states that do not allow same-sex marriage.
--Written by Robert D. Flach for MainStreet