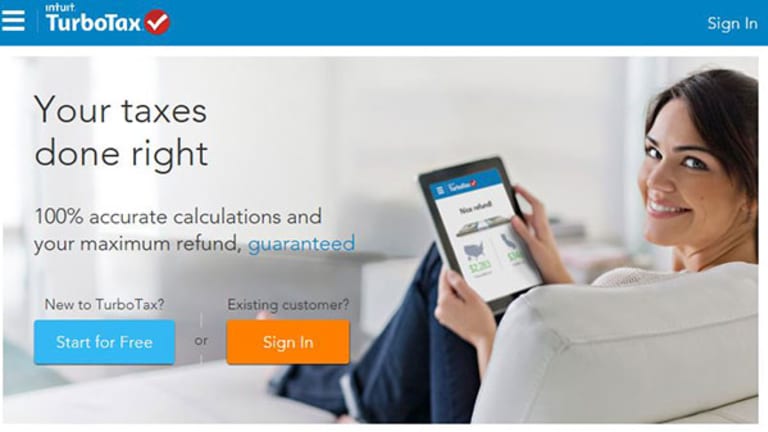 Cyber Criminals Opting for Phishing Scams, Trojans and Stealing Mail to Get at Your Tax Return
Cyber criminals have created a small arsenal of tools to help separate people from their tax returns, but there are ways to keep your data safe.
NEW YORK (MainStreet) — The ruckus that exploded late last week when Intuit was forced to stop transmitting state tax returns has settled down with all the tax software publishers claiming their systems are safe to use, but the question is still open on whether those transactions are truly secure.
Internet security firm Symantec said it has pinpointed several scams that have become popular this year aimed at those using tax software or those who e-file. These include financial Trojans, direct malicious threats and email phishing.
For its part, Intuit is standing by its TurboTax product claiming it is secure, and the Minnesota Department of Revenue, which first became aware of the fraudulent activity and stopped accepting TurboTax e-filings, reversed its measure on Saturday and is again accepting the returns. Minnesota also backed using technology to file in a statement.
"Electronic filing is still the best way to file your taxes," the state said in a written release.
The Symantec threat board has several potential attacks listed:
Financial Trojans can be used to steal financial credentials leveraging the TurboTax name to target victims.
Tax-season phishing scams using HTML files that, when opened, reside on the user's PC and capture personal data before sending it to an attacker-controlled server.
Malicious threats like Cryptolocker arrive as important tax-themed messages, and once opened, encrypt files and holds them for ransom.
Then there are also phishing emails that use tax season keywords and phrases in the subject lines telling you that your tax return was incorrectly filled out, that your 2014 tax payment issue has arrived or that you are getting a tax receipt. 
"If you get an email from the IRS or EFTPS (Electronic Federal Tax Payment System), don't respond," Symantec advises. "Instead, forward it to phishing@irs.gov. You should also know that the IRS will never call you by phone. Email threats about consequences for failing to respond or blocking access to your funds are always fraudulent."
Minnesota and Intuit blamed scams similar to those above and not the tax software nor the state's computer system that allowed cyber criminals to gather information to file false returns.
To be on the safe side and further bolster TurboTax, Intuit said it reinstated e-filings only after adding additional layers of security onto its product, including Multi-Factor Authentication. This requires two or more independent credentials such as a password, security token or biometric verification like a fingerprint to gain access to the account.
Intuit spokesperson Julie Miller said the company has noticed an uptick in suspicious activity this year and that it is an industry-wide problem. To counter the problem, Miller said, the IRS has put in place more stringent fraud filters.

TaxAct and Jackson Hewitt, other players in the tax preparation software category, are also keeping an eye on the situation.
TaxACT and Jackson Hewitt, which also offer tax preparation software and e-filing, said in written statements that they are aware of concerns about potentially fraudulent state returns being e-filed, but said similar problems have not arisen with their customers.
"We are not seeing similar activity in our proactive monitoring, and we will continue to partner with state agencies and the IRS to prevent fraud," TaxAct wrote.
Jackson Hewitt noted one way to beat the bad guys is to file as early as possible, essentially beating the criminals to the punch by getting returns in first.
Interestingly even using the old-fashioned U.S. Postal Service is not an entirely safe option as many criminals have no problem going through unlocked mailboxes to swipe tax return checks. So even if the paperwork was mailed in, always request direct deposit for the return.
--Written by Doug Olenick for MainStreet