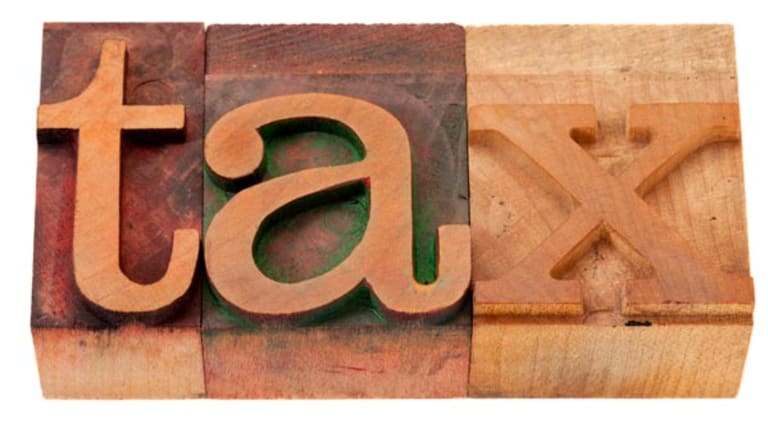 Boost Your Tax Savings
There are several special tax breaks for 2005 to keep in mind when preparing your return.
This tax season, vow to save money.
Why not? We spend countless hours cutting coupons, getting up at 7 a.m. for those silly one-day sales at Macy's and bidding for obscure products on eBay. So why not take the same parsimonious approach to your tax return?
We've got some tax-saving ideas for you to start with now. And we'll be here throughout tax season to continue to help you save big. If you happen to have questions, please
send them on to me. Once a week, we'll pick a few and do our best to alleviate the pain.
But for now, here are a few great ways to save this year.
Big Break for Shoppers
If you shopped big in 2005, you really should consider taking the sales tax deduction. And big shopping could mean anything. Furniture, art work, a boat, clothes -- it all adds up.
We've talked about this deduction before, but here's a refresher: When you itemize your deductions on Schedule A -- Itemized Deductions, you get to deduct any state and local income taxes you paid in that year.
This year (and last year too), you have the option to deduct either your state and local income taxes paid or your total sales tax paid. Remember, you can't take both.
In case you can't locate all your sales receipts, the IRS created
Publication 600 -- Optional State Sales Tax Tables
to help. These tables take into account things like your filing status and the number of exemptions you claim and offer a best guess of what someone in your tax position probably would have spent on sales tax. You'll have to do a quick calculation, but then you'll have an estimated sales-tax-paid number.
Keep in mind, these charts do not take into account big purchases like cars, boats or diamond rings. So add the sales tax from those items on to your number from the IRS chart.
Technically, this is the last year for this deduction, although rumors abound that Congress is going to extend it. But you never know, so take advantage of it while you still can.
Good News for Givers
Hopefully you were generous last year, because the damage caused by those hurricanes left way too many people in need.
The good news is you will be rewarded for your generosity. Typically, your total charitable contribution deduction is limited to 50% of your adjusted gross income. But because of the extreme hurricane devastation, Congress lifted that AGI limitation. So any cash contributions made between Aug. 28 of last year and Dec. 31 are exempt from that 50% AGI rule. (Stock gifts don't qualify.)
Even better, your contributions didn't have to go to a hurricane-relief agency to qualify for this perk. A donation to your church or synagogue during the holidays, for example, will count, too.
Just make sure you have written documentation from the charity for any donation you made that was $250 or more, in case the IRS comes knocking.
Drive Away to More Tax Savings
Hitting the pump really hit your wallet last year, and again, Congress showed some empathy.
If you did any work-related driving from Sept. 1 on, you can deduct 48.5 cents per mile on your tax return. The rate was 40.5 cents per mile for the first eight months of the year.
Unfortunately, the rate for charitable driving didn't increase. It stayed at 14 cents for all of 2005, says Jeff Pretsfelder, senior tax analyst at RIA, a company that provides tax information and software to tax professionals. So if you drove to a local blood bank to make a donation, you can deduct only 14 cents per mile for your ride.
But if your charitable drive was to offer relief to Katrina victims, then pay attention. You got a mileage increase, but in typical congressional form, it's a bit confusing. The standard mileage rate was 29 cents from Aug. 25 through Aug. 31, and then it jumped to 34 cents per mile from Sept. 1 through Dec. 31, says Pretsfelder.
Ante Up Those Retirement Contributions
As trite as it sounds, maxing out your retirement plans can save a ton of money. While there's not much you can do about your 401(k) at this point (except begin contributing for 2006!), you have until you file your tax return to beef up your IRAs.
The IRA contribution limit is $4,000 for 2005, with a $500 catch-up contribution for folks age 50 and up. So if you have a traditional IRA, get that money in and watch your tax bill go down. If you have a nondeductible IRA or a Roth, still make those additional contributions. While you may not feel the tax savings now, you will in your golden years.
You have until only April 17 to make your IRA and Roth contributions -- regardless of whether you put your tax return on extension. The exception is for self-employed folks. If you're on your own and you have a solo 401(k) or a SEP-IRA, you can contribute up until Oct. 15 if you file for an extension.
Education Payback
College is way too expensive these days, so don't pass up the credits and deductions you can get for paying for it.
This is the last year for the tuition and fees deduction, which could cut up to $4,000 off your taxable income. This deduction is only applicable to, well, tuition and fees -- not for room and board or other living expenses. To qualify, your AGI can't exceed $160,000 if you're married and $80,000 if you're single.
Whatever expenses don't get negated with that deduction should be applied toward either the Hope or Lifetime Learning credits.
The Hope Credit applies only to the first two years of post-secondary education, such as college or vocational school, and can be worth up to $1,500 per eligible student, per year. The student must be enrolled at a school at least half time. The Lifetime Learning Credit applies to undergraduate, graduate and professional degree courses and equals 20% of the first $10,000 of the tuition and fees paid during the year. It maxes out at $2,000. You can't claim both credits for the same student in the same year.
Thankfully, the AGI limits on both credits were increased by a few thousand dollars in 2005, so more people will qualify. These credits now will be reduced when a married couple's AGI hits $87,000 ($43,000 for singles) and are eliminated when it reaches $107,000 and over ($53,000 for singles).
So start saving. Just like there's no reason to pay top dollar for designer duds when you can buy them discounted online, there's no reason to give Uncle Sam any extra money.
Tracy Byrnes is an award-winning writer specializing in tax and accounting issues. As a freelancer, she has written columns for wsj.com and the New York Post and her work has appeared in SmartMoney and on CBS MarketWatch. Prior to freelancing, she spent four years as a senior writer for TheStreet.com. Before that, she was an accountant with Ernst & Young. She has a B.A. in English and economics from Lehigh University and an M.B.A. in accounting from Rutgers University. Byrnes appreciates your feedback;
to send her an email.