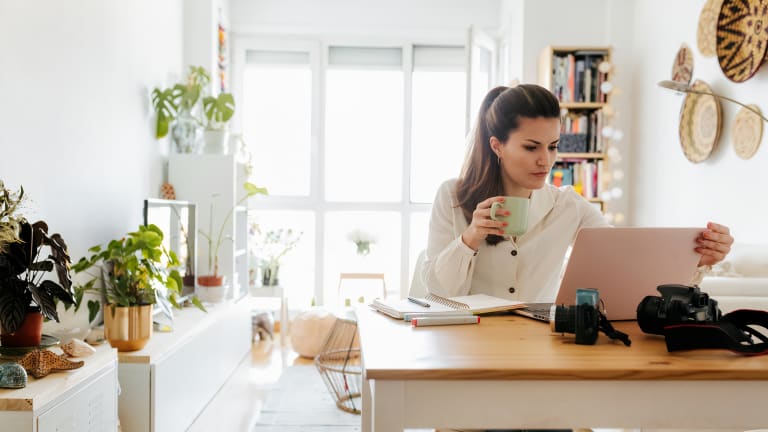 6 Money Saving Tax Tips for the Self-Employed
Take advantage of these tax credits and deductions that might help you offset some of your business expenses.
Self-employment can be hard, but if it was easy, everyone would do it, right? In an attempt to lighten your load and ease your burden, whether you are figuring out estimated taxes, or are gearing up for next tax season, take a look at these tax tips for the self-employed and some of the most missed tax deductions.
Get every dollar you deserve with unlimited tax advice from experts who know self-employment taxes inside and out. Whether you're a freelancer, independent contractor, small business owner, or have multiple streams of income, TurboTax Self-Employed can help you uncover the industry-specific deductions you qualify for. Plus, you can get up to an additional $20 off when you file with TurboTax Self-Employed.
Work Expenses and Related Fees
It's time to think inside, outside, and around every corner of the box for this one. What does it cost to run your business? You can deduct office equipment such as printers and computers – even replacement ink and toner. The paper you're printing on? Your company letterhead and business cards? Yep, all of those relatively small and possibly overlooked costs can be deducted from your taxable income. Just make sure they are costs dedicated to your business.
In the age of online media, costs and fees are looking different every year. Do you pay for your website hosting and domain name? Do you pay online banking fees or online payroll software costs? Make sure you don't skip those expenses when you file your taxes.
Your Home Office Situation
Not only are you able to write off your equipment expenses, but you're actually able to take the home office deduction for the space you use in your house as a home office tax deduction as long as it is a dedicated workspace for your self-employed business. The IRS allows you to deduct part of your home expense like rent or mortgage interest as it relates to the amount of space you use in your home for your office.
Because your office is within the walls of your home, you are also able to write off part of your home insurance and your utility bills. The amount, again, depends on the size of your office. And even if you choose not to take the home office deduction, you can still deduct your office supply expenses.
You may also be able to deduct your home office using the simplified home office deduction which is up to a flat $1,500 based on up to 300 square feet of office space used at $5.00 per square.
Note: If you have been working from home during the past year or so for your employer, you are not eligible for a home office deduction. This home office deduction is only available to self-employed taxpayers.
Travel and Education
Doctors have journals and teachers have in-service training to help keep them educated and up to date about current strategies and the best new ideas. For the self-employed, keeping up to date with the latest and greatest trends isn't always so easy. For most of us, training and education come at a price. We have to pay for the conference or the class, we have to pay for travel, we might even have to get a hotel room depending on the length of the conference.
Luckily business travel, education, and training expenses may all be tax deductible. Even taxi, shuttle, and parking costs are tax deductible. If you rent a car when you arrive at your destination, the expense is deductible as long as the car is used exclusively for business.
Also, keep in mind that you can deduct your car expenses either using the standard mileage rate which is 56 cents per mile in 2021 (57.5 cents per mile in 2020), or actual expenses like lease payments and repairs depending on the business use of your car. If you put an SUV in service that is rated more than 6,000 pounds gross vehicle weight and up to 14,000 pounds gross vehicle weight, you may be able to deduct up to $25,900 in 2020 if it was the first year you put the car in service and if you use the vehicle at least 50% of the time for your business.
TurboTax Live experts look out for you. Expert help your way: get help as you go, or hand your taxes off. You can talk live to tax experts online for unlimited answers and advice OR, have a dedicated tax expert do your taxes for you, so you can be confident in your tax return. Enjoy up to an additional $20 off when you get started with TurboTax Live. 
Hardware and Software
Did you buy a desktop computer, a laptop, a new monitor, an iPad, or any other piece of technology to help grow your business? It all may be deductible. Just be sure your iPad is strictly for business purposes and not your child's favorite toy!
What about computer software? If you didn't buy a new computer this past year, but you had to update your current software or purchase new software to get the job done, you can write that spending off. This is an especially important deduction to remember because, as we all know, software gets expensive . . . quickly.
Everyday Supplies and Office Furniture
Remember back in the day when you worked in a cubicle at some big office? Remember how many pens you lost? How many Post-It pads did you go through? How many highlighters and paperclips and staplers did you use? You don't think about the costs of such items when you're an employee. But when you're self-employed, you realize how quickly those everyday items add up.
And don't forget your home office furniture. Your desk, your chair, your printer stand, and even your trash can are all able to be deducted on your tax return. Just remember to keep your receipts!
All the Rest
There are so many tax deductions related to being self-employed – they just couldn't all fit into one single article. Don't worry about knowing all of these tax deductions. TurboTax Self-Employed will ask simple questions about you and your business and give you the business deductions you deserve based on your answers. TurboTax Self-Employed uncovers industry-specific deductions. Some you may not even be aware of. If you have questions, you can connect live via one-way video to a TurboTax Live Self-Employed tax expert to get your questions answered. TurboTax Live Self-Employed tax experts are available in English and Spanish, year-round and can review, sign, and file your return or you can fully hand over your taxes from the comfort of your home. You can use QuickBooks Self-Employed year-round to track income, expenses and mileage, and estimate taxes. The information can then easily transfer to your TurboTax Self-Employed tax return so you are ready for tax time.