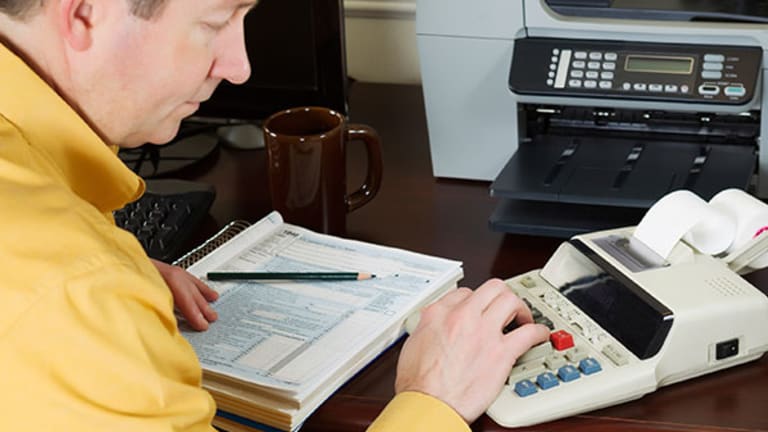 5 Last Minute Tax Preparation Tips For the Discerning Taxpayer
Don't file your taxes, unless you use these five tips first.
Tax deadline day is coming up fast; this year it's April 18 for most Americans and April 19 for those in Maine and Massachusetts.
If you've been procrastinating, it's time to break out the calculator and the tax management software in order to complete and file your taxes on time, with an eye on saving every dime possible.
To pitch in, TheStreet asked several leading tax experts their favorite last minute tax preparation tip. We sought creativity, efficiency and savings, and that's what our group of experts brought to the table, with these five time-saving and money-saving ideas:
1. Scour your return one last time for every deduction - First up is the National Association for the Self-Employed, which advises taking advantage of every single legitimate deduction to which you are entitled, even at the last minute. "Don't avoid a deduction because you heard it was a red flag," says Keith Hall, president and CEO of NASE. "Foregoing a deductible item that you are entitled to is like paying the IRS part of your hard earned money in exchange for reducing your chances of audit from about .0087% to .0086%. Do your homework, document your deductions and don't give the IRS any more money than you absolutely have to."
2. File Anywhere - Filing your taxes is more convenient than ever with online and mobile options available, which is why the trend of taxpayers doing their own taxes has grown close to 4% compared to last year, notes Lisa Greene-Lewis, a certified public accountant and tax expert for TurboTax. "The benefits of filing online are numerous, and one of the biggest benefits of e-filing is that you receive confirmation that the IRS has received your return," she says.
3. Compare last year's return with this year's return - "If your situation was similar to 2014, but the bottom line of your tax return is drastically different, take a few minutes to go through last year's return, comparing it line by line to this year's return," says Dave Du Val, vice president of customer advocacy at TaxAudit.com. "This will help you identify any errors."

4. Pay yourself first - There are very few things you can do to lower your taxes after the year ended on December 31, 2015, but contributing to your IRA or self-employed plan is at the top of the list, says Du Val. "Just make sure you are eligible and able to contribute to a qualified IRA or self-employed plan," he advises.
5. If you need an extension, ask for it - While you may think filing a tax extension is a bad thing, it's actually not frowned upon by the IRS, notes Kaleb McCarty, a Tampa, Fla.-based registered financial consultant. "In fact, they prefer that people ask for an extension so they can get it right the first time," McCarty states. "If you can't get all of your paperwork together by the deadline, an extension will give you an extra six months to file." Remember, if you owe money on your taxes, make your best estimate, because you still need to pay by April 18, McCarty adds. Then, make sure you get your return filed by October 15th.
In the rush to file your taxes on time, things easily get overlooked. So take a deep breath, get a grip and use the above tips to make your IRS experience as easy and as financially rewarding as possible.