Hong Kong Disneyland Resort has lost more of its magic, with its financial deficit doubling to over HK$345 million (US$44.1 million) last year.
The Lantau Island theme park, in which the Hong Kong government is the controlling shareholder, reported on Tuesday a third consecutive year of losses. The deficit in 2016 stood at HK$171 million. Executive vice-president and managing director Samuel Lau said park expansion, asset depreciation and higher operating costs ate into Disneyland's balance sheet for the year ending September 30.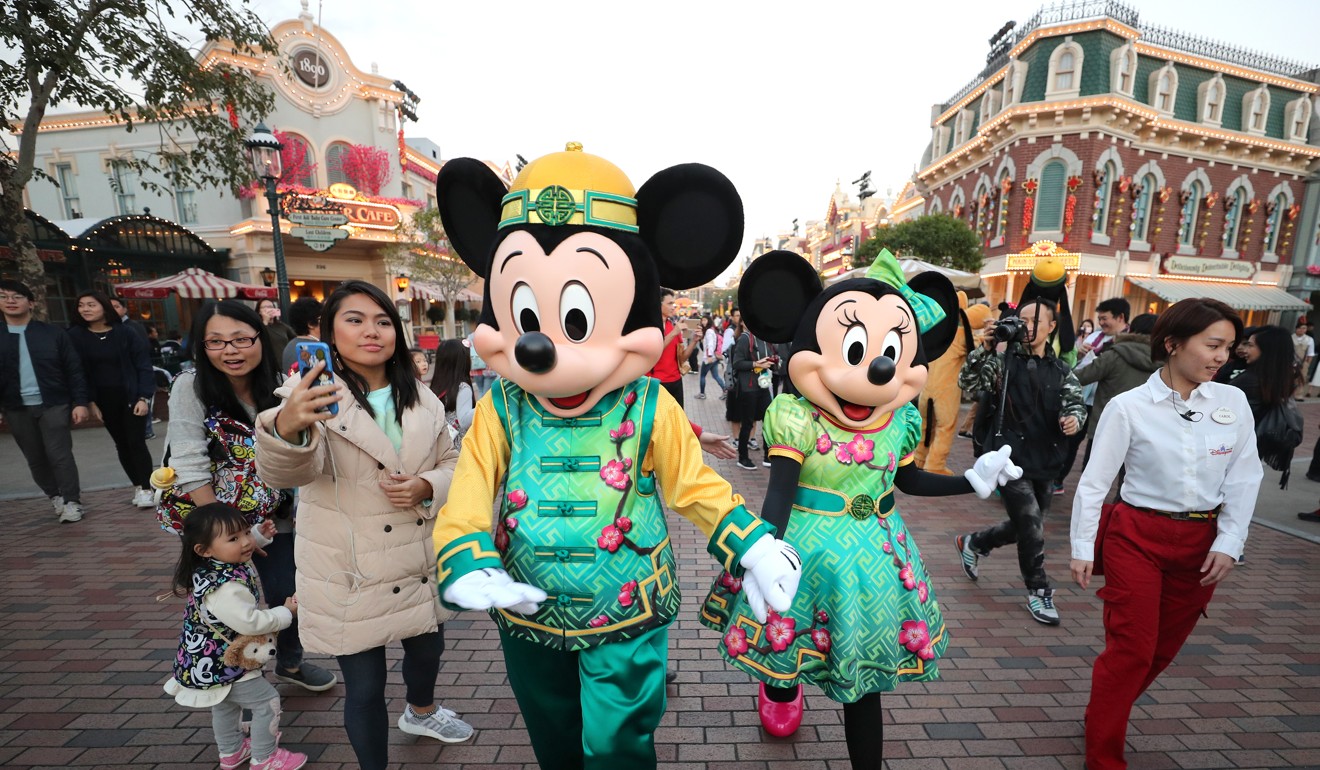 Disney's (DIS) business was also hit by the closure of some facilities to pave the way for the expansion work.
The park opened new attractions last year, including an Iron Man feature and a 750-room hotel called Disney Explorers Lodge. The depreciation period for these new assets could last for three to 40 years, Lau said.
"It is hard to say when the peak period for the depreciation will be," he said. "We will focus on growing revenue to offset the impact."
Lau said the park would continue to bring in more attractions, characters and products to lure visitors. "Our job is to grow revenue, to grow more attendance," he said. "We have different new products and merchandise to attract the guests. That's the way we are going to balance the business."
However, earnings before interest, taxes, depreciation and amortisation soared 28 percent to HK$914 million last year. This showed the theme park had met internal performance benchmarks, Lau said.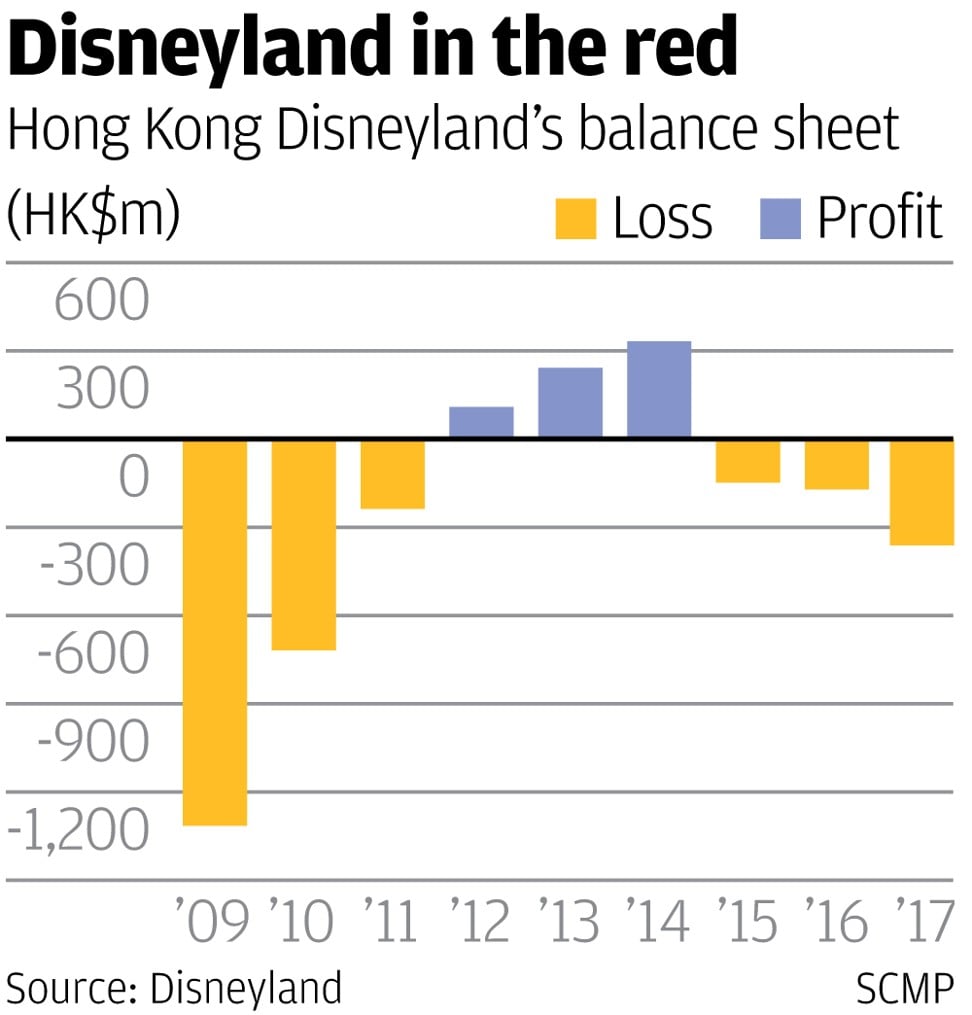 Revenues jumped 8 percent to HK$5.1 billion, largely powered by a 3 percent increase in visitor numbers to 6.2 million.
Disney has another theme park in Shanghai, which opened in June 2016 and served 11 million visitors in its first year.
"Shanghai's Disney is catered more to Shanghai, and the mainland market is very big," Lau said.
Locals were the biggest group of visitors to the Hong Kong park last year, making up 41 percent. They were followed by mainland Chinese tourists, at 34 percent, and overseas visitors who accounted for up to 25 percent.
The Hong Kong theme park also fared worse than local arch-rival Ocean Park, which recorded a HK$234 million deficit in 2017 - better than Disney and also an improvement on its performance in 2016 when it posted a HK$241.1 million deficit amid a tourism downturn.
Despite the disappointing numbers, Lau said 5,000 full-time staff at Hong Kong Disneyland had been rewarded with a pay rise of between 2.8 and 5 percent in January and a bonus last December.
He said the recent recovery in the Hong Kong tourism industry had spilled into Disney's business.
The three hotels at the resort had sold 53 percent more nights in the financial year to date, he added.
Legislator Yiu Si-wing, representing the tourism sector, said the opening of the high-speed rail link to Guangzhou and the Hong Kong-Zhuhai-Macau bridge this year would help bring in more visitors to the theme park.
However, he found the 70 percent overall occupancy rate of Disney hotels disappointing and advised the theme park to host more events, conventions and exhibitions in its hotels.
"In Hong Kong the average occupancy rate of hotels was over 80 per cent so the performance of Disney hotels was far from satisfactory, especially the new hotel," he said.
"I think Disney needs to introduce not only more attractions in the park, but also more events, conventions and exhibitions, and in-depth tours connected with Lantau routes in its hotels to boost its business."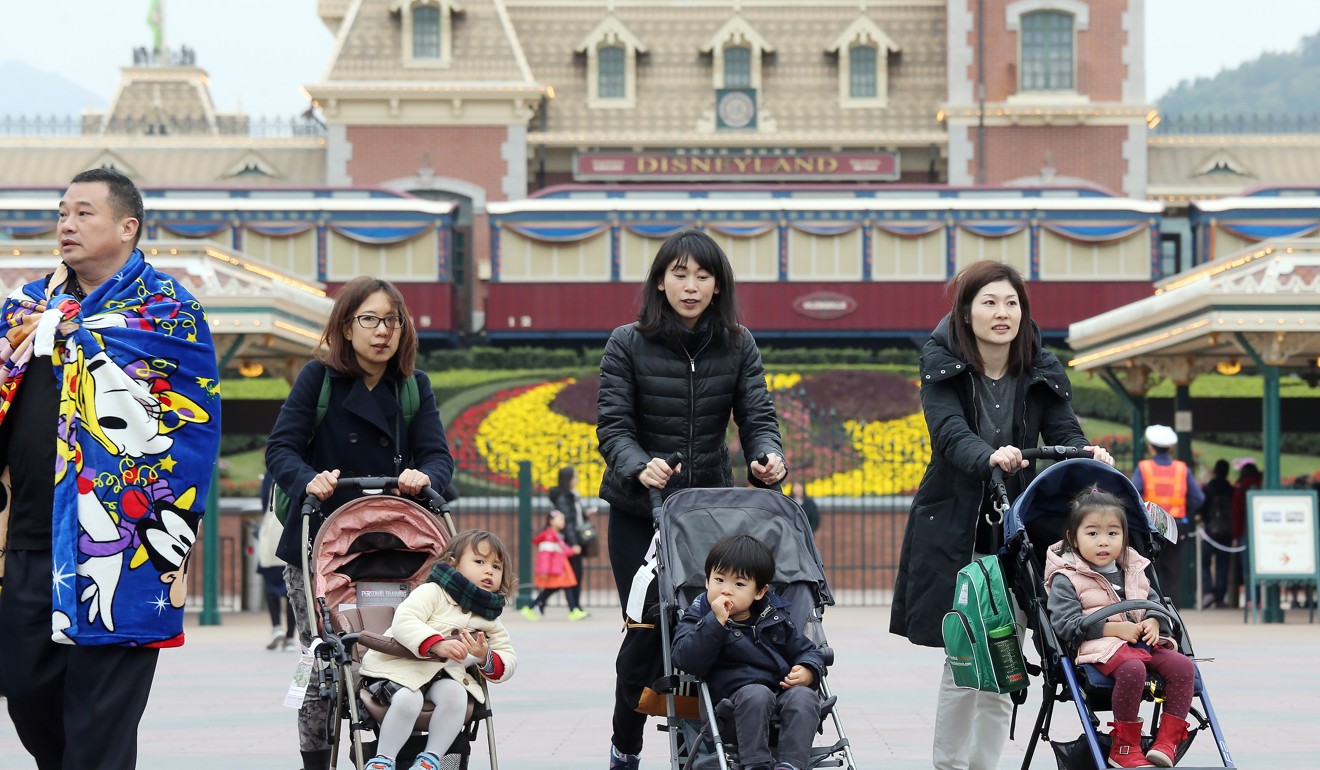 A HK$10.9 billion expansion plan is in the works for the next six years. It will bring attractions themed on the movie Frozen as well as Marvel characters. Disney managed to obtain Hong Kong government funding of HK$5.45 billion for the work despite objections from lawmakers.
Meanwhile, the Tourism Board estimated on Tuesday that 60.6 million tourists would visit Hong Kong in 2018, the second time since 2014 that visitor numbers would exceed 60 million in a single year.
The board's executive director, Anthony Lau Chun-hon, brushed aside fears that the city would be crowded out and reignite Hongkongers' animosity towards their mainland counterparts, as was the case a few years ago during a surge in visitor arrivals.
Additional reporting by Raymond Yeung.
Read the original article on South China Morning Post. For the latest news from the South China Morning Post download our mobile app. Copyright 2018.