Chinese investors' favourite big caps too have succumbed to the turmoil in global stock markets. After defying the sell-off to rise to a more than two-year high on Monday, the SSE 50 Index - a gauge of the 50 most valuable companies on the Shanghai exchange - has run out of steam, sliding by 2.8 per cent for a third day on Thursday, adding to a loss of 6.5 per cent this week. This has set the measure on course for its steepest weekly decline in two years. Chinese traders have started to unwind their positions on larger companies, their favourite bets that made decent gains last year, as the turmoil sparked by a jump in the yield of US treasuries sends equities down globally. Hong Kong's Hang Seng Index tumbled 5.1 per cent on Tuesday, posting its biggest single-day drop since July 2015.
Hong Kong shares close lower for fifth session on concern global equity woes not over yet
"The global appetite for equities is falling and no sector can escape the sell-off," said Wei Wei, a trader at Huaxi Securities in Shanghai. "Trading in China's big caps is already too crowded and investors are now rushing to become the first to sell, to lock in profits." Fund managers had been adding to their holdings of Chinese big caps, including Ping An Insurance Group and Kweichow Moutai, over the past year, as earnings growth accelerated. The SSE 50 gauge surged by 26 per cent last year, the best performer among China's major equity gauges. Through to Monday, it had gained 11 per cent.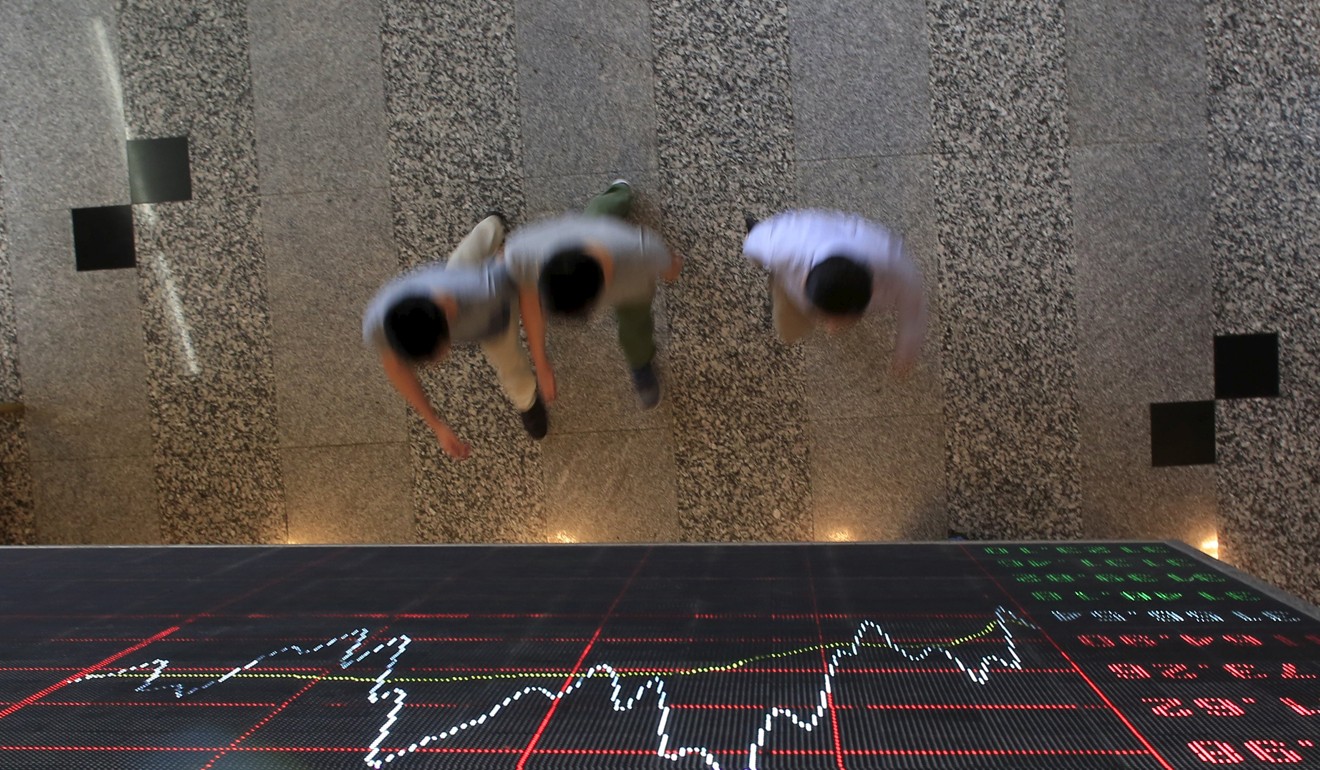 The sell-off came even after China's state-backed securities newspapers, including
China Securities News
and
Securities Times
, ran articles reassuring investors that mainland stocks had quite solid fundamental support and that their valuations were relatively low among the world's major markets.
Trading in China's big caps is already too crowded and investors are now rushing to become the first to sell, to lock in profits
China stocks moving in tandem with global markets can possibly be explained by increased foreign participation, after the start of an exchange link with Hong Kong that allows direct purchases of mainland shares by overseas investors. Foreign traders sold a net of 9.7 billion yuan (US$1.5 billion) worth of mainland stocks on Tuesday, their biggest single-day sales on record, according to Bloomberg data.
No, the current stock market turmoil won't derail the economy, says Goldman
Chinese stocks could stabilise in March or April, when the release of annual and first-quarter reports provides clues on corporate earnings, said Xun Yugen, a strategist at Haitong Securities. Developers and banks were among the worst performers on the SSE 50 Index over the past three days. China Fortune Land Development tumbled by 18 per cent and Poly Real Estate Group shed 16 per cent. The Industrial and Commercial Bank of China lost 12 per cent, while the Agricultural Bank of China retreated by 9.3 per cent.
Read the original article on South China Morning Post.
For the latest news from the
South China Morning Post
download our
mobile app
. Copyright 2018.