China's railway operator said heavy investment in its high-speed network would continue in 2018, although it plans to spend less on fixed assets than last year. Despite the mountain of debt racked up by China Railway Corp through years of huge construction projects, analysts say the plan will help to offset a decline in property investment and to stabilise economic growth in the country. The company has allocated 732 billion yuan (US$112.4 billion) for fixed-asset investment this year - less than the 801 billion yuan for 2017 but roughly in line with the average of the past five years, the company said at its annual conference in Beijing on Tuesday.
The funds will go to projects that are part of a national plan to extend China's high-speed railway network to 30,000km by 2020, linking most of the big cities, general manager Lu Dongfu said. The plan is to have high-speed railway lines covering 38,000km across the country by 2025. China's high-speed railway network is already the biggest in the world at 25,000km, and many provincial capitals can be reached from Beijing within eight hours. Lu said another 3,500km of high-speed railway lines would begin operating this year.
Railways are a key area for the government to invest in as it tries to stabilise economic growth at a time when it has tightened regulation of the property market and put funding of public-private partnership projects under closer scrutiny. "Double-digit growth [of fixed-asset investment] is already a thing of the past that we can't go back to," Iris Pang, chief Greater China economist at ING in Hong Kong, said. "But spending on railway infrastructure will remain strong under the long-term construction plan and it will help sustain the level of national investment. So it means sectors like hi-tech and 5G telecoms, and robots, have more time to develop."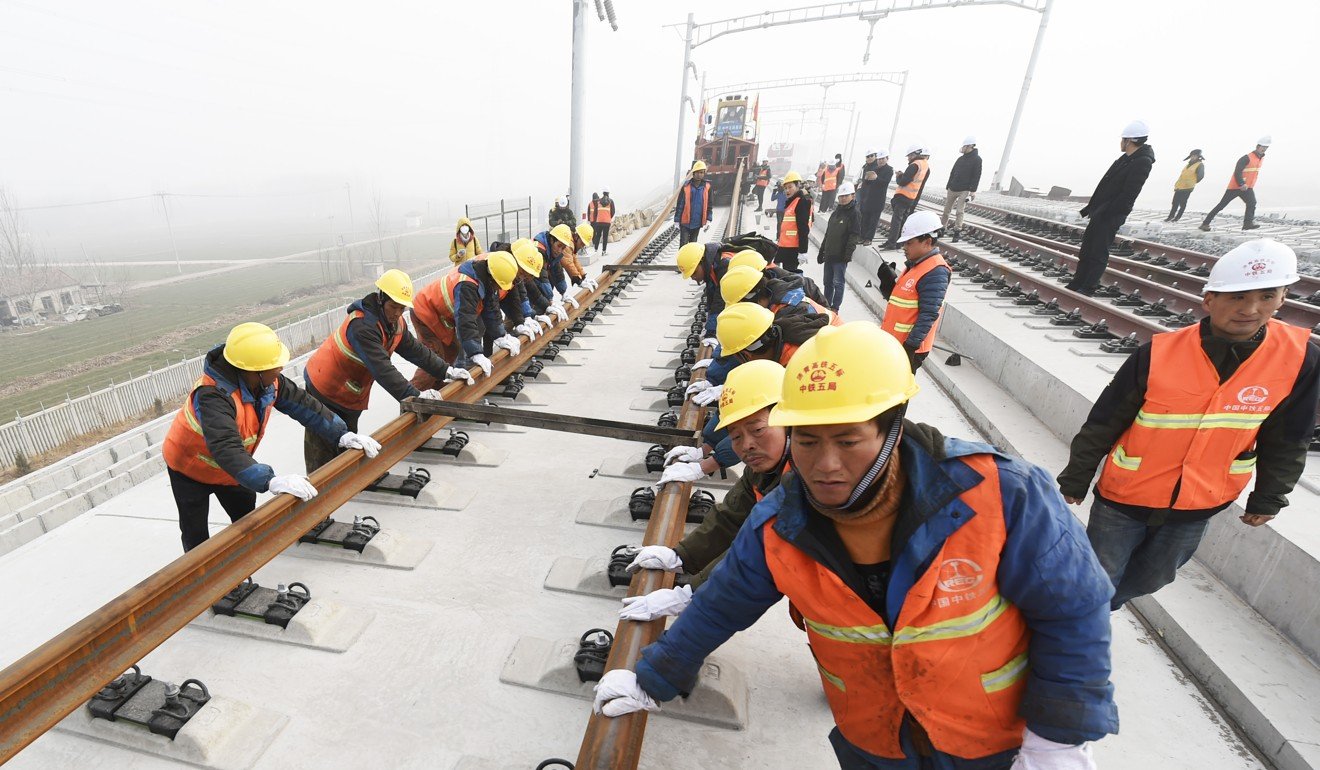 Growth in fixed-asset investment slowed by 0.1 percentage point to 7.2 per cent in the first 11 months of last year, according to the National Bureau of Statistics. But infrastructure spending remained robust, rising 20.1 per cent in that period, compared to the 7.5 per cent increase in real estate investment.
China Railway Corp, which was formerly the Ministry of Railways, also said it would continue to revamp its operations. "[It] will deepen reform of non-transport subsidies and actively promote a 'mixed ownership' restructuring plan," Lu said. The state-run railway operator wants to follow the same path as the country's second-biggest telecoms operator China Unicom - which introduced strategic investors such as Alibaba, Tencent and Baidu late last year - and will seek private investment in its subsidiaries and some construction projects. Alibaba owns the
South China Morning Post
.
China Railway Corp's revenue from transport services jumped 17 per cent year on year to 695.8 billion in 2017. Other revenues rose 14 per cent to 284.1 billion yuan. The company said it aimed to increase transport revenue to 745.8 billion yuan this year, and other revenues to 320 billion yuan. But its vast accumulation of debt remains a concern. It owed 4.8 trillion yuan at the end of September - or 64.8 per cent of total assets, according to its financial statement released on the ChinaBond website.
Read the original article on South China Morning Post.
For the latest news from the
South China Morning Post
download our
mobile app
. Copyright 2018.