A spat between the estranged co-founders of
BaWang International (Group) Holding
, a producer of herbal shampoos and hair care products, has spilled from the living room into the courtroom, as shares in the company enjoyed a temporary halt to what has been a 97 per cent plunge to a record low. Wan Yuhua, the wife of BaWang's founder Chen Qiyuan, said she is suing to liquidate the private entity that controls 60 per cent of the 28-year-old company, and redistribute the BaWang shares to other shareholders. A hearing at the High Court is now scheduled for February 28, an announcement said. "As my ex-husband repeatedly made decisions that are harmful to my interests, and the interest of the holding company, I have lost any trust in him," Wan said Wednesday during a press briefing in Hong Kong. "I will apply to liquidate the holding company and sell all the assets for distribution to shareholders." Chen, the 55-year-old co-founder and chairman of the Guangzhou-based company, filed for divorce on September 12, Wan said, but have been separated for more than two years.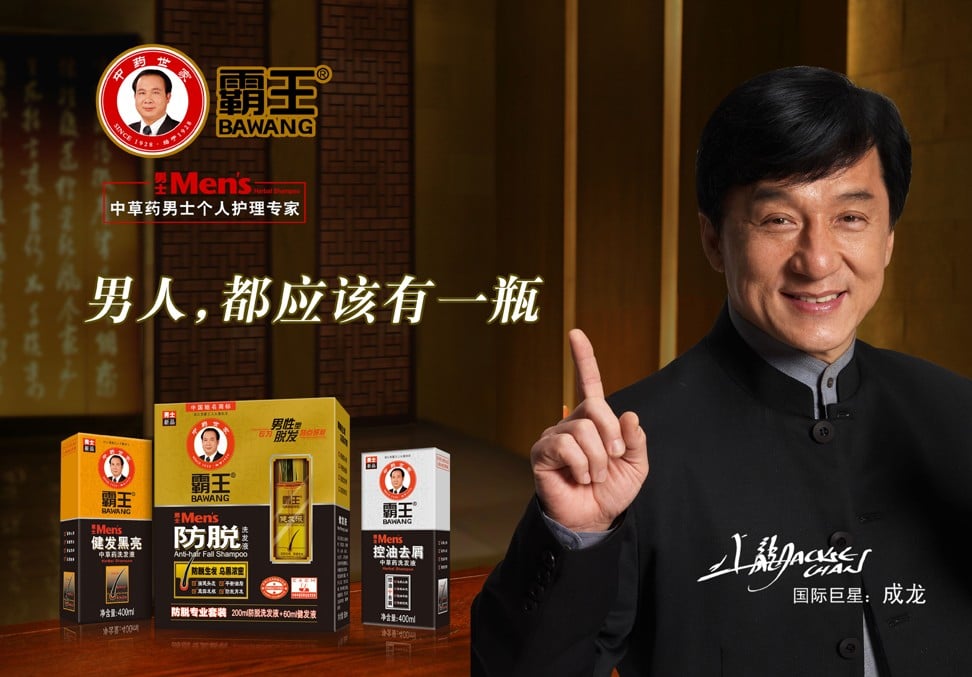 The public spat adds to BaWang's woes, which has not reported a profit since its 2010. The company, whose shampoos were previously endorsed by celebrities such as film star Jackie Chan and singer Faye Wang, won a HK$3 million (US$384,000) settlement last year against
Next Magazine
for publishing a defamatory article about its products. But the defamation suit and settlement has failed to reverse BaWang's declining revenues, which fell from 1.76 billion yuan (US$268.4 million) in 2009 when its shares went public, to 232.18 million yuan in 2015. BaWang's shares changed hands at HK19.7 cents on Wednesday, their lowest level since trading began in July 2009, before transactions were halted pending an announcement. The stock had plummeted 97 per cent since reaching a record HK$6.58 on December 28, 2009. But its shares bounced back as much as 27 per cent to 26 HK cents after re-opening higher on Thursday morning.
"It is a dead-cat bounce. The company shares will see volatile trading as uncertainty rises about the outcome of the court case," said Prudential Brokerage associate director Alvin Cheung Chi-wai.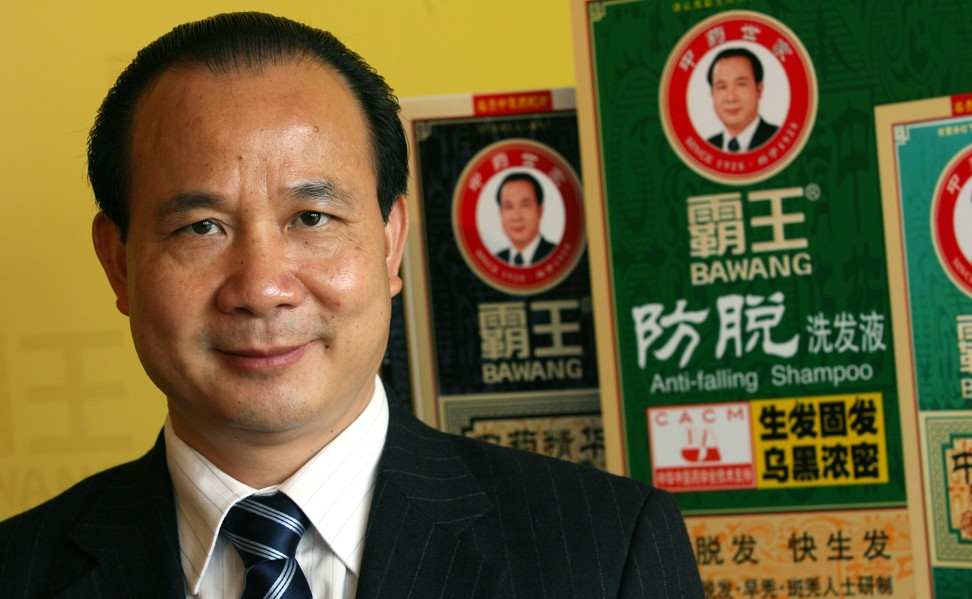 The dispute appears to be a spillover from a succession feud in 2015, after Wan relinquished three positions on the BaWang's board, making way for her eldest son Chen Zhenghe, so she could pursue her own personal business affairs, according to a December 2015 filing to the Hong Kong stock exchange. It underscores the importance of succession planning among Hong Kong's family-owned businesses, said Timothy Lo, managing director at CAIIS, a subsidiary of CA Indosuez (Switzerland). "The potential liquidation of the controlling company will distribute the asset according to the shareholding of family members," Lo said. "In this case, the wife may find she will receive more than just selling her shares." BaWang, which means "overlord" in Chinese, is 60 per cent owned by an entity called Fortune Station, in which Chen owns 51 per cent while Wan owns 49 per cent. Chen's likeness is featured prominently in the company's logo.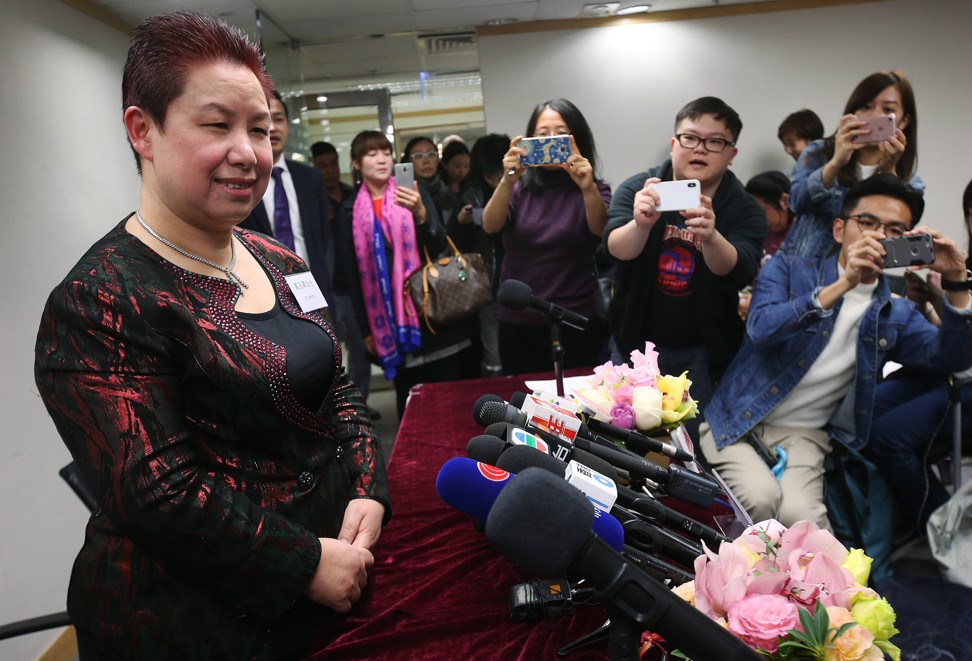 "I want to have equal status as a shareholder of BaWang, because my conservative [soon to be] ex-husband prevented any of my innovative suggestions from being heard," Wan said in her press briefing. In January, Fortune Station issued shares to Heroic Hour, an entity controlled by the couple's seven children. Chief executive Chen Zhenghe owns 22 per cent of Heroic while the balance is held by his six underage siblings. Wan said she has lost contact with her eldest son Chen Zhenghe, 28, who has been BaWang's chief executive since 2015. "I begged my daughter-in-law and my mother-in-law to send a request to my ex-husband, that I only want to ask for 5 per cent, or less than HK$100 million, after our divorce, but I have not received any reply from them," she said. The issuance of shares was done illegally with her signatures forged, Wan claimed during a press briefing. "I asked for a divorce two years ago. While the divorce was in progress, my ex-husband cut off all my finances so I had to live on borrowed money for two years," Wan said. "I even had to borrow HK$20,000 from my sister to come to Hong Kong to file the lawsuit" to liquidate their holding company, she said. The company said in a stock exchange announcement late on Wednesday that the petition filed by Wan to wind-up Fortune Station had not been served, and that it had applied to resume trading in its shares on Thursday. The company announcement added "given that the winding up application process is at an early stage … the board of directors of the company is still considering the potential impact on the company" that could be caused by the petition. It said it was aware of recent allegations by Wan through media reports, and that Chen had informed the company that "all allegations raised by Ms Wan are groundless and are categorically denied". "The company considers this to be a matter between its shareholders," it said.
With additional reporting by Georgina Lee
Read the original article on South China Morning Post.
For the latest news from the
South China Morning Post
download our
mobile app
. Copyright 2018.
More from South China Morning Post: