Grant Horsfield says he had a heart attack in early 2009, after Chinese bank ICBC recalled a loan from his bank account for 30 million yuan (US$4.58 million), as the latter received an order from the country's authorities to reduce debt following the global financial crisis. It was two years after the South African entrepreneur had started his business in China. To avoid running out of cash, he was forced to turn to loan sharks for the same amount, who charged him whopping annual interest of 28 per cent. Eight years on, and now in his early 40s, Horsfield's hospitality and resort business, the "Naked Resort", survives and is now one of the most lucrative in China, and he's poised to close a Series C financing round to expand his latest venture - co-working spaces. Key strategic investors include those from China's leading property developers and financial institutions, and the injection of cash is likely to value the company - branded "Naked Hub" - as high as US$1 billion, said Horsfield. He couldn't give an exact figure as the fundraising process is yet to close.
I have visited many state-owned commercial buildings, with lights on, air conditioning on, but whole floors empty … such a waste of energy and resources
"It is never easy doing business in China … But people still have trust (for genuinely good products) … and never think the market is so stupid you can cheat them …" he said. His co-working space operation started two years ago with seed capital of just over 100 million yuan from his resort business. It closed a Series A financing round led by Hong Kong-based property private equity Gaw Capital last year, and there are now plans to list, most likely in Hong Kong, as it looks for ways of fundamentally changing the traditional working environment and style, added Horsfield. "I have visited many state-owned commercial buildings, with lights on, air conditioning on, but whole floors empty … such a waste of energy and resources.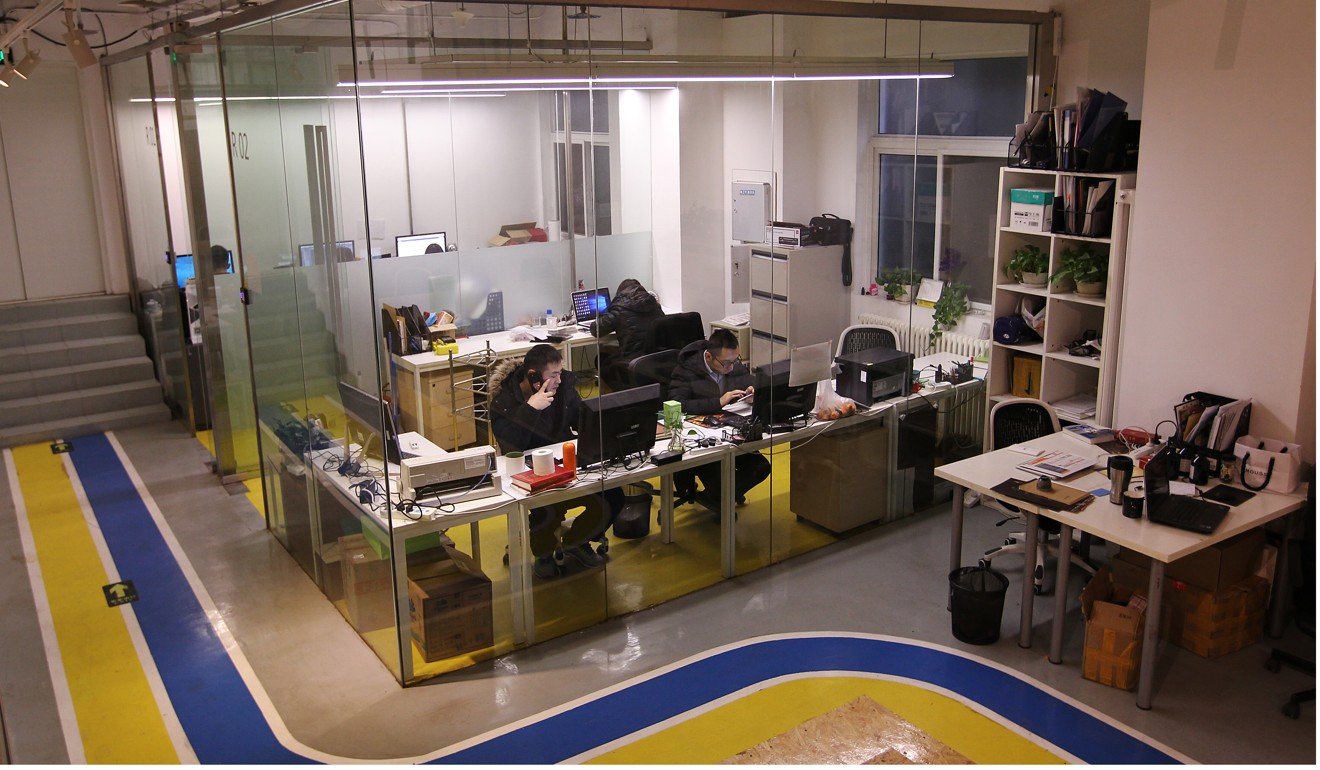 "Every single building [we plan] will offer shared space - we will manage that and the community it creates. That's what we want to do. That's where we see the future," he added. Horsfield's Naked Hubs bring the experience of hospitality to offices - yoga in the morning, air ticket booking by online secretaries, connections to legal and financial services, coffee delivered to your desk - no matter the services, they will be just a click away from anyone's co-working space. Competition among China's co-working market is intensifying, with global leading brand WeWork expanding fast into the market, for instance, while local rivals including UrWork and KrSpace continue to develop apace, backed by deep-pocketed venture capitalists. A recent JLL report described the co-working space sector as "a no-frills offering in China".
The emphasis is on getting a functional workspace with shared services and internet connectivity - a large space is simply subdivided and rented on short leases, like the no-frills cousin of a traditional serviced office
"The future consolidation of co-working operators is inevitable. The real survivors will be the ones able to care about the frills - and this will lead to more co-working formats that increasingly resemble that of their global competitors." Frank Rexach, managing mirector of enterprise strategy and innovation at JLL Asia Pacific, says the co-working operators that really stand out are those who genuinely care about their tenants' working experience. "Chinese customers are already at the cutting edge of so much of the work they are in, but the problem is that their places of work are stuck in the past. The challenge is to let them catch up." Horsfield says Naked Hub's key competitiveness lies in its know-how and ability to "bring hospitality to an office", based on its experience if running resorts. "This is a hard business to copy - we rely not only on software, it is still a bricks and motor business that combines construction, technology and hospitality. "We are the only player in the Chinese market who has invested so heavily in design and tech …" Horsfield claims, as he attacks rivals for expanding too fast into second and third-tier cities with poorly designed office spaces, often barely furnished. Naked Hub already has a network of 30 co-working space operations in mainland China, with three each in Hong Kong, Australia, and Vietnam.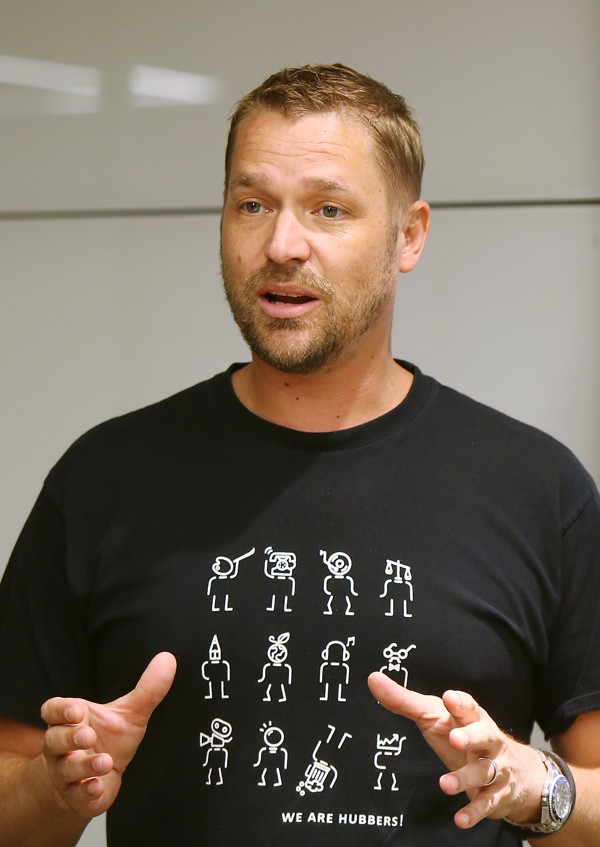 And it's ramping up its scale, expanding fast in cooperation with more landlords and developers. "Before we took floors, now we're taking entire buildings. We want to be a solution provider for landlords," he said. Charging 3,000 yuan for a fixed seat per month and 1,800 for in first-tier cities, after just six months in existence Naked Hub's locations enjoy average 90 per cent occupancy. He stresses his dreams are all about changing the way office buildings are designed, built and used. His prediction is that co-working space will take up about 20 per cent of each office building's space in future, while a flexible plug and play model will take up another 30 per cent, and that's where he see the greatest opportunities. "It is important not to get caught up in big words …just make sure the office is clean, with a reception desk, shared living room and meeting rooms with the right technology and software to connect people," he said. Horsfield remains happy to be recognised as a Chinese start-up, "as China is the future of the world", he adds. "The next 10 years will be driven by China, not the US, and definitely not Europe." UrWork, another Chinese co-working space firm founded by real-estate veteran Mao Daqing, who used to be a senior executive of prominent real estate developers China Vanke and CapitaLand, already claims nearly 90 locations in 22 cities in China, Singapore, London and New York, servicing over 3,000 companies, housing 40,000 people. It is backed by a heavyweight line-up of investors including Sequoia Capital and Sinovation Ventures, and has been valued at US$1.36 billion after the latest Series C Financing Round, which came in a previous financing in August. Mao stressed to a conference on December 15 that besides lots of physical room, successful co-working spaces should provide integrated services, even offering to help expand clients' supply and customer bases, particularly if they are start-ups. For example, Urwork has introduced a consulting firm at its Beijing locations to help start-ups apply for government subsidies, or help them save time on troublesome and consuming paperwork. "A shared-space," Mao told the audience, "should reverberate among its occupants, echoing inside with the demands of its people."
Read the original article on South China Morning Post.
For the latest news from the
South China Morning Post
download our
mobile app
. Copyright 2018.