Hong Kong's Observation Wheel could be closed for up to two years and its replacement could be five metres smaller in diameter, as a new operator taking over is unable to strike a deal with its predecessor to keep the popular tourist attraction running. The Ferris wheel on the Central Harbourfront looks set for the scrapheap because of a payment dispute between former operator Swiss AEX and newcomer The Entertainment Corp Ltd (TECL).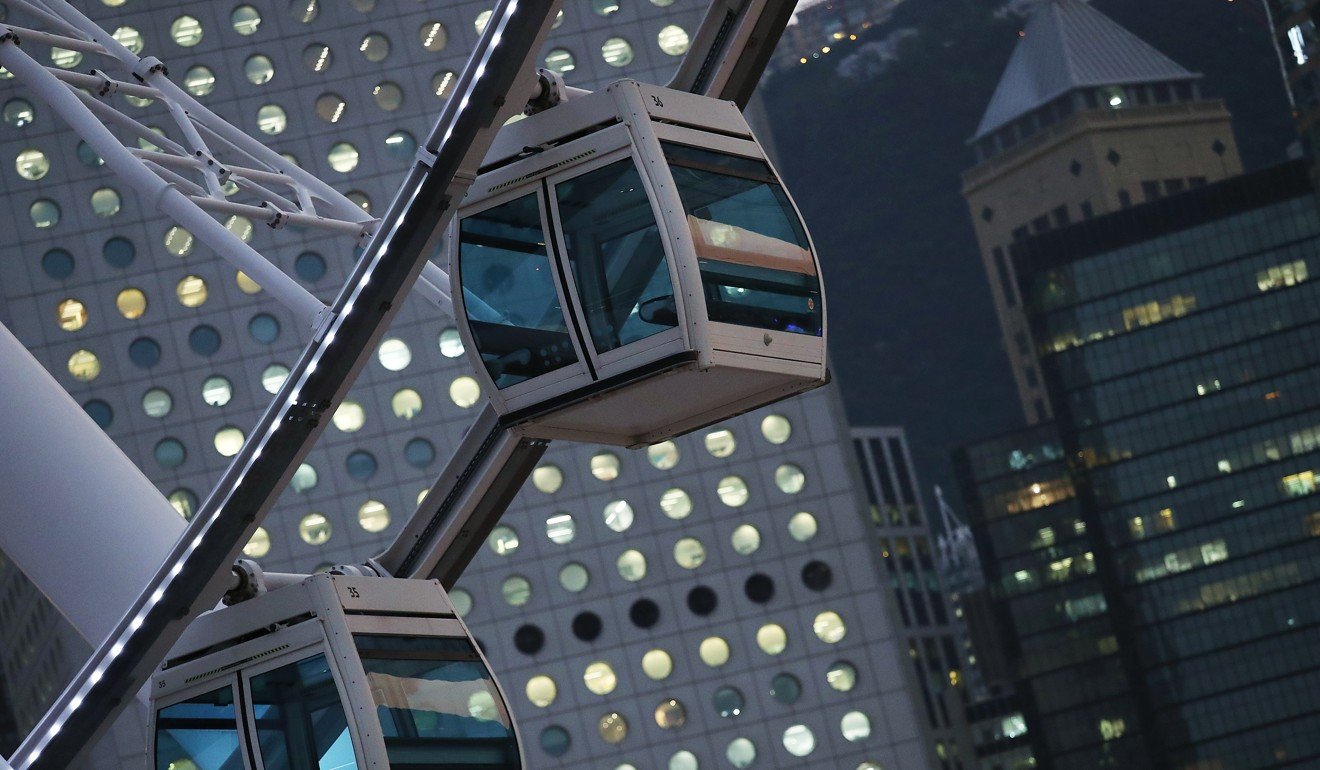 The tourist attraction was
closed
last week with no warning or explanation from the Tourism Board. Secretary for Development Michael Wong Wai-lun said on Sunday the current model, which is 60 metres in diameter, was "very unlikely" to be retained. Swiss AEX, whose contract at the site expired on August 28, shared documents with the
Post
on Sunday suggesting the new agreement only required the new wheel to be 55 metres in diameter. The company said it had told officials that replacing the wheel could take up to 24 months, including at least three months to dismantle the current wheel. The dismantling process could begin on Thursday.
A Swiss AEX spokesman said the former operator was still seeking payment for the current wheel from TECL, and it was "surprised and disappointed" not to win a new contract to run the attraction, which it had managed since December 5, 2014.
The timing for commencement of wheel operations will depend on when the new operator could attain relevant permits
A Development Bureau spokesman said on Sunday that TECL had won the Observation Wheel contract after presenting a better "technical submission" including a ticket pricing system with a "clear, competitive edge". He said the future operator was entitled to build a new wheel as long as it was at least 55 metres in diameter, adding that Swiss AEX must dismantle the current wheel by October 31. He did not specify how long the wheel would be closed for, instead stating: "If the operator is building a new wheel, the timing for commencement of wheel operations will depend on when the new operator could attain relevant permits and licences." TECL has agreed to rent the site for three years at HK$1.5 million per month and promised "exciting plans" for the venue.
Read the original article on South China Morning Post.
For the latest news from the
South China Morning Post
download our
mobile app
. Copyright 2017.