At the end of 2014, many market watchers anticipated positive price action in the nickel space in the near term.
For instance, Glencore's (LSE:
GLEN
) Kenny Ives was calling for a nickel deficit following a balanced 2015, while Derek Burleton, vice president and deputy chief economist for TD Bank Group, said the Indonesian export ban might cause a nickel deficit as soon as 2015. Scotiabank's Patricia Mohr was perhaps most optimistic of all, naming nickel as one of her picks for 2015 and stating in a note, [t]he global supply & demand balance for nickel is expected to turn from 'surplus' to 'deficit' by 2015:Q2." Unfortunately, those upbeat predictions have largely fallen by the wayside as 2015 has progressed. As the chart below shows, though the spot nickel price has seen some upticks this year, overall it's down fairly substantially in the last six months. Most recently, Bloomberg reported that nickel for three-month delivery was at a two-month low of $12,410 per metric ton (MT) having seen its largest drop in a month.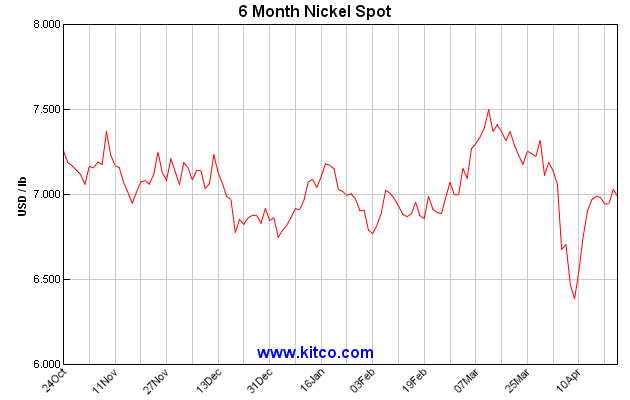 According to Bloomberg, that drop came as "a jump in stockpiles added to concerns that production is outstripping consumption amid slowing demand in China, the world's biggest user." Specifically, inventories were up 0.6 percent on Monday, at 461,436 MT; the news outlet notes that LME data shows that that's not only the biggest rise in two weeks, but also "close to a record reached June 4." Stocks are high in part because demand simply hasn't been as heavy as anticipated. Speaking to Bloomberg, Mike Dragosits, a senior commodity strategist at TD Securities, explained, "[e]veryone was expecting that we would level off in terms of LME stockpiles as we got to the end of outflows of metal. More metal continuing to show up in LME warehouses points to the fact that maybe the underlying demand isn't as strong, and that has bearish implications."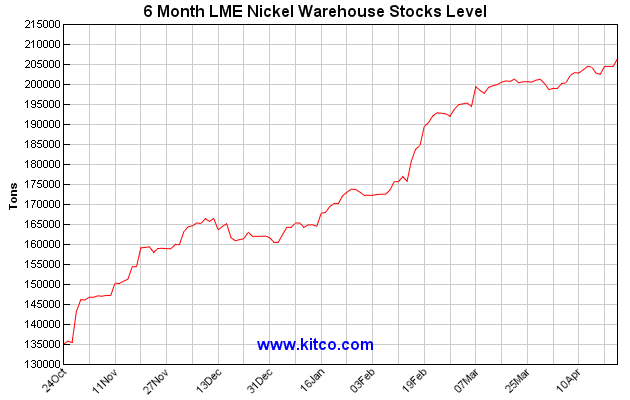 While this week's nickel price news doesn't necessarily mean the writing is on the wall for the metal — after all, there are still six months left for a 2015 turnaround — a number of firms have taken the opportunity to update their nickel price predictions for the year.