NEW YORK (TheStreet) -- Since July 2014 large-cap stocks have continued to make new highs as investors plow more and more money into the stock market. Overall bullishness on the stock market is now at extremely high levels, which typically happens before a major stock market correction and sometimes before the start of a full-blown bear market.
While the average investor continues to become more and more bullish, the market breadth/health has been rapidly deteriorating. Unaware investors don't realize just how weak the market is and are likely to incur big losses when things change.
Must Read: 10 Stocks Billionaire John Paulson Loves in 2014
What we know about this rising market is that the big-cap stocks in the S&P 500 index appear to be holding the overall market up and masking the underlying weakness. So as investors become more bullish at these lofty levels and put more money into generic funds that push the S&P 500 higher, we see strong selling and unwinding of more leveraged positions in other securities such as small-cap stocks.
Over the past couple of years the S&P 500 has formed a series of bullish corrections and running corrections. But the current formation is that of a bearish megaphone chart pattern, and this pattern typically points to lower prices.
The Big Stocks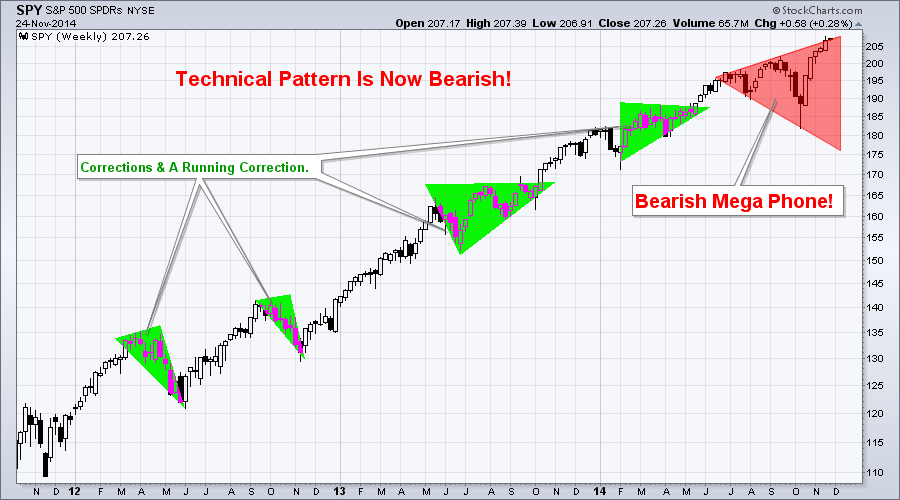 Must Read: Why the U.S. Economy Is So Much Stronger Than Anyone Expected