NEW YORK (TheStreet) -- Since July 2014 large-cap stocks have continued to make new highs as investors plow more and more money into the stock market. Overall bullishness on the stock market is now at extremely high levels, which typically happens before a major stock market correction and sometimes before the start of a full-blown bear market.
While the average investor continues to become more and more bullish, the market breadth/health has been rapidly deteriorating. Unaware investors don't realize just how weak the market is and are likely to incur big losses when things change.
Must Read: 10 Stocks Billionaire John Paulson Loves in 2014
What we know about this rising market is that the big-cap stocks in the S&P 500 index appear to be holding the overall market up and masking the underlying weakness. So as investors become more bullish at these lofty levels and put more money into generic funds that push the S&P 500 higher, we see strong selling and unwinding of more leveraged positions in other securities such as small-cap stocks.
Over the past couple of years the S&P 500 has formed a series of bullish corrections and running corrections. But the current formation is that of a bearish megaphone chart pattern, and this pattern typically points to lower prices.
The Big Stocks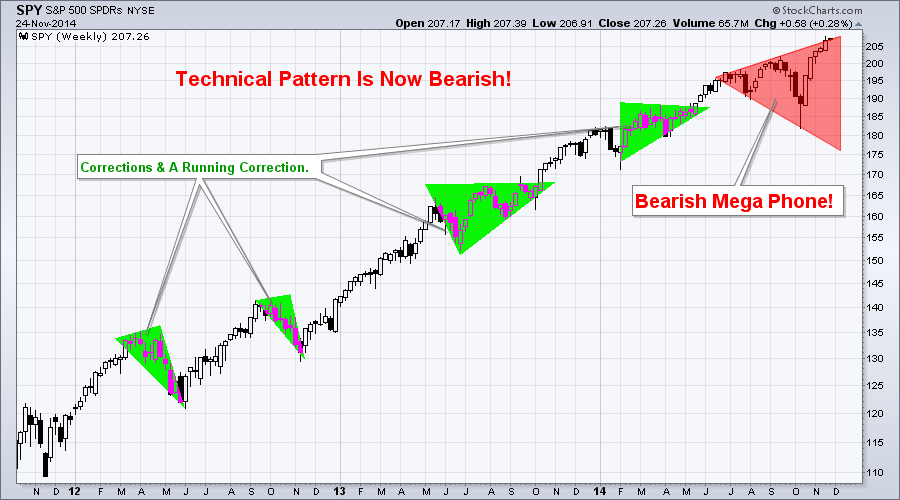 Must Read: Why the U.S. Economy Is So Much Stronger Than Anyone Expected
The Bold Stocks
I have always liked to follow the NYSE index because it's a basket of 1,900 stocks including 1,500 U.S. names. Its breadth/strength makes it a much better indicator of the market performance than narrower indices such as the Dow Jones Industrial Average.
Although this index remains in a bull market, it looks as though it's only a few months away from a possible reversal and confirmation of a new bear market.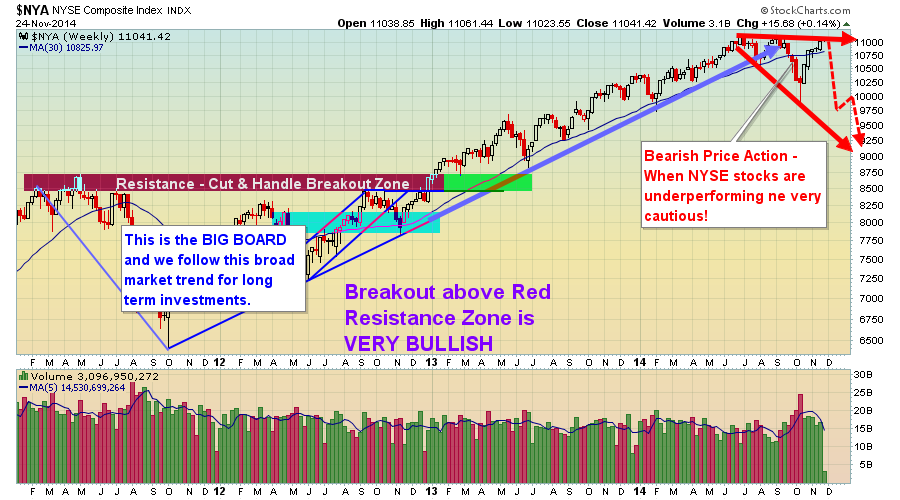 The Ugly
If you have read the book Stan Weinstein's Secrets for Profiting in Bull and Bear Markets then you know he followed General Motors' (GM) share price closely. He wrote that what happened to GM would happen to the stock market. GM was/is an early leader of the U.S. economy and stock prices in general.
The chart below paints a clear picture of the Stage 1 Accumulation in 2011-2012, and also of the Stage 3 Distribution phase in 2013-2014. GM shares have traded down from the first week of the year and have now broken below critical support. Things could get interesting.
Trading Conclusion
The bias remains bullish on the stock market in the short term, but investors would be wise to be cautious right now.
Short-term trading where trades last only three-10 days is the way to go at this stage of the game. Some recent winning trades using exchange-traded funds detailed in th newsletter from www.TheGoldAndOilGuy.com have been in ProShares UltraShort Bloomberg Crude Oil (SCO) , ProShares Ultra Bloomberg Crude Oil (UCO) , iShares Mortgage Real Estate Capped REIT (REM) and iShares MSCI Emerging Markets (EEM) .
Must Read: Three Major Mistakes OPEC Made and Why an Oil Output Cut Won't Happen and Wouldn't Help
At the time of publication, the author held no positions in any of the stocks mentioned.
This article is commentary by an independent contributor, separate from TheStreet's regular news coverage.