NEW YORK (TheStreet) -- Marissa Mayer has an opportunity to not only silence her critics, but make history at Yahoo! (YHOO) .
On the heels of Monday's Taylor Swift live stream, Mayer had better have a plan in place that capitalizes on the incredible buzz the event generated for Yahoo! and Yahoo! Screen.
While I have been writing about the value Taylor Swift can bring (and now has brought) to Yahoo!'s live video/music strategy for months, there's more to add. Because at this stage of the game, Mayer must roll out an all-encompassing and coherent plan that includes, builds on and extends from Swift. If not, there's a good chance Yahoo! will remain stuck in the mud, critics will rightfully ratchet up pressure on Mayer and, sooner or later, she'll be out of a job.
First, for context, see April 2014's Yahoo! Should Stream Taylor Swift's Next Tour and December 2013's Marissa Mayer's Biggest Game Changer Yet.
Second, let's break down a route Mayer could take with respect to live concert streaming. Of course, it doesn't have to go down exactly as I describe to be successful, however Mayer must focus on parlaying the Swift hype into something sustainable. This theme underlies everything that follows.
Continue With Live Nation, Start With Swift
The one concert per day for 365 days deal Yahoo! cut with Live Nation (LYV) is fantastic. However, as I explained earlier this year, while it's a nice foray into a largely untapped space, it's not sticky enough:
... doing a different show from a different band every night isn't going generate the type of loyalty Yahoo! requires from its users. You're in one night because you love DMB, but you're probably not compelled to come back the next night to see an act you're not quite as rabid about.
That's why putting together an ad-supported and subscription-based package for, say, the forthcoming Taylor Swift tour makes sense on so many levels. It provides Yahoo! with a megastar who will bring her core of rabid fans back to Yahoo! Screen night after night after night. It's the next best thing to being there. And when they can't be there, they'll be glued to Yahoo! Screen.
At least for the demos with a loyal affinity for Swift, Yahoo! will be more than a mundane daily habit for checking the weather forecast or a sports score. It will be the go-to destination for something meaningful in these people's lives. That's the type of daily habit Mayer needs to turn Yahoo! into, not the one it currently is . . . one that forms no real bond with an audience it is hoping will just give it an errant ad click.
Plus there's what amounts to guaranteed money in hopping on the Swift bandwagon. While Swift and her camp sell everything from the standard tickets and merchandise to Coke and Keds while on tour, even they haven't exploited live concert streaming. But "exploit" is the wrong word because, from a fan's perspective, being able to pay a price for full access to the tour is a true value add. You're getting something you've never been able to get before (legally, in high quality and guaranteed) for what really is a nominal fee.
If one million "Swifties" were to drop, say, $50 each for a pass that allows them to live stream and have archived access to every show on the forthcoming "1989" tour that's $50 million in revenue. Revenue that's icing on the cake for Swift. Her most recent tour in support of the Red album grossed $150 million.
Duplicate Swift Elsewhere
Streaming the Swift tour -- which will likely kick off this fall -- isn't enough for Yahoo!
Streaming Swift on a consistent basis (preferably every night) solves the Live Nation problem with respect to loyal, repeat visits, but it only does so for a specific, albeit large and important, audience. Yahoo! needs to decide who it wants as a loyal customer and partner with other musical acts out on or preparing to go out on tour.
Exactly who that could or should be isn't the focus of this article. Proper execution of the idea is. So, roughly speaking, Yahoo! offers a live streaming package, highlighted by Swift and other big names, that's diverse. Split the potential Yahoo! user base into demographic slices you want to own. Offer a handful of acts Yahoo! will consistently stream (and partner with on other endeavors) in each demo.
Yahoo! enters into a revenue share with each act after paying whatever royalty fees are required (if it can't find a way to get around them or cut special direct deals). The cash piles up fast, particularly if Yahoo! goes after both tours that will wind up on the top grossing lists come year end as well as bands with cult followings (e.g., Phish). It's all about tapping into the passionate music fan who will view the ability to pay to access a tour as Yahoo! and their favorite artist doing them a favor.
Do a Better Job Promoting, Cross-Promoting and Targeting
Create a platform within Yahoo! Screen that takes pages out of the apps the major professional sports leagues use to offer digital access to their entire seasons. Allow users to pay for live and archived access to the Taylor Swift tour or a full year of Taylor Swift for a monthly and/or annual fee. Sort of like Major League Baseball does with its excellent MLB At-Bat app. Do the same with the other acts. Package appropriate names and sounds by genre. Hook music fans on something they want, but have never been offered on a grand or meaningful scale by the music industrial complex.
Then properly promote and cross-promote the darn thing for goodness sake.
There's one thing Yahoo! is doing -- at times, poorly and, all of the time, inconsistently with Yahoo! Screen -- and that's promoting and cross-promoting to and from live concert streaming. It took some time for the Yahoo! homepage to look like this day in and day out ...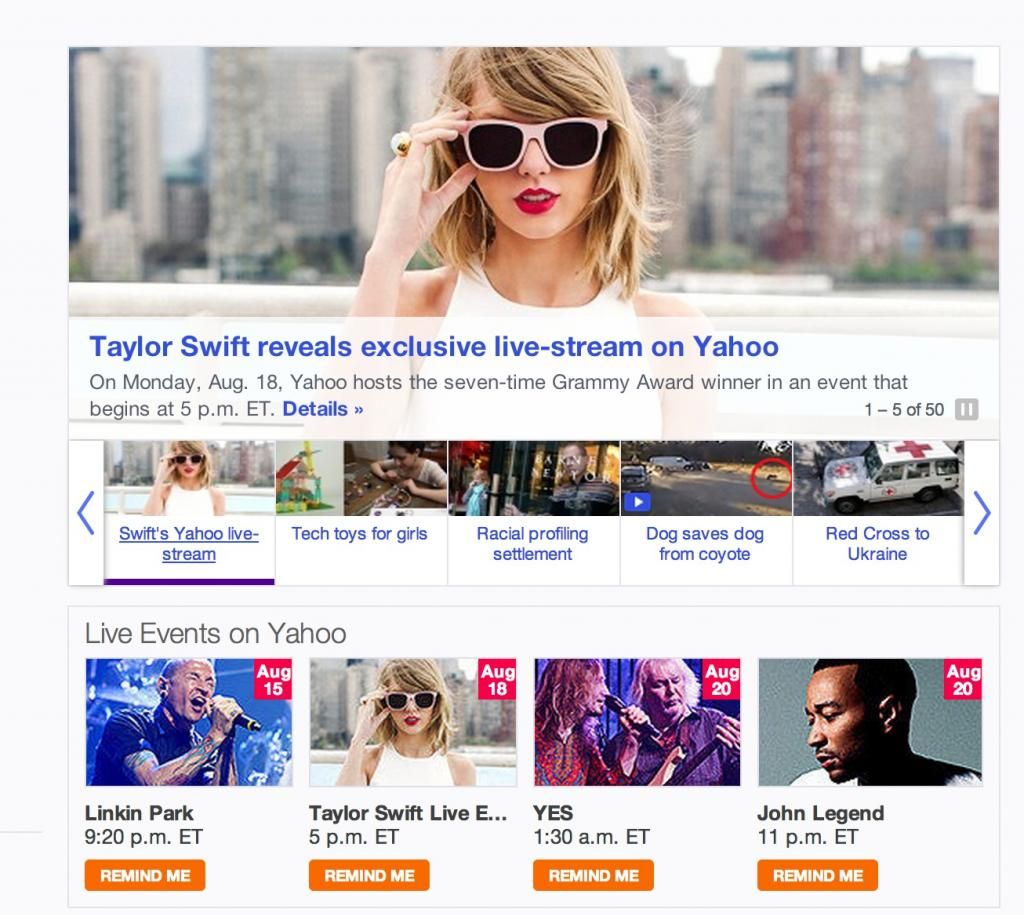 At the beginning of the Live Nation deal, you could go to the Yahoo! homepage and see absolutely no promotion of that night's/week's events. Thankfully that changed. Yahoo! can take this type of (wonk, wonk!) synergy to the next level if it ropes in passionate fans of big names with ad-supported and/or subscription-access to entire tours and such.
You subscribe to Taylor Swift, so you might like ... this content over at that section on Yahoo!. You subscribe to Tom Petty, so you might like to know that we'll also be offering subscription access to the upcoming Bruce Springsteen and The E Street Band tour. The possibilities are endless. And they become even more dynamic if Yahoo! does what I think it should do and makes a run at Pandora (P) .
Yahoo! could do all of the things the music industry should have been doing for years now. Harnessing and unleashing not only the marketing power, but the passion music fans have for music in so many logical directions. While the music industry accepts a royalty for the right to play a song, smart companies -- and Yahoo! will soon prove if it's part of this group -- do so much more with music than treat it like a tit for tat proposition. They use music as the lead into selling related products and services as well as things that are seemingly unrelated. Yahoo! can do this. It could do a better job of it with Pandora, but it can do just fine on its own if it gets serious about making live concert streaming the multi-million or even billion dollar advertising and subscription business it has the potential to be.
Without Live Music, What Is Yahoo! Screen?
The beauty of the one-offs Yahoo! did before the Live Nation deal and the Live Nation deal itself is that Mayer found a differentiator for Yahoo! Screen -- the live music experience. Until Yahoo! started regularly streaming live shows, no other major outlet has been doing consistently outside of special events and awards shows. As I explained earlier this year, Yahoo! is on the cusp of serving the emotional needs of music fans better than the music industry.
Just about everything else Yahoo! Screen does or could do -- stream programming that already airs elsewhere (e.g., Saturday Night Live), produce original shows in the spirit of Netflix (NFLX) , Amazon.com (AMZN) Instant Video and Hulu -- fails to set it apart from the pack. With live music, however, Mayer found a sweet spot every bit as powerful as live sports programming that nobody else has aggressively tapped. Without live music to differentiate itself, Yahoo! Screen needs an original program to breakthrough in a big way (unlikely). But, even from there, it would need to follow up its own Game of Thrones with something equally as big (even more unlikely). You get the picture. As such, you understand the brilliance of Yahoo!'s move into live concert streaming.
Above everything, Mayer and her marketing team must ensure music fans associate live concert streaming with Yahoo! At times it feels like that association isn't as strong as it should be. But they will change organically if Yahoo! provides consistency to cores of music fans who return to the site regularly to make the most of their tour subscription.
Do or Die Moment
Some folks have said I'm making too much of the live concert streaming opportunity. That's absurd. And it's not a stretch to say that capitalizing on this opportunity represents a do or die moment for Mayer.
What else is she going to be able to do to set Yahoo! Screen apart from the dozens of other streaming video platforms out there? She's not going to secure rights to live sports. And, if she does, it'll cost her. Because the professional sports leagues know how to extract a pretty penny for their products. The music industry doesn't. All it cares about is receiving a pricier royalty.
Yahoo! should take advantage of this by going as direct-to-artist as possible and happily paying whatever licensing fee due labels, songwriters, publishing companies and other stakeholders. Because artists such as Swift and (hopefully) companies such as Yahoo! can monetize music in ways the larger music industrial complex simply doesn't have the visionary capacity to imagine.
And -- bottom line -- where else is Mayer going to find bandwagons that churn out hundreds in millions in sales every year? She's about tapped out the core advertising revenue that keeps Yahoo!'s bottom line stagnant quarter after quarter. She overpaid for Katie Couric, who is every bit as irrelevant today as Taylor Swift is wildly popular. And she dropped a billion dollars on Tumblr not for revenue, but simply for mobile users.
By going hard after live concert streaming with today's top acts with the most passionate fans she's going to a place not only where the money is, but a place that hasn't been manipulated every which way to Sunday. It's a no-brainer. It's there for the taking. And, at the same time as it helps save the music industry, it could also save Marissa Mayer's job.
--Written by Rocco Pendola in Santa Monica, Calif.