NEW YORK (TheStreet) -- These numbers could lead rational human beings to believe Google's (GOOG) Android operating system dominates Apple's (AAPL) iOS. All else equal, that's the only conclusion you could draw from 79.6% to 84.7% and 13.0% to 11.7%. A butt-whipping of epic proportion.
But -- and this ought to be the mantra of not only tech but so many of life's conundrums -- all things are not equal. We're not dealing with a straightforward this versus that, either/or proposition. It's more complicated than what you see here from IDC: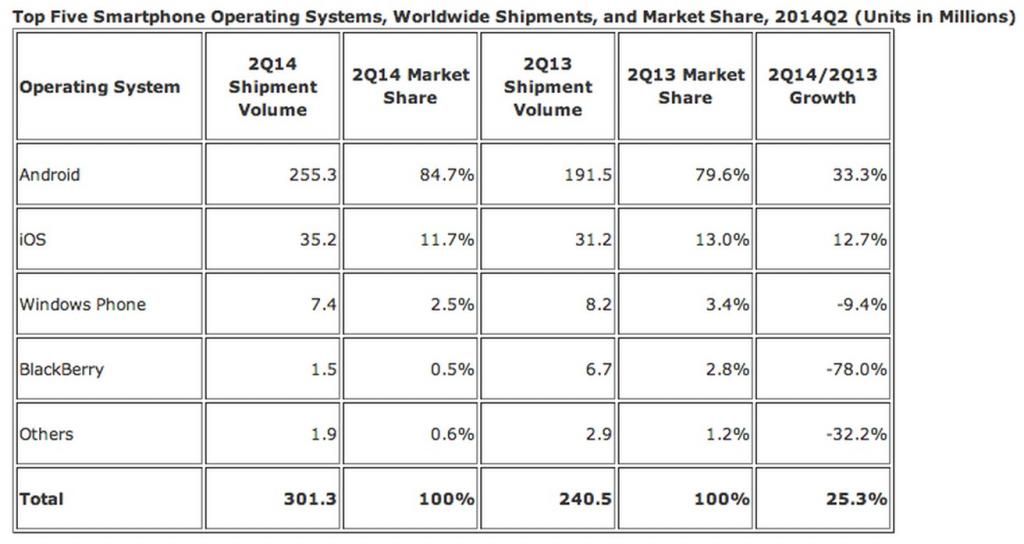 The key takeaway from the IDC data sits in this graph: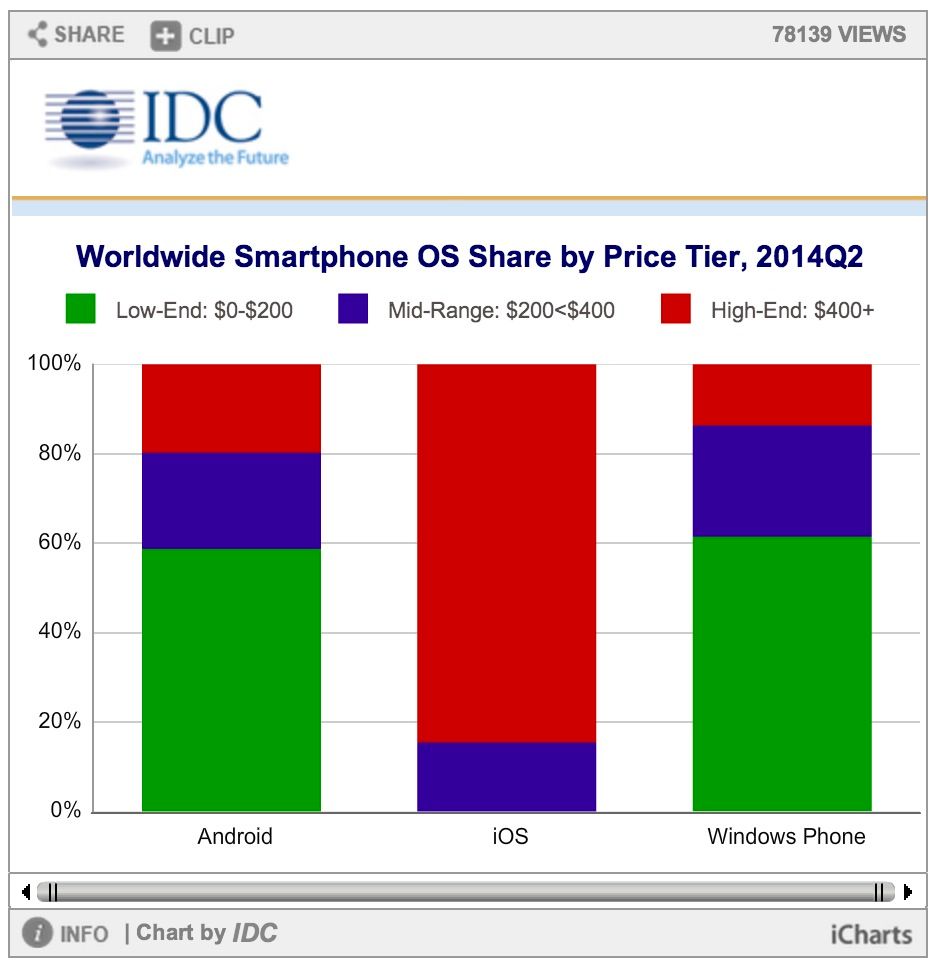 And, of course, it's already being misinterpreted. Like by a guy who writes for a popular "business" Web site who said:
So Apple may dominate the high-end smartphone range, but ... around 85% of all smartphones are Android phones, which means most people prefer smartphones when they cost under $200 [ bold emphasis added].
most people prefer ...
How about the folks who can't afford a smartphone that costs more than $200? How about the folks who can't pass the credit check for a contract and can't afford a smartphone that costs more than $200? And so on ...
Something tells me it's not about preference; rather necessity born of budgets and disposable income or lack thereof. Maybe even some fiscal restraint among the cats who could spring for a $650 iPhone off contract, but decide not to. Whatever -- but to say "most people prefer smartphones when they cost under $200" is akin to saying "most people prefer four-door sedans when they cost under $25,000." No -- most people buy Kia and Hyundai and Toyota and Honda because they can't afford BMW and Mercedes and Audi and Tesla. It's hardly about preference. I prefer a Model S to my Prius, but factors other than preference made my decision for me.
Despite what feels like ubiquity in the United States and relationships with less than third-party retailers, Apple remains an aspirational brand. The forthcoming release of a larger-screen iPhone 6 will help further illustrate not merely what this means, but how it functions, on the ground, with many consumers.
When IDC releases the marketshare numbers, the media rarely, if ever, provides analysis and opinion on what they actually mean. Instead they spew surface scratches and intuitive statements that don't hold up to the slightest sniff.
Apple has no problem seeing Google dominate global marketshare numbers via Android. All Apple cares about is making its margin on hardware sales and producing the highest quality, highest-end smartphones available anywhere. That's why -- even with the 5c -- there is no "low-end" iPhone. That would defeat the purpose of Apple's superior strategy from the practical standpoint of its bottom line and its relationship with the consumer.
Two types of customers will matter to Apple when it releases iPhone 6 later this year. The massive numbers of folks due for upgrades from iPhones 4, 4s and 5:
At Verizon (VZ) , 56% of iPhone customers still own the 4 or 4s. Twenty-four percent still pack iPhone 5. I'm part of the latter group, and will be eligible for and fully intend to upgrade to iPhone 6 come late summer/early fall.
At AT&T (T) , 42% are on iPhone 4 or 4s; 25% on iPhone 5.
At Sprint (S) , 47% use iPhone 4 or 4s; 24% carry iPhone 5.
That, in and of itself, represents a landslide. But the second group of consumers really highlights the brilliance of Apple's strategy.
This second group consists of the folks who could afford an iPhone but opted not to get one because they could not get past the relatively small screen size and those who told themselves it made financial sense to go with something less expensive than an iPhone. The larger screen -- and whatever else Apple introduces with iPhone 6 -- might be enough to push these people over the edge. To entice them to stretch the budget or spend a little bit more than they probably should. To choose iPhone 6 on or off contract even though they opted not to on a previous release, quite possibly for fiscal reasons.
Apple could have gone to these consumers over the years with a mix of less expensive, low-end options and a variety of screen sizes. Instead, Steve Jobs and Tim Cook opted not to slum it like Android's hardware partners. Apple stayed true to itself by not going after the plentiful low-hanging fruit. It chose to start at the top of the tree, dangling fruit to the people who, over time, make the choice to make what amounts to the switch from something else to iOS.
Apple's strategy is such that it doesn't require every single piece of low-hanging fruit to bite. It doesn't even need a majority. It just needs a few here and there, especially this time around. Converting just a relative few in addition to present Apple customers will be significant. Because, coupled with the flood of iPhone 6 upgrades, Apple is setting up for what could be its strongest holiday quarter ever.
--Written by Rocco Pendola in Santa Monica, Calif.