NEW YORK (TheStreet) -- So it's official. Yahoo! (YHOO) will live stream an event with Taylor Swift on Aug. 18 via Yahoo! Screen. Swift made the announcement Monday morning: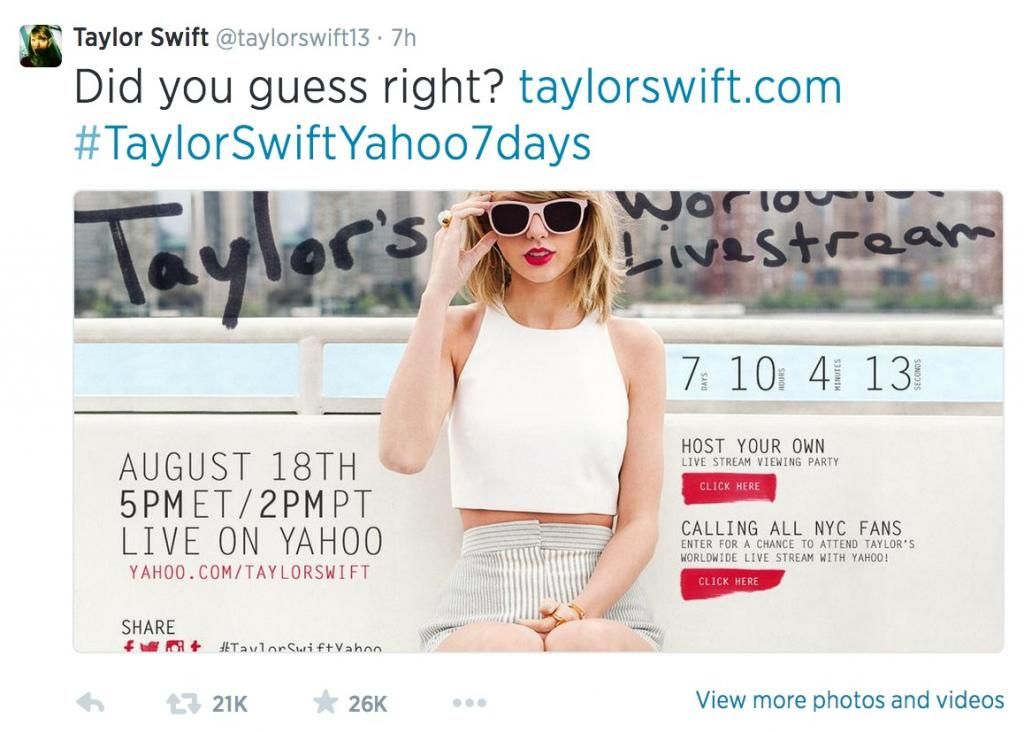 I generally previewed this way back in December 2013 in Marissa Mayer's Biggest Game Changer Yet and then, with considerable specificity, in this past April's Yahoo! Should Stream Taylor Swift's Next Tour.
At the second link, I methodically detail why and how Yahoo! should proceed with Swift. At this point, there's no question in my mind Marissa Mayer and the team at Yahoo! Screen are following my blueprint. While it would not surprise me if there's a deal already in place, I would be beyond stunned if Yahoo! doesn't wind up parlaying what will be smashing success on Aug. 18 into a full-blown partnership with Swift. For optimal impact -- that would be an ad- and subscription-supported live stream of Swift's sure-to-be upcoming tour in support of her forthcoming record.
Why Does This Matter to Investors?
As I explain in Why Firing Yahoo CEO Marissa Mayer Would Be a Dumb Move, Mayer wasn't hired to mind Yahoo!'s stagnant advertising business on a quarterly basis. The Yahoo! board made Mayer CEO with the big picture in mind. Yahoo! cannot become a growth story again without channels that foster fresh new lines of revenue. As such, Mayer doesn't have her sights set on getting you to click an additional ad when you come to Yahoo! for the current temperature or a stock quote. Instead, she's looking to differentiate Yahoo!'s streaming media offerings from the competition.