NEW YORK (TheStreet) -- This just in -- the third in a series of clues, presumably pertaining to her next record, Taylor Swift has been posting on social media involves Yahoo! (YHOO). Here's clue number three just spotted on Facebook: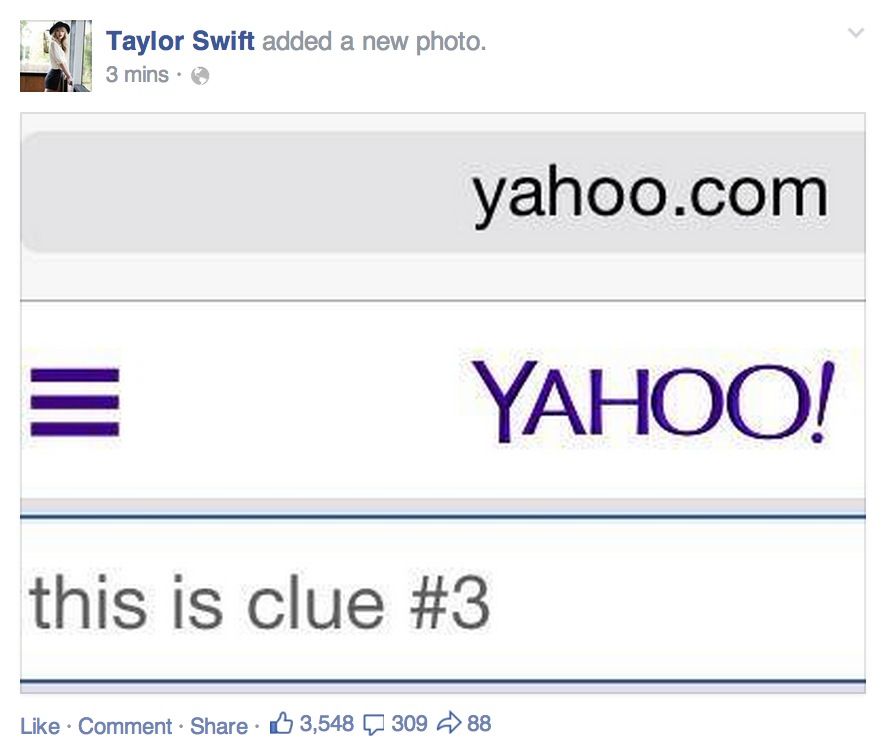 We'll see what this means, but it could very well have to do with Yahoo!'s foray into live concert streaming. If a deal goes down between Yahoo! and Swift, color me prescient. I have been speculating about and riffing on the fruits of such a union for several months now.
See, for example ...
Live Concerts Would Lift Yahoo!'s Video Strategy (Originally titled Yahoo! Should Steam Taylor Swift's Next Tour).
Why Yahoo's Marissa Mayer Is 2014's Top CEO By a Landslide
Maybe there's a deal brewing where Yahoo! will get an exclusive on the record or the first single from the record along with a Katie Couric sitdown with Swift and/or, as I have suggested, a live stream the tour that will support the new album. Yahoo! will already live stream the iHeart Radio Music festival -- headlined by Swift -- in September. My thought is if you're Yahoo! and you're going to have a relationship with Swift, go big already.
Stay tuned.
--Written by Rocco Pendola in Santa Monica, Calif.