NEW YORK (TheStreet) -- Most traders follow the S&P 500 Index (SPY) closely, but few equity or futures traders are able to structure trades that are profitable based solely on the passage of time. Option traders use a variety of trade structures called credit spreads to actually make the passage of time a profitable endeavor. Unfortunately there is one catch -- the price of the underlying asset has to cooperate.
What many readers may find interesting is that I structure my option portfolio around being positive-theta. This essentially means that the portfolio collects the option premium as time passes, which will be converted into profits if prices cooperate. I attempt to consistently capture close to 1% of my account value per day in positive time decay.
The answer: multiple iron condor spreads. An iron condor spread is a credit spread where a trader takes a call credit spread and a put credit spread simultaneously. In many cases, the trader expects the underlying asset to consolidate or trade in a specific range.
I have several high-probability iron condor spreads in my portfolio all the time. I trade the same trade structure using the same underlying assets over and over again. In many cases, I will have more than one iron condor spread on the same underlying asset on my books at the same time. The underlying assets that I focus my iron condor strategy around are primarily index options and index ETFs.
I trade the S&P 500 index (SPY), the Russell 2000 index (IWM), the Nasdaq 100 ETF (QQQ), and the Dow Jones Industrial Average ETF (DIA). These are just a few of the underlying assets that I trade using the iron condor strategy. I traditionally enter the trades at about 50 days to expiration, using a probability of success of around 80%. Most of the time, the broader index would have to move roughly two standard deviations from the current price at entry to create losses in my portfolio.
Back in early July, I entered an August S&P 500 iron condor spread. It's presently boasting profits of around 10% on maximum potential risk. However, I wanted to show readers that recently I entered a September S&P 500 iron condor spread with about 50 days to expiration. The probability of success was around 80% for the trade to be profitable.
The following chart of the S&P 500 demonstrates the price range where the new September S&P 500 iron condor spread will be profitable if held to expiration.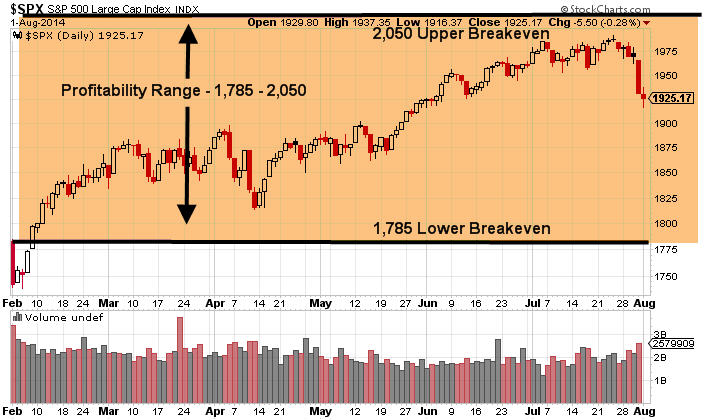 As can be seen above, the new September S&P 500 iron condor spread is profitable as long as the index price stays between $1,785 and $2,050. The trade was entered on July 22, in addition to the August S&P 500 iron condor spread that I was holding at the time.