NEW YORK (TheStreet) -- Fine work by Dan Frommer over at Quartz, who validates a considerable chunk of my argument that Apple (AAPL) and Google (GOOG) will crush Microsoft (MSFT) with business customers.
First, a chart from the Quartz story: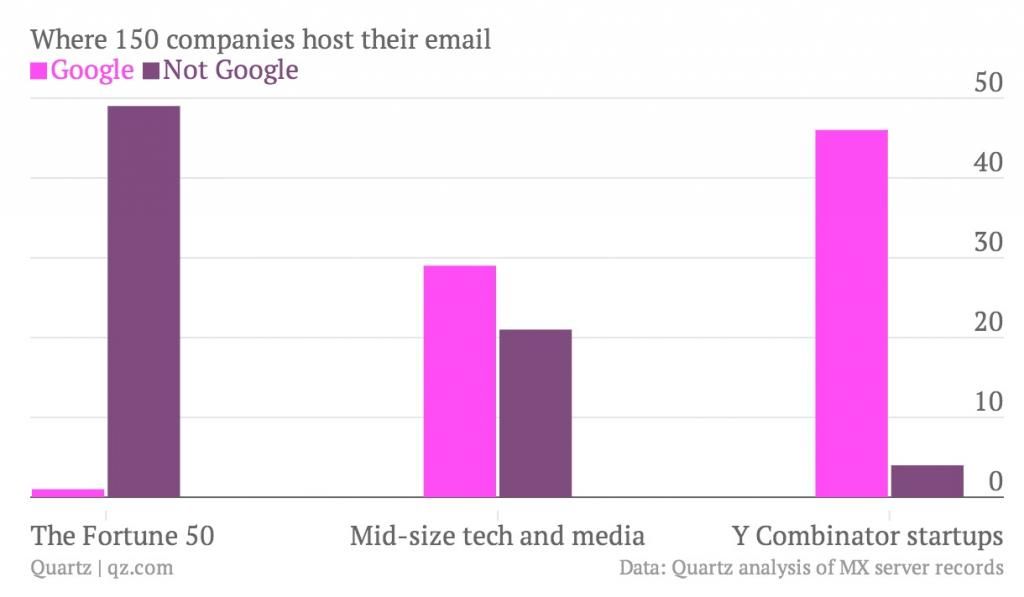 Second, the rationale behind the data:
Microsoft has long dominated the corporate-software market, and its new CEO Satya Nadella has set his sights on owning all things related to productivity and the cloud. But Google—fueled by its search-advertising business and consumer popularity—has been coming on strong for years with lower-priced, cloud-based services such as email and calendars, productivity apps, video hangouts, and storage. And among certain types of customers, it is succeeding (bold emphasis added).
That jibes with the overarching theme of the narrative I'm weaving that has Apple and Google, (not so) slowly but surely, wiping out massive swaths of Microsoft's enterprise business just as Apple did BlackBerry's (BBRY):
While the MSFT and RIM situations are certainly different in specifics, they're conceptually similar if not the same. These days consumer preference dictates enterprise decisions. If you're not powerfully out in front with the consumer, you're going to end up getting hurt in the enterprise ...
--Written by Rocco Pendola in Santa Monica, Calif.