NEW YORK (TheStreet) -- More than a few people chided my Monday article -- Apple Will Murder Microsoft and Bury It With BlackBerry's Corpse -- as "click bait" or "link bait."
With respect to folks who lament provocative article titles, I stand by something I said back in June 2013:
Truth be told, most people who complain about outrageous headlines don't actually have a problem with the outrageous headline. They just use the spectacle of the headline to project annoyance with an argument their psychological filters keep them from considering. So, ironically, they are are much more nefarious and suspect in their use of the headline than we are.
Because behind every one of my headlines predicting Apple (AAPL - Get Report) will crush Microsoft (MSFT - Get Report) with enterprise customers much the same way it did BlackBerry (BBRY), there's substance. There are legitimate thought trajectories you cannot ignore unless you operate in denial mode. Arguments like the one I have made repeatedly and, most recently, at the end of the above-linked article:
While the MSFT and RIM situations are certainly different in specifics, they're conceptually similar if not the same. These days consumer preference dictates enterprise decisions. If you're not powerfully out in front with the consumer, you're going to end up getting hurt in the enterprise. That's why it was smart for IBM to partner with Apple. Led by Apple, they'll bury Microsoft in the same grave BlackBerry cluelessly fell into.
Later this week and/or next I will dig into specifics with respect to how I think Apple will dismantle significant chunks of Microsoft's hold on business consumers. But first I want to direct you to a representative sample of comments made under Seeking Alpha articles I wrote in June 2011 as I was predicting and chronicling the death of the artist formerly known as RIM at the hands of Apple. We're seeing similar and, in some cases, the same feeble defenses made for Microsoft by the company's loyalists.
It's all part of what is now hindsight's version of writing on the wall documented here on Page Two ...

Here's a chart of then RIMM stock from June 2011 through the end of that year, courtesy of Yahoo! Finance: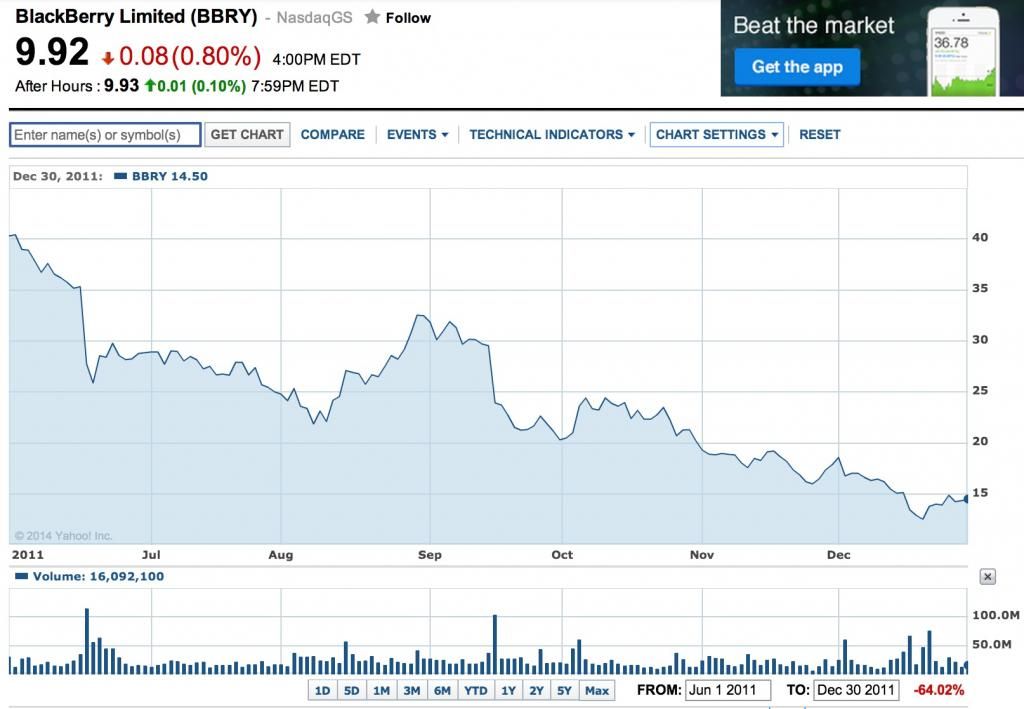 Check this article from 2011 which followed up the ones that triggered the above comments.
I post this exercise because it's as instructive as it is entertaining. Simply put, if you think my riffs against Microsoft are little more than "click bait," think again. They're not coming out of nowhere. And they could very well be foreshadowing a situation where a forthcoming iteration of Microsoft resembles BlackBerry circa 2011. The articles I -- and others -- wrote during that time were provocative and often outrageous, but they weren't click bait. There was no way to mince words, given the reality we saw unfolding right before our eyes.
--Written by Rocco Pendola in Santa Monica, Calif.