NEW YORK (TheGoldAndOilGuy.com) -- Back in the day when I was a newbie trader and investor, I used to follow several stocks, sectors and commodities that had a setup chart patterns. I would draw all over them and then wait to catch the day of the breakout.
Unfortunately, I would miss a good chunk of the trades because they would break out when I was not watching the chart, forcing me to miss some unbelievable momentum and swing trading opportunities. I used to get rather frustrated with trading, to put it kindly.
But I eventually learned that there are several ways to avoid this from happening and each of these options work much better than watching the charts like a hawk waiting for that breakout that may or may not happen.
The beauty of my trading system is that it allows me to buy on the breakout whenever a strong breakout happens without me, I have methods that will automatically enter me into a long position on the first pullback after a confirmed trend reversal.
The positive trade-off of buying a pullback that follows a trend reversal or chart pattern is that buying pullbacks is often lower risk than buying breakouts because there is a lower risk of the breakout failing.
Before I get into those details let me update you on what gold stocks just did and what I expect them to do in the near future.
Recently, we have seen big money move into gold stocks. Gold and silver stocks are popping on high volume, which is great to see. While it is exciting, gold stocks are not yet in the clear from further selling or sideways trading.
If you have followed my work for a while you likely understand the four stages the market goes through (same on all time frames). Looking at the chart below it's clear the gold stock index HUI has completed a stage 4 decline and appears to be in the second half of an accumulation stage 1.
The stages in this chart I am talking about are big picture trends that last a year or two, more of an investor's 35,000-foot view on the market. A breakout and rally above the $280 level will be very bullish. Any pause or pullback after that will provide a low-risk opportunity to get involved.
I will let you in on a little secret of mine -- almost never buy an upside breakout. I actually wait for the first pullback. On the flip side, I always short on the breakdown; if I miss it, I will then get short on the first bounce.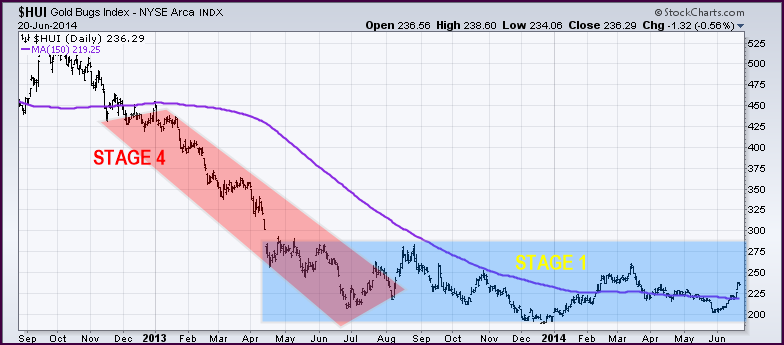 This article represents the opinion of a contributor and not necessarily that of TheStreet or its editorial staff.
>>World Gold Council Says 'Gold Fix' Reform Won't Happen Quickly