NEW YORK (TheStreet) -- Courtesy of Statista, here's a pretty cool chart: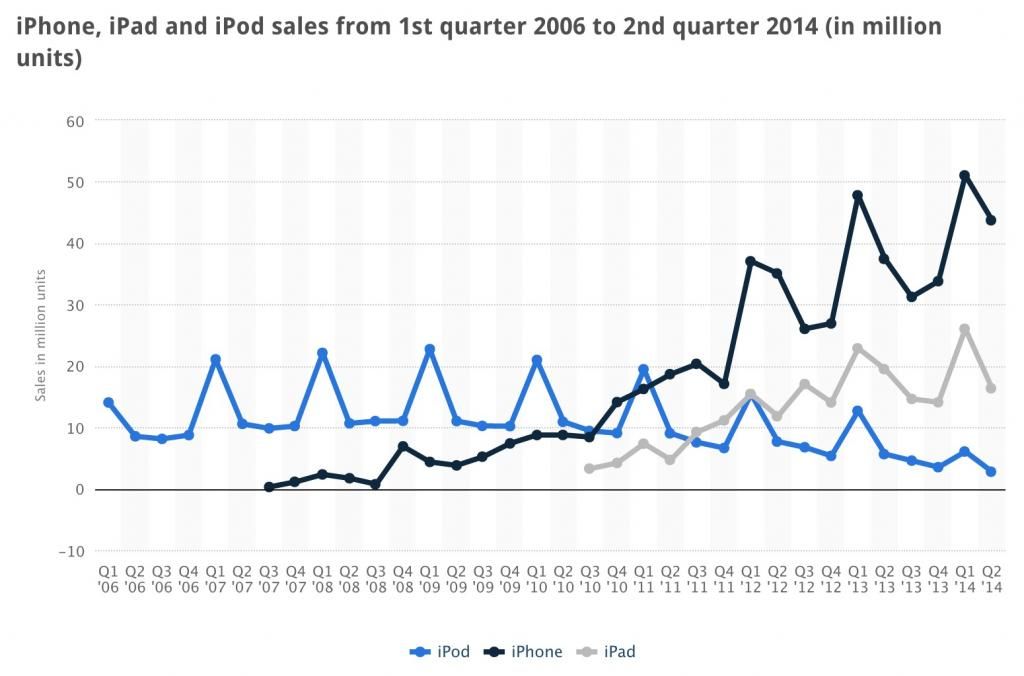 That's part of what colored my thinking in last Monday's Apple's Smartwatch Will Probably Fail. Do you really see whatever Apple's (AAPL) wearable device ends up being coming in somewhere between 10 and 50 million units sold ... per quarter? That's what it will have to do -- over the long haul, not just once or twice -- to rival iPod, iPhone and/or iPad. Obviously, I'm skeptical.
And, as is standard in these parts, Apple ardents (my word) brand me as everything from hater to imbecile for my thoughts. It's as if you can't take a critical approach to anything Apple does even after you have predicted $1,000 for the stock and an ass kicking of Android by way of iPhone 6. No -- you must write the same articles as everybody else with the same boring, tired, spinelessly safe and completely forgettable takes.
Thankfully, sane and logical retorts still do exist. Case in point -- Bryan Chaffin at The Mac Observer:
It looks like it's time to start the iWatch Death Knell Counter. I'm kidding, mostly, but a headline at TheStreet.com caught my attention today that specifically stated that the "Apple's Smartwatch Will Probably Fail." Oftentimes such articles will fail to live up to their clickbait titles, but that's what I love about Rocco Pendola ... He never pulls his punches, not even when he's entirely wrong and will live to admit it*.
Read the rest of the article. Chaffin's good. You'll probably agree with him. And that's cool because he makes excellent points. But, maybe more importantly, he makes them without being a tool.
That said, I'll ask Chaffin to do the same thing I asked of you at the outset of this article. Look at the chart and tell me if you really think a wearable device can produce anything within sniffing distance of iPod-, iPhone- or iPad-like numbers and, more importantly, trends.
--Written by Rocco Pendola in Santa Monica, Calif.