NEW YORK (TheStreet) -- It took some time for me (and quite possibly you) to recover from the death of Steve Jobs, but -- finally -- I'm over it. I'll never forget what Jobs did for Apple (AAPL), but it's no longer an overhang -- this is Tim Cook's Apple. He went a long way to cementing this reality with the deal for Beats. And he took another step in a most righteous and aggressive direction during Monday's WWDC keynote:
Many of these customers were switchers from Android. They had bought an Android phone, by mistake, and then sought a better experience ... And decided to check out iPhone and iOS.
That's Cook referring to the 130 million people who, over the last 12 months, became first-time Apple customers.
130 million new Apple customers over the last 12 months ... That's beyond incredible. And this conversion rate from Android, if you will, only adds to the power of the numbers I published last week: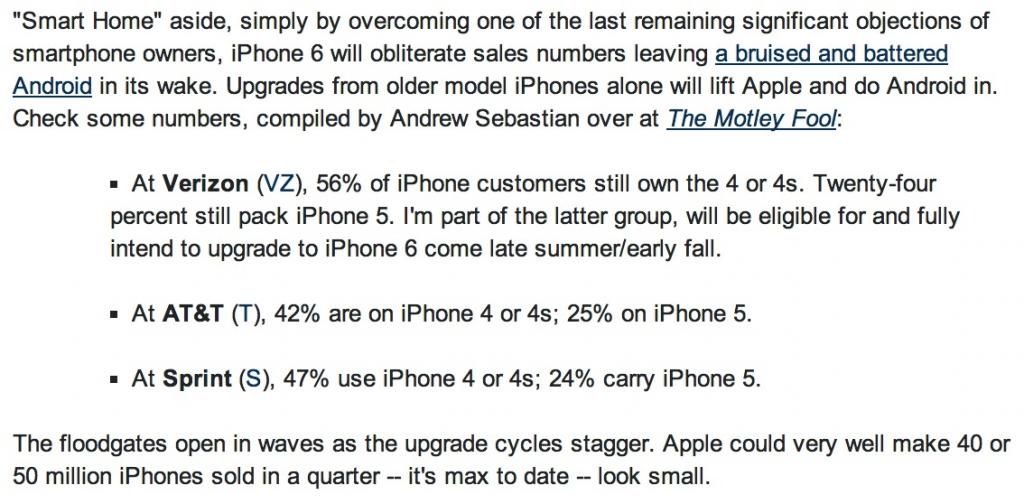 If the article that excerpt came from -- Apple Annihilates Android, Crushes Stock Market in 2015 -- and Helping Apple Haters Understand Why Android Is Doomed didn't make it clear enough, Cook's rhetorical posture and the exodus of 130 million new customers from some other operating system should.
Because if you're switching to an Apple iPhone, you're most likely doing one of two things -- upgrading from a dumb phone for the first time or jettisoning the non-experience of owning a nondescript Android smartphone. Like Cook said, you realized you erred with Android; now you want the real thing. And, of course, if you already have the real thing, you will upgrade to the next iteration of that real thing when you're eligible (see numbers above), if not sooner.
Floodgates ... open.

Android's finished. It'll take some time for the process to play itself out, but make no mistake, without even trying, Apple's iOS will become a mobile marketshare story. In a twist of irony, it will become a marketshare story because marketshare has never been Apple's focus. That approach has allowed Apple to do what it does extraordinarily well. And, when you dominate mindshare the way Apple does, it's only a matter of time before -- by default -- you dominate marketshare.
For goodness sake, Samsung, according to an interesting article over at Forbes, even sees the writing on the wall. But don't go over there to read that yet. Because I've got more ...
What I describe here vis-a-vis Android isn't all that different from another butt whopping Apple's in the process of administering.

WATCH: More tech videos on TheStreet TV