**To skip the background and navigate straight to the patheticism (my word), take your pick of Pages Two, Three or Four.

NEW YORK (TheStreet) -- I've passed by it hundreds of times, yet had no idea it was still even open. This massive Sears Holdings (SHLD) building in East Los Angeles just off the 5, 10 and 101 freeways. It's an icon. Wholly nostalgic. And, sadly, another reason for investors to run away from Sears stock unless they're privy to CEO Eddie Lampert's games.

Whether you're an investor or non-investor reader, I urge you to see all four pages of this article. It's all quite apropos to this ongoing conversation about the sorry state of physical retail and keeps getting "better" and more downright strange bordering on bizarre and sad as you go.
It's a dump, yes. Just like so many other Sears stores. But it's a dump with some history, quirks and a future. Or so it seems. I'll tie it together with words and pictures. But it's best to tell the story in no particular order. In fact, I'll go backwards.
Here's an outline:
On Page Two: The things I saw as I left this Sears store, which speak to the schizophrenic nature of the corporation. It's one thing, but purports to be another. There might not be a bigger disconnect in all of business than the one between Sears's reality and what the company thinks it is.
On Page Four: The weirdness starts when you enter what might be the most unorthodox retail outlet ever. And, while there's good reason for it to be unorthodox, Sears doesn't use the situation to its advantage. Yet again, it mails it in.
The interesting thing about this Sears is that, according to CurbedLA, the company erected the building in 1927 as one of nine mail-order retail distribution centers built between 1910 and the Great Depression. We're talking 1.8 million square feet of space. Twenty-three acres. But now the blood no longer flows to the tip. Everything above the ground-floor retail Sears store sits abandoned, awaiting mixed-use redevelopment. Sears, if it makes it through project approval and the two years or so it will take to build the refurbished structure, can remain; it has about 90 years left on a lease it signed a few years ago.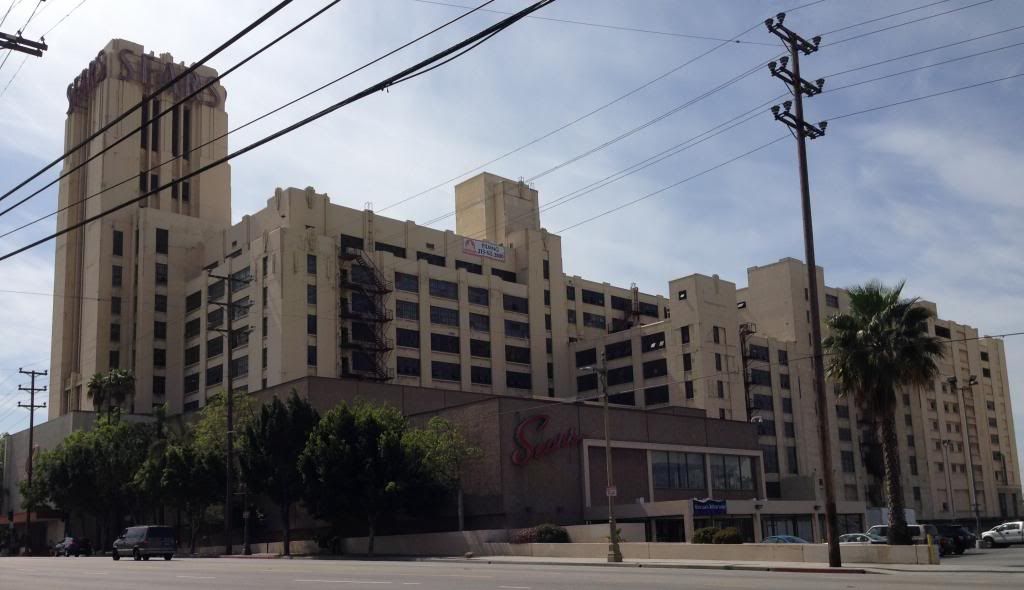 A bit like the sad situation in Oakland -- that, apparently, has been at least partially resolved -- we have Sears operating in an area where it once thrived, but now acts as a poster child for retail patheticism.
This Yelp (YELP) review of the store pretty much nails it, both with respect to the situation in East LA and the larger Sears corporation: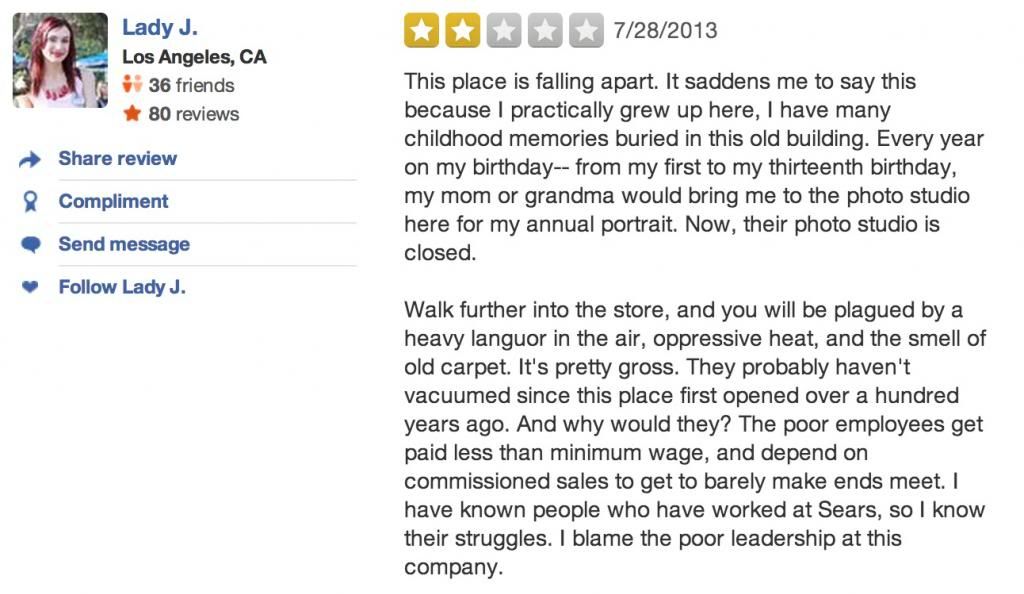 I vouch for everything "Lady J" says, from the store's "gross" aura to the employees' unfortunate (collective) situation to the history at this place. The Sears I grew up with still functions in what is a largely abandoned mall in Niagara Falls, New York. It's a shell of what it once was. I, too, remember visiting that place as a kid with my mother picking up catalog purchases in the mail order department.
Sears wasn't nimble. Now it doesn't seem to care. That's a national tragedy.
Page Two -- the schizophrenic and delusional nature of Sears in 2014.