NEW YORK (TheStreet) -- I'll admit it. For a little while, I was worried about my prediction that Apple (AAPL) stock would hit $1,000 in 2014.
And, while my timing might end up a bit off -- guess what ... ? I ain't worried anymore.
Consider a few things I wrote in the original December 2013 AAPL to $1,000 article and the more recent Buy Apple and Amazon to Cope With Tech Stock Crash:
From 2013: While it's easy to understand how a stock like Amazon.com (AMZN) can outperform AAPL, there's no explaining how posers, free lunchers and companies with very real question marks do it. I'm not saying these names on the chart on the next page will all crash in 2014 (though a couple likely will). But I am saying AAPL will perform alongside them or better if they somehow manage to replicate their 2013 magic (carpet rides).
Granted I ended up missing with AMZN, but we're talking about AAPL here so let me slide (insert smiley emoticon with excrement-eating grin here).
In that excerpt I'm riffing on the notion that companies such as Facebook (FB) and Twitter (TWTR) have no business outperforming AAPL. And, as investors sold these stocks off, they would look to AAPL:
The world gets hip to this ... in 2014. And not merely on a hunch or because it felt like time. Apple will trigger euphoria that, this time, will follow through. Because confidence lost will have been reestablished ...
In 2014, (Tim Cook) wins widespread confidence and ups the ante as AAPL takes it rightful spot at the head of the pack in tech and on Wall Street.
I reiterated that trajectory of thought, with respect to dead cat bouncers such as Microsoft (MSFT) and Hewlett-Packard (HPQ), just last month:
This flight to safety in MSFT, CSCO, HPQ happens not because anybody has any real faith in these companies' futures, but because it's nice to ride out storms with less volatile, dividend-paying stocks. If that's your game, that's cool. But then I have to ask -- why aren't you buying Apple?
If there was ever a flight to safety tech stock, it is (or least ought to be) AAPL.
Now, take a look at two charts -- AAPL's three- and one-month performance against TWTR, FB, MSFT and HPQ (charts courtesy of Yahoo! (YHOO) Finance):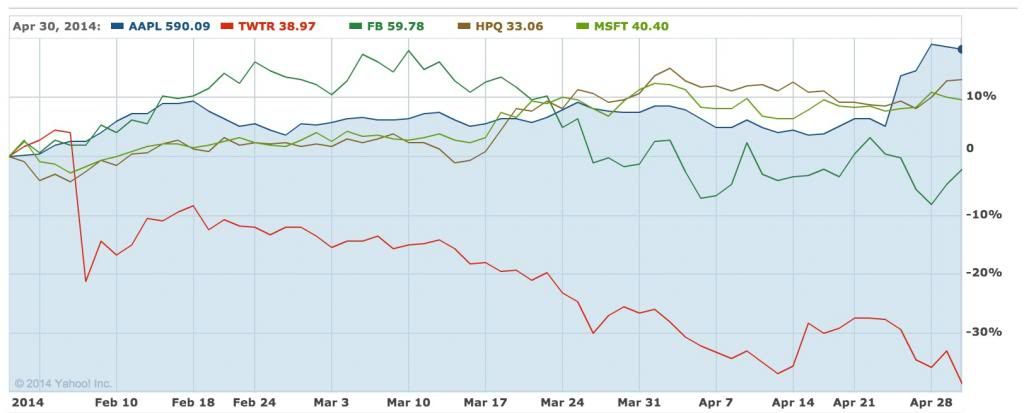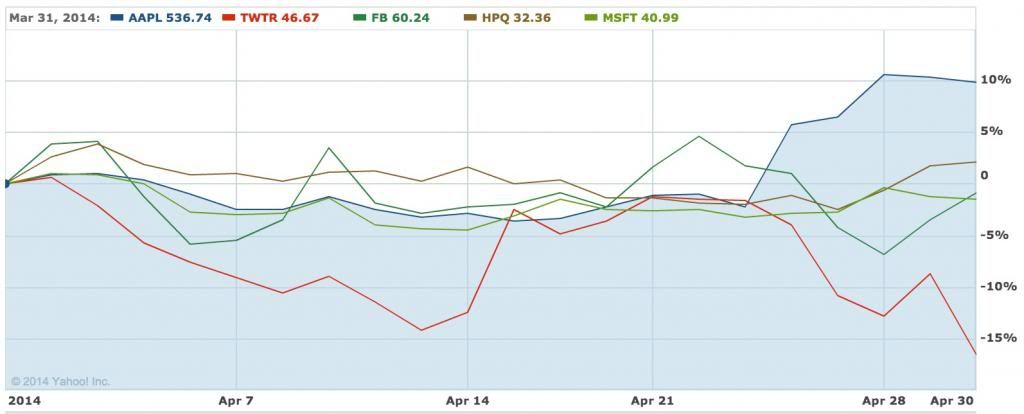 You see what's happening -- my Apple as a flight to safety thesis is beginning to take shape.