NEW YORK (TheStreet) -- I'll admit it. For a little while, I was worried about my prediction that Apple (AAPL) stock would hit $1,000 in 2014.
And, while my timing might end up a bit off -- guess what ... ? I ain't worried anymore.
Consider a few things I wrote in the original December 2013 AAPL to $1,000 article and the more recent Buy Apple and Amazon to Cope With Tech Stock Crash:
From 2013: While it's easy to understand how a stock like Amazon.com (AMZN) can outperform AAPL, there's no explaining how posers, free lunchers and companies with very real question marks do it. I'm not saying these names on the chart on the next page will all crash in 2014 (though a couple likely will). But I am saying AAPL will perform alongside them or better if they somehow manage to replicate their 2013 magic (carpet rides).
Granted I ended up missing with AMZN, but we're talking about AAPL here so let me slide (insert smiley emoticon with excrement-eating grin here).
In that excerpt I'm riffing on the notion that companies such as Facebook (FB) and Twitter (TWTR) have no business outperforming AAPL. And, as investors sold these stocks off, they would look to AAPL:
The world gets hip to this ... in 2014. And not merely on a hunch or because it felt like time. Apple will trigger euphoria that, this time, will follow through. Because confidence lost will have been reestablished ...
In 2014, (Tim Cook) wins widespread confidence and ups the ante as AAPL takes it rightful spot at the head of the pack in tech and on Wall Street.
I reiterated that trajectory of thought, with respect to dead cat bouncers such as Microsoft (MSFT) and Hewlett-Packard (HPQ), just last month:
This flight to safety in MSFT, CSCO, HPQ happens not because anybody has any real faith in these companies' futures, but because it's nice to ride out storms with less volatile, dividend-paying stocks. If that's your game, that's cool. But then I have to ask -- why aren't you buying Apple?
If there was ever a flight to safety tech stock, it is (or least ought to be) AAPL.
Now, take a look at two charts -- AAPL's three- and one-month performance against TWTR, FB, MSFT and HPQ (charts courtesy of Yahoo! (YHOO) Finance):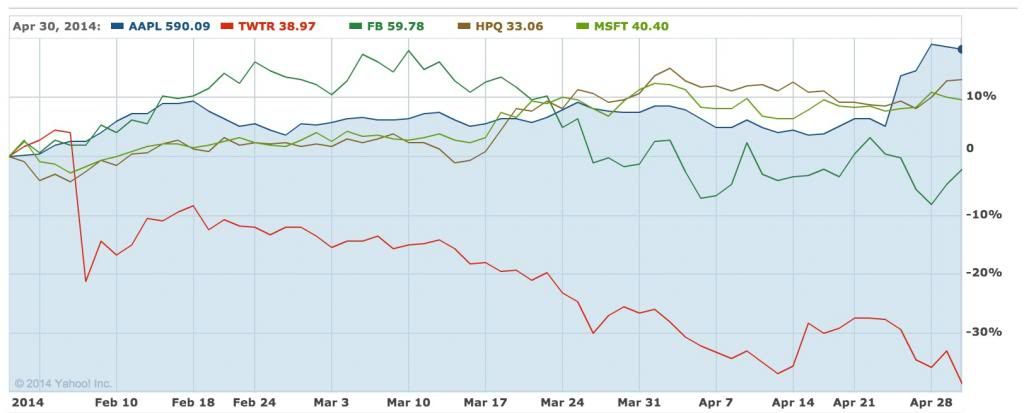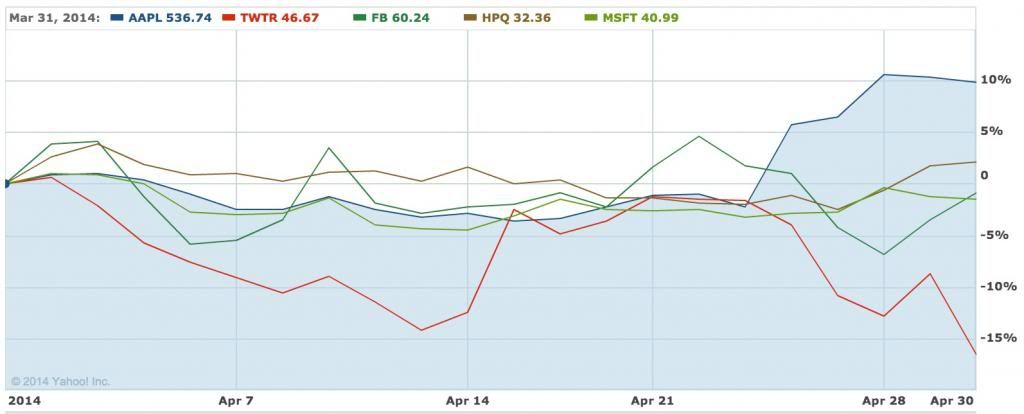 You see what's happening -- my Apple as a flight to safety thesis is beginning to take shape.
AAPL closed at $590.09 Wednesday after hitting a 52-week high of $599.43 intraday. It's flirting with $600 minus the dynamism the critics have been clamoring for. Even the dopes who were drawing charts during Apple's recent earnings call lamenting an iPad "growth problem" and such can't keep AAPL down. What will happen when the 2014/15 product roadmap kicks into high gear?
I know what will happen -- the flight to safety will kick into uber high gear as well. It will have taken way too much time, but investors will have realized that if they're going to bid a stock up they should bid up the one with the best question marks to have.
You don't bid up freaking Twitter with a management team pushing a farcical advertising-based business model. You don't bid up stinking Pandora (P) with a CEO who wouldn't know what to do with the company's data firehose if somebody wrote about what he should do with it everyday. You don't bid up MSFT and HPQ on hopes and dreams that lack anything resembling a wholesale move away from a PC market Apple's Mac continues to crush.
But you do bid up the stock floated by the company that has so much cash it doesn't know how to spend it because it refuses to waste it.
You do bid up the stock floated by the company that obliterates earnings estimates; sells nearly 44 million iPhones, more than 16 million iPads and over 4 million Macs; turns a "hobby" into 20 million Apple TV set top boxes sold; continues to steal domestic marketshare from Android; and is primed to prepare a coffin for the aforementioned Android and send a nail through it all in the same year.
That's the stock you bid up when you come to your senses. The tech stock crash made investors come to their senses. And when they came to their senses -- go figure -- they flocked to AAPL. What will they do when all the uncertainty that dogs Apple (wink, wink, nudge, nudge) ... all of the horrible question marks go away and Apple starts executing again?
That's not a rhetorical question. And the answer is $1,000 (or $142.85714285714286).
--Written by Rocco Pendola in Santa Monica, Calif.