NEW YORK (TheStreet) -- First, I would be doing a disservice if I didn't direct you to two of the best articles TheStreet's Jim Cramer has ever written. Both attempt (and succeed) to make sense of the shell shocking experienced by tech stocks and associated high flyers.
These are the types of articles you read now, learn from, save and look back on months and years from now as needed ...
Jim Cramer: Looks Like 2000 Is In Play (April 4, 2014)
Jim Cramer: This Extraordinarily Ferocious Selling (April 7, 2014)
Tell me I'm brown nosing the boss. I don't care. He's not my "boss." He's the founder of TheStreet (TST). And he freaking nailed it with the type of accessible, yet "inside baseball" knowledge you're not going find from anybody or anywhere else.
I defer to Cramer on the issue of why the carnage is taking place and what to do as a result. However, I offer my own humble take as to how you might consider proceeding through what is, without doubt, a scary period. No matter how many times you have seen it happen, you always wonder if it'll be different this time. Meaning what if there's no recovery. Or what if the days of lofty valuations go away forever.
Assess Long-Term Opportunity
Consider these four stocks: Amazon.com (AMZN), Netflix (NFLX), Pandora (P) and Yahoo! (YHOO).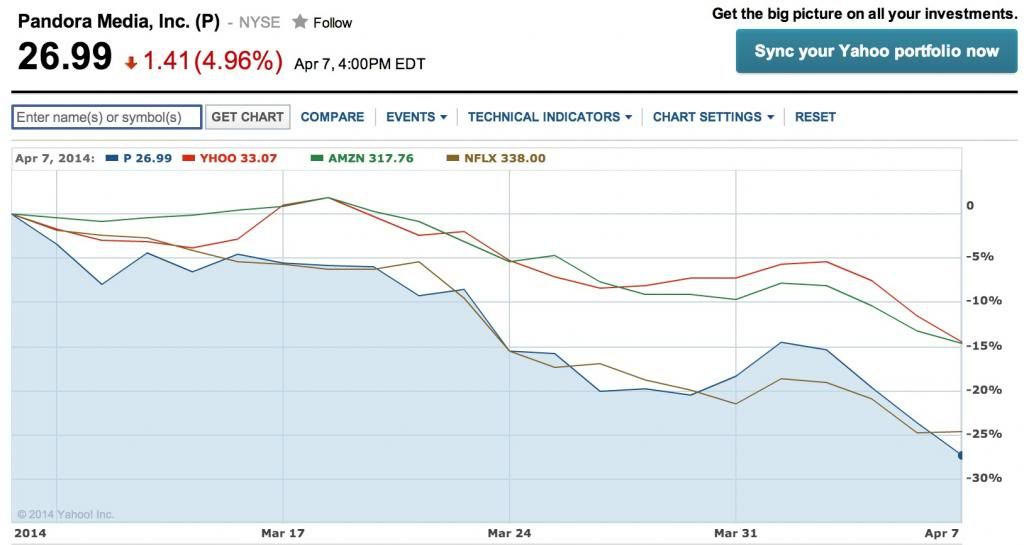 Courtesy of Yahoo! Finance, that's the one-month chart, as of Monday's close, on those four names.
Pandora, of course, has been hit hardest. While outgoing CTO Tom Conrad and other filthy rich Pandora executives bailed when the bailing was good, that might not be the case for retail investors.
As Wall Street finally grasped the Pandora story, analysts pumped it in the $30s. What horrible timing to buy a stock set to not only dump with the basket of stocks it trades with, but under the weight of its own ineptitude. So now you need to reassess the situation. What do you do with this damn thing?
You could sell it -- take profits if you got in low or absorb a loss if you were duped -- and flock to the most precarious safety net in the history of the stock market. Names such as Microsoft (MSFT), Cisco Systems (CSCO) and Hewlett-Packard (HPQ). They're up roughly 5%, 5% and 8% respectively over the last month.
Or you could strap on a pair (and I don't mean that pejoratively because it takes some nerve) and seize opportunity in the scraps. This flight to safety in MSFT, CSCO, HPQ happens not because anybody has any real faith in these companies' futures, but because it's nice to ride out storms with less volatile, dividend-paying stocks. If that's your game, that's cool. But then I have to ask -- why aren't you buying Apple (AAPL)?
If there was ever a flight to safety tech stock, it is (or least ought to be) AAPL.
Here's my rationale -- which you can use as a framework. Specifics -- as in which stocks you believe in (or not) is, as always, up to you. Because what I'm doing is judging where a company will be 2, 3, 5, 10 years from now. And if there was ever a subjective game, this is it.
Do you believe Pandora leads Internet radio, commands let's say a quarter of the $14 billion radio advertising market and has a robust data business to complement its ad revenue (sort of like Amazon has with Amazon Web Services) 5 years from now? If you do, pray it doesn't go up on Tuesday, but, even if it does, buy the snot out of it until the 'P' key falls off of your keyboard.
The way things look now I can't be that confident about Pandora's long-term prospects. Therefore, if I could own individual stocks, I wouldn't buy it at $27, because I think it sees $22. If the present narrative doesn't change, I wouldn't even buy it at $22. There's a reason why Pandora has underperformed the Nasdaq Q's (Powershares QQQ (QQQ)). It's because there's trouble at Pandora that runs deeper than a market correction. (And, yes, I know P trades on the NYSE, but the Qs are still a good benchmark).
Though I'm not quite as bearish, I couldn't touch NFLX or YHOO here either. There's simply too much uncertainty over where these companies will be in 2, 3, 5, 10 years. Even in an up market, there's a cloud over P, NFLX and, to a slightly lesser extent, YHOO.
But if you ask me about Amazon, I'm all over it at $318. And if it breaches $300 like many AMZN bears think it will, I would double down. And don't talk to me in a month or two or even a year about the decision. The decision to take a chance on AMZN revolves around the very well educated guess that the company -- ten years burning down the road -- not only still dominates e-commerce but has built out its ecosystem to something that resembles completion. And, even if it hasn't, I would be every bit as confident in Amazon then as I am today if it continues to spend to seize long-term opportunity it created for itself and, by default of lame competition, owns and controls.
That's why I'm puzzled to see investors -- presumably big ones -- jump into MSFT, CSCO and HPQ. Companies with massive long-term question marks. You would think the times we're living through would reignite the love affair with Apple, not what amounts to -- at least in MSFT and HPQ's cases -- the PC.
Here's Apple selling more and more higher-priced Macs in a rapidly declining PC market. We get disappointed when Apple sells something like 50 million iPhones in a quarter. We chide it for losing tablet market share, but only because every other mindless, copycat tech company introduced their own iPad knockoff and diluted the market. And we're just dying to know what it's going to do next.
Make no mistake -- Apple will own hearts and minds and be every bit as ubiquitous as Amazon 2, 3, 5, 10 years from now. To think otherwise suggests you've been taken over by the paranoia a major market correction often induces.
Seek out companies with good problems to have. And buy them when everybody else is freaking out. That's not an easy task -- both finding the companies and have the guts to buy them. No matter how hard the market runs, for long-term investors, it's always a stock picker's game. Now more than ever.
--Written by Rocco Pendola in Santa Monica, Calif.