NEW YORK (TheStreet) -- Given the number of Amazon.com (AMZN) Fire TV reviews making their way through the 24/7-sphere, I'll economize my words.
Beyond a shadow of a doubt, Amazon's Fire TV is a Roku killer. I explain why Roku simply can't compete with Amazon at the link, but -- long story short -- Roku doesn't have the guns necessary to make the emotional connection with the mainstream consumer the way Amazon and, to similar extents, Apple (AAPL) and Google (GOOG) do. Though, as you'll read, Amazon, even if unintentionally, schools Apple with Fire TV, at least in one respect.
Amazon Fire TV (I keep wanting to call it "Prime TV") isn't perfect, but that doesn't matter.
Fire TV covers the major bases -- Netflix (NFLX), Hulu, Pandora (P). Most people aren't going to care that, at this point, it doesn't have more obscure music apps such as Rdio or access to NHL Game Center or Major League Baseball At-Bat. This matters to me because I listen to Rdio (and Pandora) all day and often watch hockey and/or baseball all night. But I'm convinced these viewing habits render me an outlier.
Fire TV is Amazon Prime focused. Not a surprise. Amazon constructed the user interface to make it easy for you to make Prime-related purchases. During the signup process, you're prompted to join Prime if you haven't already. If you're already a member, it knows this and proceeds with what was, for me, a frustratingly slow setup. Amazon told me my Internet connection was slow as a software update took about 15-20 minutes to complete.
Don't underestimate Amazon's inclusion of gaming on Fire TV. It's the real deal. Of course, it probably won't fly if you're a hardcore gamer, but if you're the casual type or have kids it'll be just fine. Better than fine. Lots of tech reviews will lose sight of what matters -- Amazon continues to cater to its core customer. The person who loves its ecosystem because they have become loyal to what introduced them to it -- e-commerce. Not geeks.
There's an association to make between the surprising quality of the gaming (both the offerings and the functionality, particularly with the separate $40 gaming controller) and the Fire TV hardware.
I've heard people assume -- before even handling the device -- that Amazon put out cheap hardware because, ultimately, all it cares about is getting you to buy stuff, particularly as a Prime member. While I agree with the latter half of that, the former is simply false. The quality of the hardware is as much a pleasant surprise as the quality of the gaming platform.
From the moment you take Fire TV package out of the cardboard box it comes in, the experience feels every bit as thoughtfully conceived as the process of freeing an Apple product from its corrugated prison. Tough to put into words, but if you have ever opened iPhone, iPad or Macbook packaging you know the deal.
And then there's the actual hardware -- the remote, the gaming controller and the streaming box itself. They look slick. And they feel high quality. I'm not a tech geek so I can't rip these devices open, tear them down and put them back together again, but, as a consumer, Amazon either duped me or they produced a product as premium if not more premium than Apple TV or Roku. In fact, relative to Fire TV, my Roku player looks and feels like a cheap piece of plastic.
I give a slight edge to Roku on navigation with respect to the homepage setup and menu options. But that goes back to the Amazon Prime focus of Fire TV. Roku has no strategy other than to be everything to everybody. As such, it gives the user control over placement of apps. So I have mine ordered on the basis of how frequently I use them. You can't do that with Fire TV. And, if you can, Amazon hasn't made the commands required to pull it off intuitive.
But, again, does this matter to most people?
It's easy enough to have your key, most-used apps at your fingertips -- top of the screen under recently viewed (or whatever it says). The navigation most people care about and will get the most use out of is search. And Amazon nails it. In fact, they nailed search so well Google and especially Apple should be ashamed of themselves.
Apple should consult Amazon for help getting Siri out of beta (it's still in beta right?).
As somebody accustomed to fighting with Siri, I naturally paused after hitting the voice search button on my Amazon Fire TV remote control. But there's no need to pause and wait for the awkward "dink, dink" like you do with Apple's Siri.
Hold the button and speak your command immediately. And you get a reply you can do something with. It's all rather impressive. What's more is that you can say "Bruce Springsteen," for example, and receive diversity in your results. Amazon returns both relevant TV and movie content (though I don't think Bruce's cameo in "High Fidelity" turned up) and a complete selection of music videos courtesy of Vevo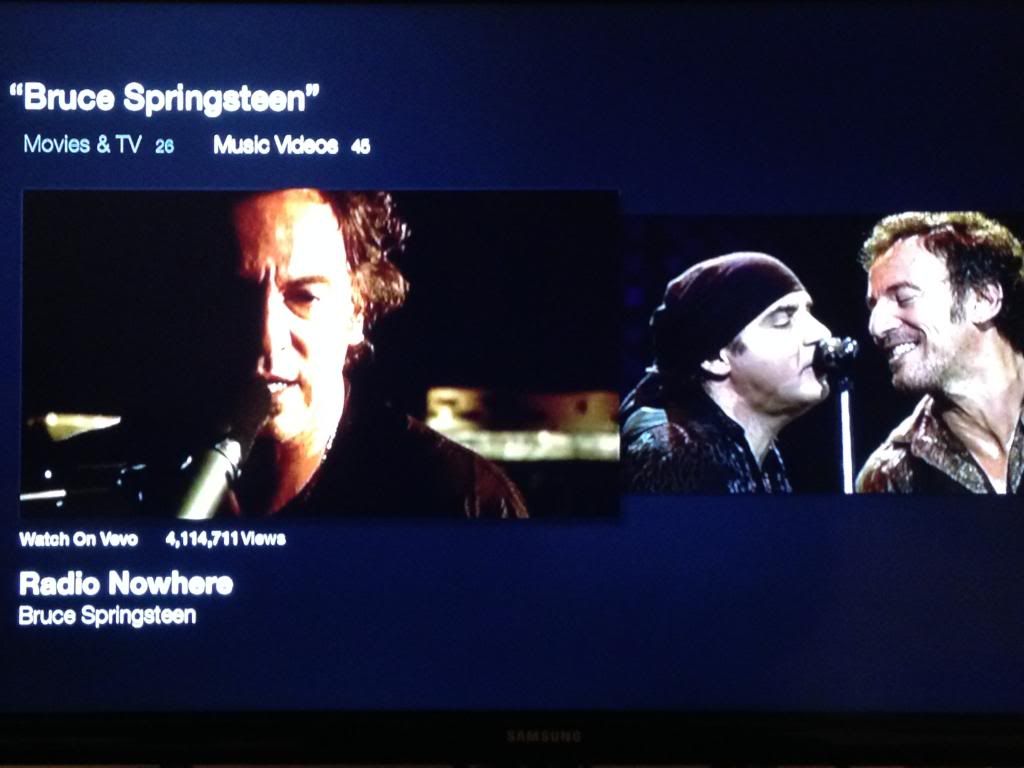 As with Prime, Amazon could charge more for Fire TV and it would still be worth it. Of course, given the competitiveness of the streaming media player market, that's not possible. But, take it from a guy who owns two Roku players, a Chromecast and has played with Apple TV extensively, none of the above have anything on Amazon Fire TV.
Apple only has an edge if you have an extensive iTunes library and/or are locked into the Apple ecosystem, as a consumer of media, the way so many people are with Amazon's more wide-ranging e-commerce fortress.
--Written by Rocco Pendola in Santa Monica, Calif.