NEW YORK (TheStreet) -- I'll take the ribbing for going against the grain on Microsoft (MSFT) as its stock hits and re-hits 52-week highs.
It's all good. Everybody loves Microsoft right now.
Consensus is comfortable. And I'm not afraid to buck it when there's logical reason to do so. If you're riding MSFT's bull run, beware of several things you learned or could have learned from one of 2013's darlings -- Best Buy (BBY).
One -- what happens with a stock doesn't necessarily reflect what's happening or will happen at a company. So feel free to ride the wave, but don't let on-paper profit, realized gains and/or emotion fool you into thinking a good stock equals a good company.
Two -- ignore the Wall Street analysts on names such as MSFT. These guys love consensus. They pile on it. It's like shooting fish in a barrel for them. They issue positive notes. They go into pump mode. They don't care what's taking the stock higher -- euphoria, momentum, false hope. Doesn't matter to the Wall Street crowd. They just pump. And tailor their analyses to fit the pump.
That's exactly what happened with Best Buy. The company's reality caught up with the irrational stock surge. The bottom fell out. And, even then, some cats on Wall Street refused to admit they were wrong.
See Gutless Wall Street Analysts Irresponsible on Best Buy for more on that.
Three -- I was trashed throughout 2013 for my hyper bearishness on Best Buy the company as the stock ran.
But look at the chart, courtesy of Yahoo! (YHOO) Finance ...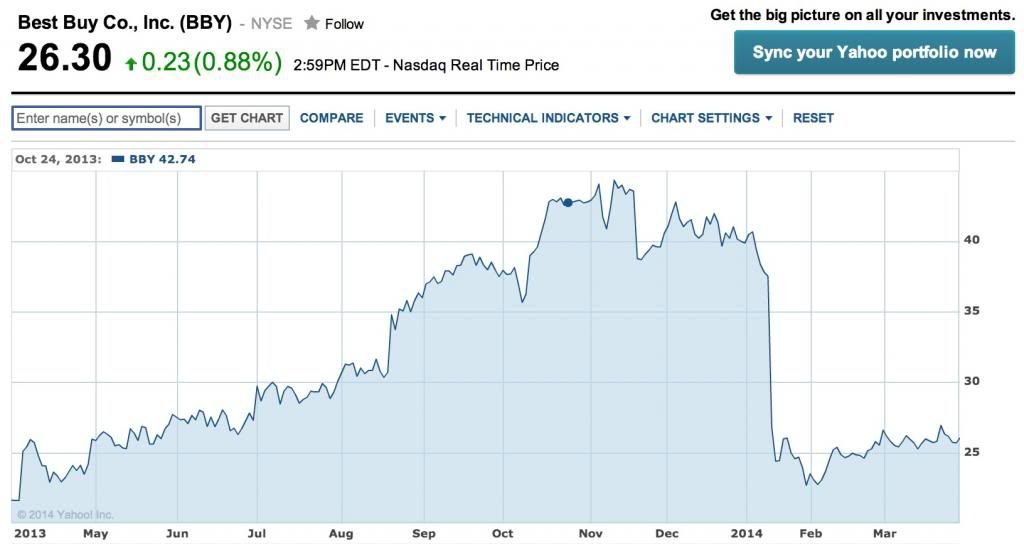 Intuitively -- and intuition is all anybody seems to be going on with Microsoft right now anyway -- it seems as if there's no association between MSFT and BBY.
In some respects, there isn't. Microsoft's fortress balance sheet provides a level of stability (particularly in the stock) Best Buy long pissed away.
However, beyond that, instructive comparisons exist. Both with respect to each company's stock surge (I fully expect MSFT to go higher) and the hollow talk bulls use to pump the companies.
As I mentioned Monday morning, Microsoft has lots in common with dying physical retailers.
First and foremost, the company operates from an almost irreversible potion of weakness (strategically speaking and with the exception of the aforementioned balance sheet).
When he didn't stand still over the last several years, Steve Ballmer made all the wrong moves at Microsoft. He acted a lot like brick and mortar retail by responding to what Apple (AAPL) did with what he thought were credible copies of what Apple did. Didn't work, which is exactly why Nadella was forced to, for all intents and purposes, abandon Microsoft's hardware strategy and shift to its much-ballyhooed "mobile-first, cloud-first" approach.
Along similar lines, physical retailers "responded" with no real strategy or energy to the brow beating Amazon.com (AMZN) continues to give them. They thought the answer was to build better Websites, adopt mobile/digital strategies and, in some cases, offer their own e-readers and/or tablets. With Best Buy as evidence, we know these things, along with burn the furniture to build a fire cost cutting, didn't work either.
Nadella might as well be in charge of Best Buy. It's only a slightly worse gig than the one he has at Microsoft. Because he's in a position where it's almost impossible for him to succeed. Every thing seems to be going his way right now. Just the way it was for Hubert Joly at Best Buy in 2013.
This makes the trajectory of thought I'm pushing seem radical and outlandish. Flame away. Like I said, it's all good. But think beyond the moment and consider the reasons why Microsoft is where it is now and why it's doing the things it's doing. (HINT: They're being dictated by what Apple and Google (GOOG) have already done, even if Apple chooses to play nice.)
Those of us who considered history and exercised vision with Best Buy were able to rightfully separate company from stock in 2013. And, even more importantly, we saw the crash coming when the crowd thought the mere mention of such a thing was insane.
Know what you own. If you're long MSFT right now, it might not be all that different from owning BBY throughout 2013. Don't get too emotional. Don't get too cocky. And don't fall for the fallacy that today's hype portends Microsoft's future.
--Written by Rocco Pendola in Santa Monica, Calif.