NEW YORK (TheStreet) -- Generally, I avoid comments sections on the Internet. They tend to be terribly depressing places to spend your time. However, on occasion, instructive sentiment pops up in the comments.
The latest verbal specimen comes from reaction to Tuesday's With Or Without Apple, Google Will Crush Microsoft:

That's from March 2014 in reference to Google (GOOG) -- and quite possibly Apple (AAPL) -- crushing Microsoft (MSFT) in the consumer and enterprise software and services business.
Consider that comment in association with the wild and crazy things BlackBerry (BBRY) ardents spewed from their misguided mouths in June 2011: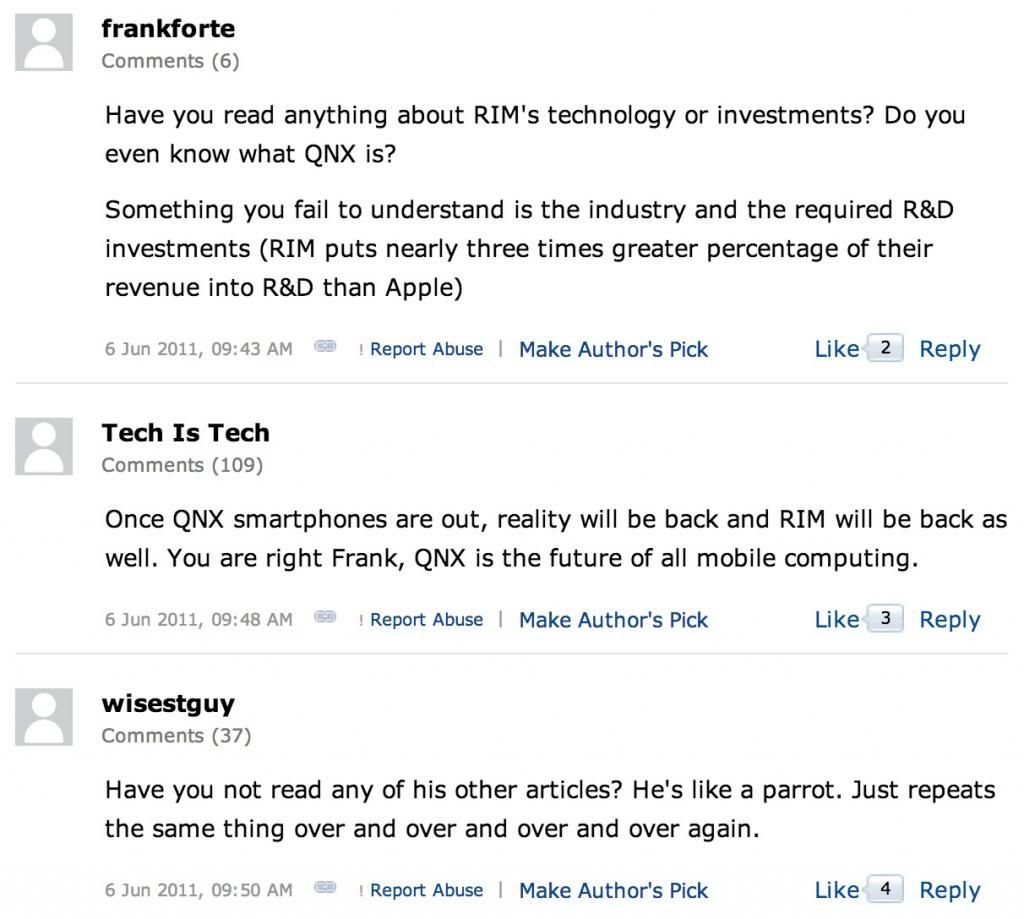 And, of course, throughout 2011 and, for the hyper-tortured soul, into 2012, we saw supporters of the artist formerly known as RIM tout the company's apparent security advantage over Android and iOS -- just like the dude at the outset of this article did with respect to Google decimating Microsoft's software and services dominance.
This was my general response to the 2011 BlackBerry feeble defenses:
Most people, even corporate executives, could care less what ... geeks from the IT department have to say about security. Most CEOs and VPs will respond with "just fix it." ... Employees want to be able to run their entire lives -- personal and business -- on one smartphone and/or tablet that they prefer. Because this is usually an Apple or Anroid-based product, it doesn't mesh seamlessly with corporate activities conducted on BlackBerrys ...
Or, as I put in in late 2012, on TheStreet:
I recall with laughter the debates I had with RIMM bulls last year. They sheepishly ceded failure in the consumer market, but refused to give even a little vis-a-vis the enterprise. Their main point: IT departments would never allow Bring-Your-Own-Device to take hold because of security concerns.
My retort: IT geeks are nobodies within most companies, particularly big ones with lots of employees and SVPs, presidents and CEOs who are millionaires and billionaires. They have no say. They are told what to do and when to do it. Their job is to get it done. Be seen, not heard.
But I must reaffirm something I probably didn't stress enough in 2011 and 2012 vis-a-vis RIM's collapse: It's not like companies compromised security or quality when they dumped BlackBerry for iOS or Android. Same goes for what the Johnny-come-lately tech media will eventually refer to as "the exodus from Microsoft products to Google's suite of offerings."
They'll say it like they knew it was happening all along, even though they neglected to cover it.
Anyhow, to the point -- it's not like you're sacrificing a thing if you opt for Google over Microsoft as a consumer or a business. I tend not to get into this type of minutia all that often because it bores the hell out of me and a majority of readers, but Google's not screwing around:
32% price drop for Google Compute Engine. 68% drop for Cloud Storage. Boom. 85% drop for BigQuery. #GCPLive

Owen Thomas (@owenthomas) March 25, 2014