**To jump directly to the meat and potato pictures, click HERE for Page Three of this article.

NEW YORK (TheStreet) -- In light of fallout from last Saturday's 24 Pictures From a Walmart That Make Sears Look Classy and the follow-up smash Mistreated Walmart Employees Speak Out Against Company, I need to set a few records straight before expressing -- in words and pictures -- some relatively positive Wal-Mart (WMT)-related sentiment:
I'm not practicing Can we make Sarah Palin look dumber than we already think she is? "gotcha" journalism by finding, taking and publishing unflattering images of Walmart and Sears Holdings (SHLD) stores.
The pictures are not the story; rather they contain and/or illustrate the story. Best case -- photographs lead to deeper explanations of what's going on. That's what happened as a result of the 24 I posted of the South LA Walmart.
I'm not pro-union. I'm not anti-union. I'm agnostic, bordering on apathetic. The only time I had a chance to join a union -- AFTRA in Pittsburgh in 1996-97 -- I chose not to even though they said it was mandatory. I didn't see the utility at the time.
I'm not anti-chain store (though, in my younger days, I was). My work on Starbucks (SBUX) attests to that.
My coverage of Walmart isn't political. Not in the least bit. I simply have no dog in that fight.
And, maybe most importantly, I've been interested in and writing about retail for quite some time. In fact, if you scroll my article history, you'll see I hit it from several angles. An interest in the well-established discipline of Walmart patheticism (my word) represents a natural progression.
Sometimes I explore the general sorry state of a large swath of physical retail.
Often, and pursuant to what the present article covers, I consider attempts by big box retail to become more urban (or produce smaller stores, which you generally need to do if you want to tap quintessential or decidedly more urban markets).
For instance, as they started opening across Southern California, I visited several CityTarget stores -- that's Target's (TGT) alleged urban concept.
In late 2012, I published CityTarget: Major Disappointment, but Is It an Epic Failure?. In that article, I came to a conclusion that still stands: Target missed a major opportunity to differentiate itself in urban neighborhoods.
Walk into a CityTarget and you'll be hard pressed to distinguish it from the traditionally big box, suburban Targets you have come to know and have your personal banking information stolen from. In fact, as I described in the above-linked article, there's not even a noticeable square footage difference between Target store types:
On average, SuperTargets take up the most square footage at 177,291 apiece. Expanded food stores come in at 129,281 per. General merchandise stores run 119,084 square feet each. And CityTargets are not too far behind thus far at 102,800 square feet per location.
I ran the most recent numbers and there's been no meaningful change in those numbers over the last couple of years. 75,000 square feet might sound like a lot; however, in practice, it doesn't feel like it. CityTarget is little more than Target's slightly smaller stepchild.
In terms of doing urban (or smaller stores in pseudo-urban or suburban locations) and doing it relatively well, Walmart wins. In fact, it renders Target an embarrassment.
Whereas Target made slight adaptations to its standard fare store, Walmart's urban (and smaller store) concept -- Walmart Neighborhood Market -- feels like a completely different experience. You don't feel quite like you're in a Walmart that just so happens to be smaller. You actually feel as if, on some level, Walmart reinvented itself for dense spaces inside core traditional city neighborhoods and to diversify its business in places where it already operates.
Don't get me wrong -- Walmart hasn't necessarily innovated like Amazon.com (AMZN) with the neighborhood market concept. However, it didn't mail it in the way Target has. Relative to today's pitiful physical retail environment that's a small victory worth texting home about.
And it speaks to the controversy last Saturday's article and the events of the past week triggered:
Walmart can -- with a little love and attention -- do things well.

We'll drive ourselves insane trying to determine why one store's clean while another's a disgusting mess. But I think we can agree there's no excuse for the latter. And, as many of its own people stated so loudly and clearly, Walmart corporate deserves your scorn for its alleged mismanagement and mistreatment of many of its retail workers. Of course that's nothing new at Walmart. However, going into last week's articles I had no idea, for example, just how bad the problem of understaffing, which leads directly to the unkempt stores, is.
We can also agree that, where opportunity exists, Walmart can put its best foot forward.
I'm uncertain if Walmart Neighborhood Market staffers are any more content (or less discontent) than workers at "regular" Walmarts. Maybe we'll find out in the aftermath of this article. But I can state, with confidence, that on the basis of appearance, these smaller, urban-formatted operations provide hope that Walmart can do right by its customers as well as its brand (which, in many hearts and minds, is iconic if not respected).
I visited and photographed the Walmart Neighborhood Market on the perimeter of Downtown Los Angeles. It's part of a mixed-used development just past where Sunset Boulevard turns into Cesar Chavez Boulevard and makes its way into and past downtown.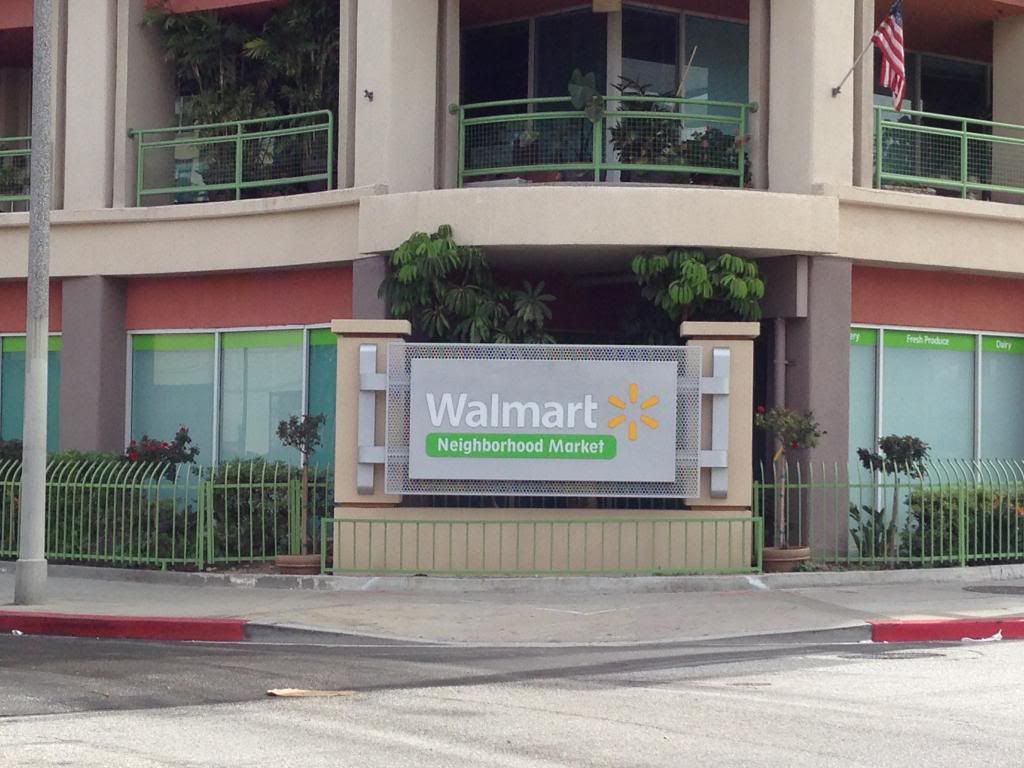 As the images and explanations on the subsequent pages of this article detail, this store represents pretty much the complete opposite -- in both look and feel -- of what we showed you last week from that South LA Walmart store.
It's difficult to put into words, but from the moment you pull in the (well-organized and well-attended) parking garage of this Downtown LA Walmart Neighborhood Market, you feel the difference. It's an inviting space. Immediately, you receive the signal that somebody cares.
Given Walmart's urban opportunity and its considerable success with the Neighborhood Market concept (the company will do over $8 billion in sales this fiscal year in that space), it's no surprise corporate cares, which appears to impact the way things get done on the ground.
As a not-so-aside ... an interesting note from the investor conference transcript where I pulled the $8B stat in the last paragraph:
... you can put a neighborhood market in close proximity to a supercenter and we see an additional $300 a year from customer spent based on traceable tenders. So, its just additive to our business because they are different trips, because they shop differently, stock-up trip at the supercenter on the weekend, fill-in trip at the neighborhood market during the week.
We also have had great success in new markets and with new customers who are now accessing our brand in a more convenient way right in their neighborhood.
If I had the resources, I would love to do a study that measured the condition of Walmart Supercenters and such on the basis of their proximity to Neighborhood Markets.
But I digress ...
In the South LA images, when something was out of place, a shelf was empty or a cart was sitting in an isle, it looked bad. It looked like and -- I'm pretty confident in saying -- it was neglect. As a customer, I felt like I was slumming it ... that Walmart was providing me with an inferior experience. They were slapping me in the face.
Maybe a visual can help explain what I mean ...
Compare this ...
... to this ...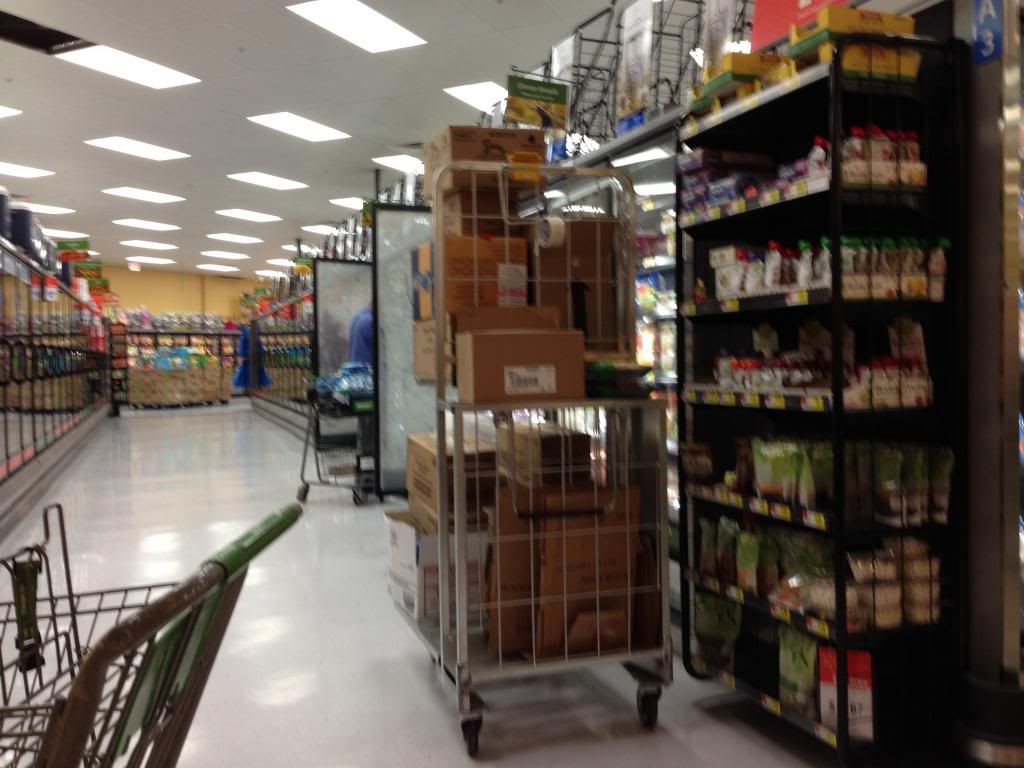 There's a worker behind that cart full of boxes restocking a freezer. Throughout the store, if there was inventory on the floor, it was being attended to. That sends the signal to the customer that Walmart's on top of things. That it's making sure it's giving the customer what it needs with as little disruption or disarray as possible.
The same goes for this shot from the pharmacy, which is actually located adjacent (you walk across a corridor that also connects to the parking garage) to the larger Neighborhood Market. The shopping carts absolutely contain items about to be stocked or restocked. However, unlike what we saw in South LA, there's an employee you can see moving about and set to make quick order of the task.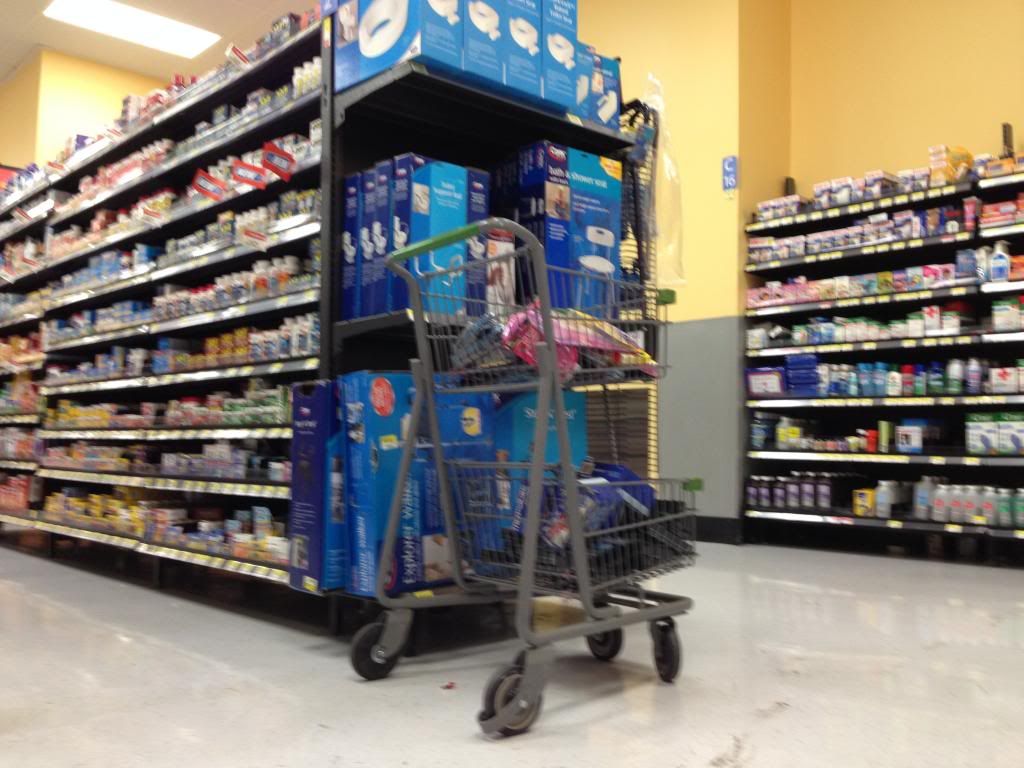 In the main store, same thing.
Empty magazine racks at the checkout ... it's being taken care of ...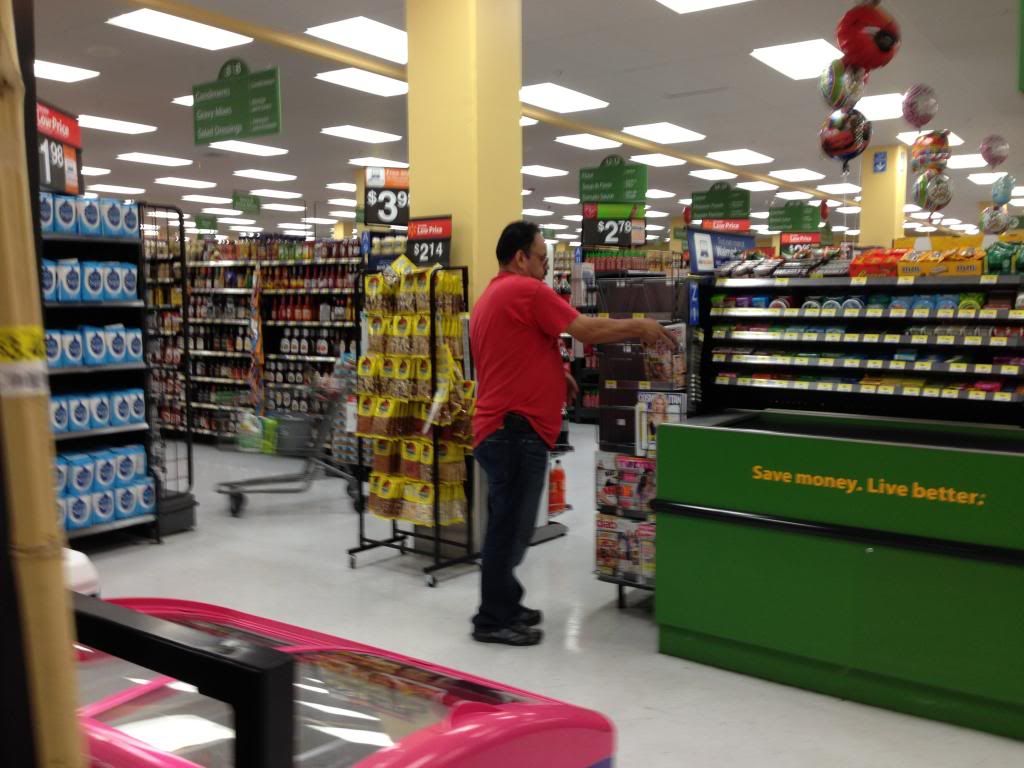 Same deal in bread and baked goods ...
And even where you find empty spaces on shelves ... it's just not the same. The pictures tell the story ...
South LA Walmart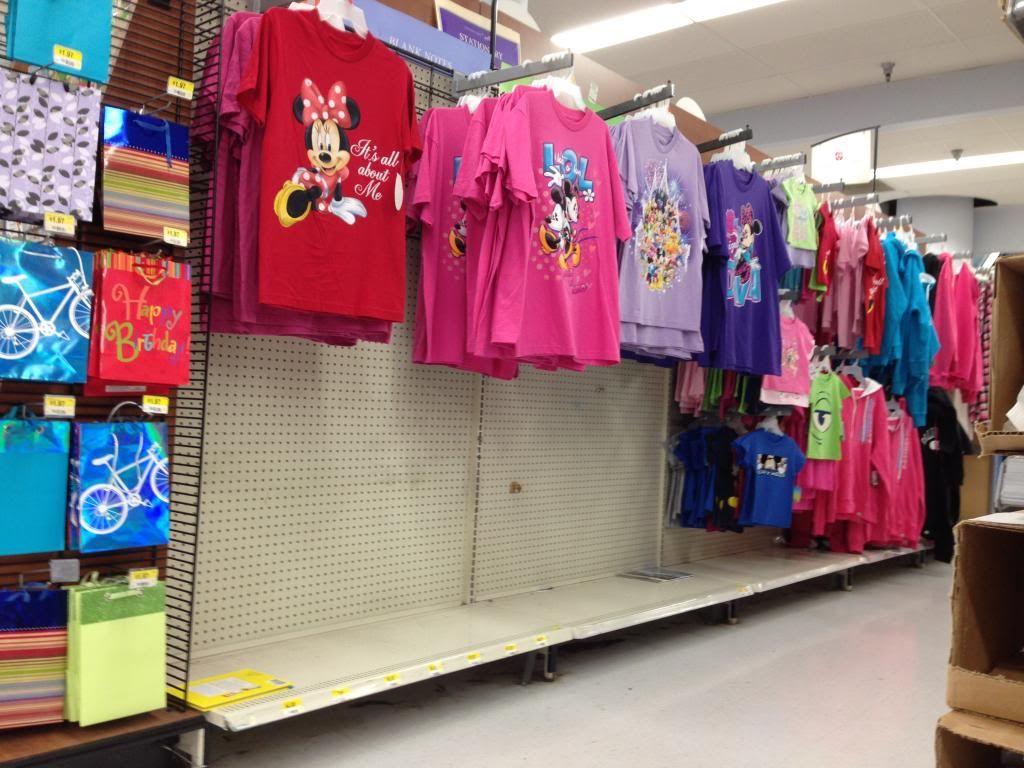 Downtown LA Walmart Neighborhood Market
South LA Walmart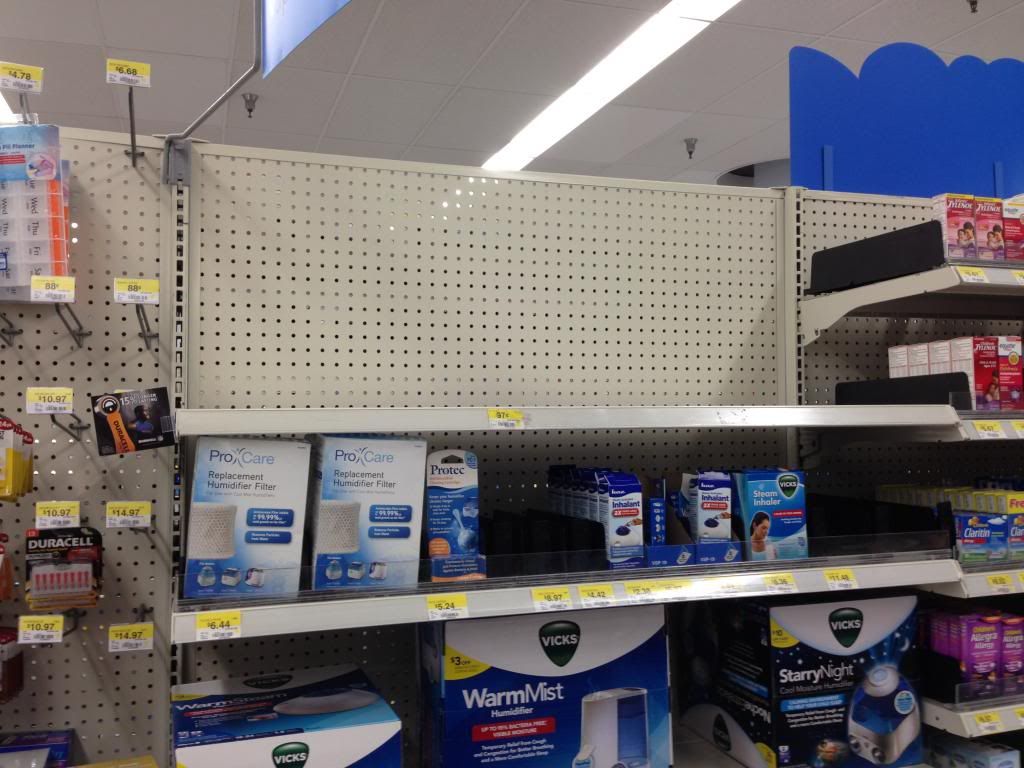 Downtown LA Walmart Neighborhood Market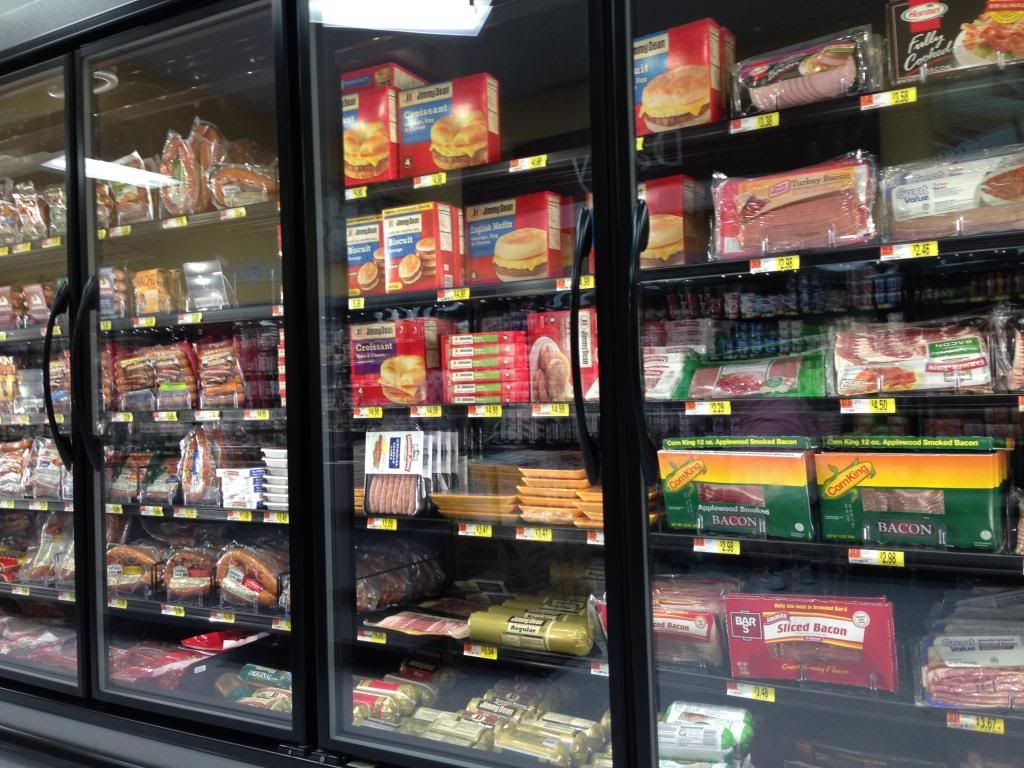 There's even a "spill station" set up in some aisles at this Neighborhood Market ...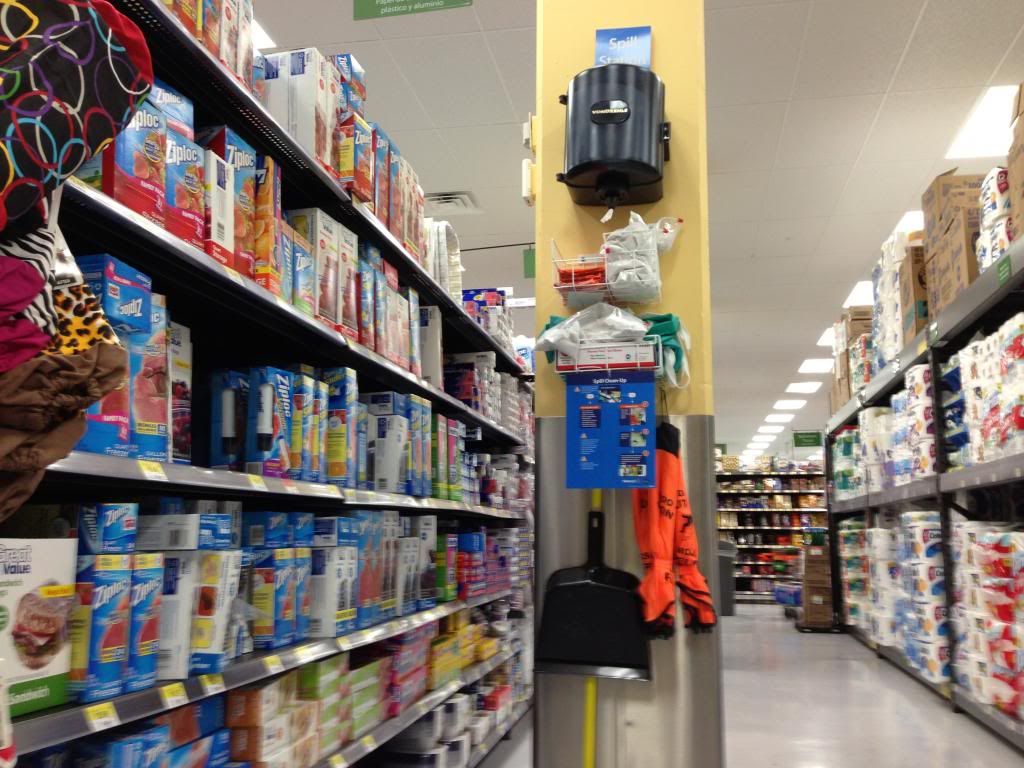 It might be a bit of stretch, but, in all seriousness, if you stripped away the signage (the prices give it away!) and went in at your least critical, you could confuse the produce section at the Walmart Neighborhood Market with the same at Whole Foods Market (WFM).
That's high praise ...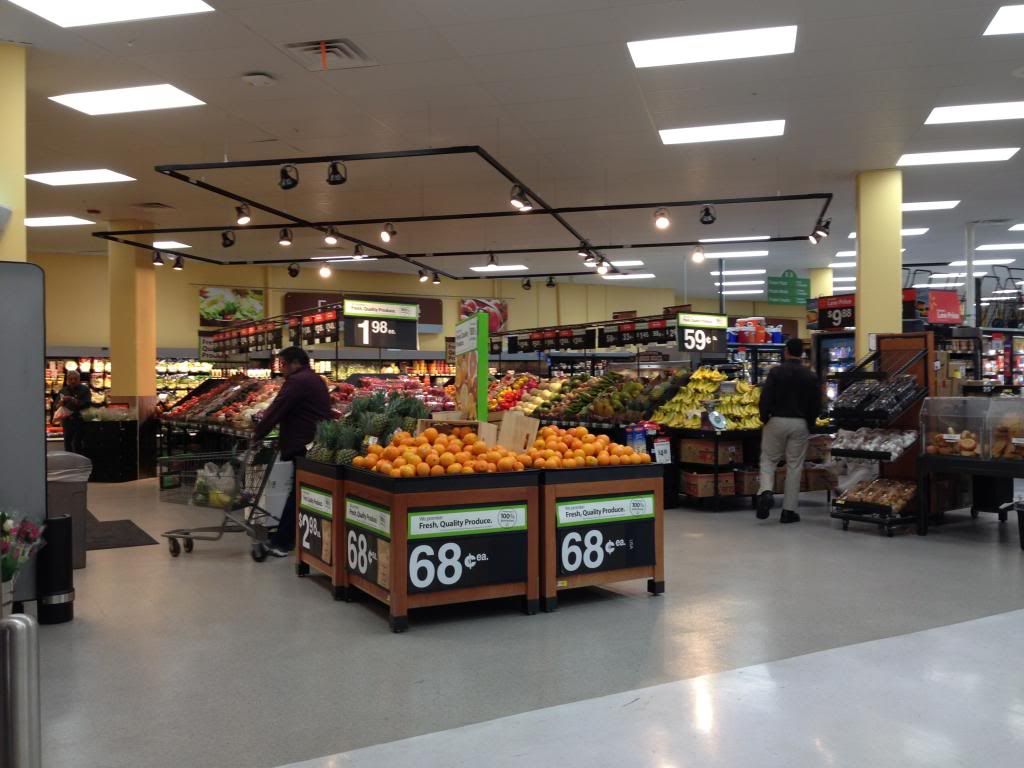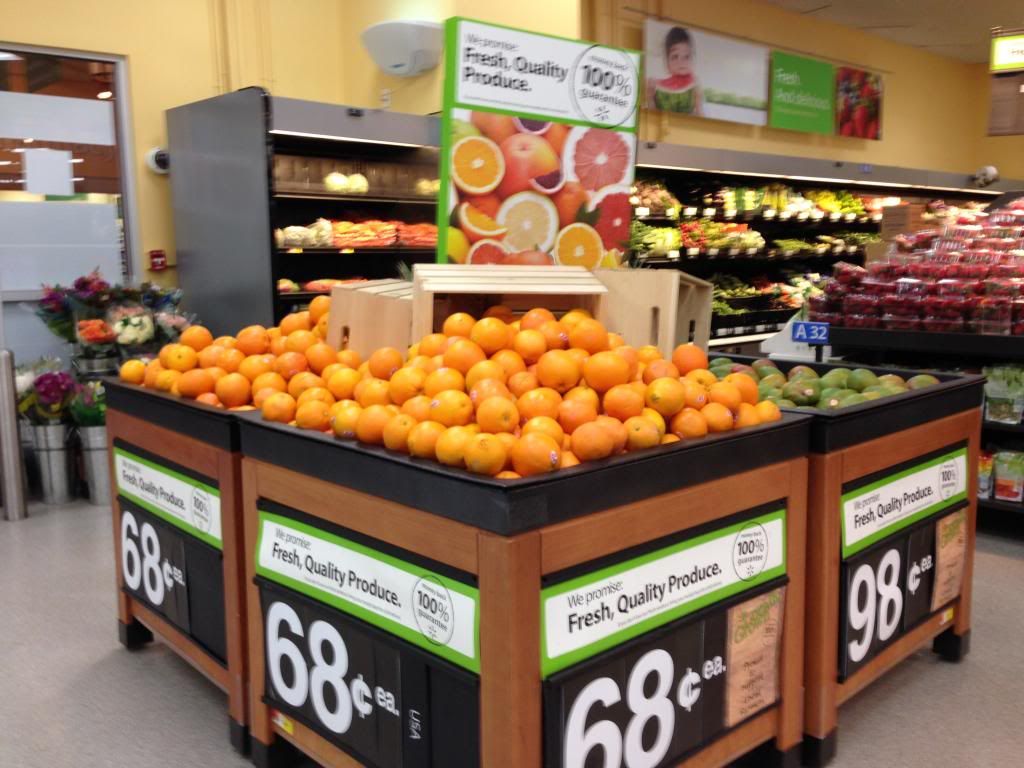 Even the meat looks good ...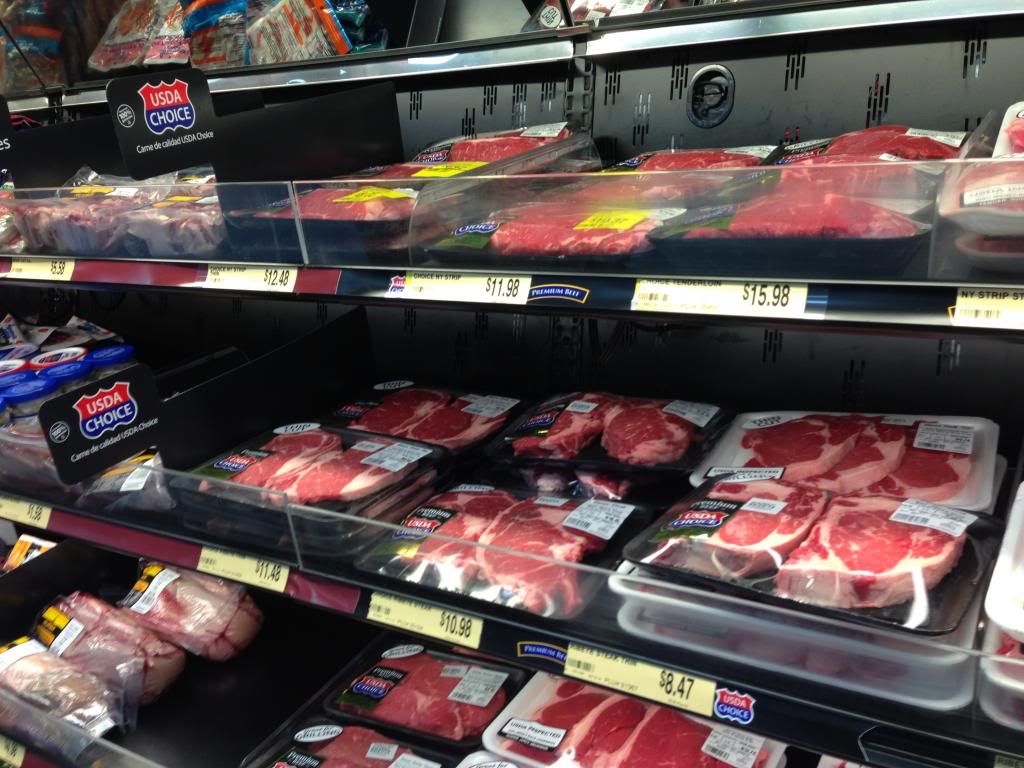 As does the timely display (it's already warm in Southern California; in fact it has been for months!) when you walk in the door ...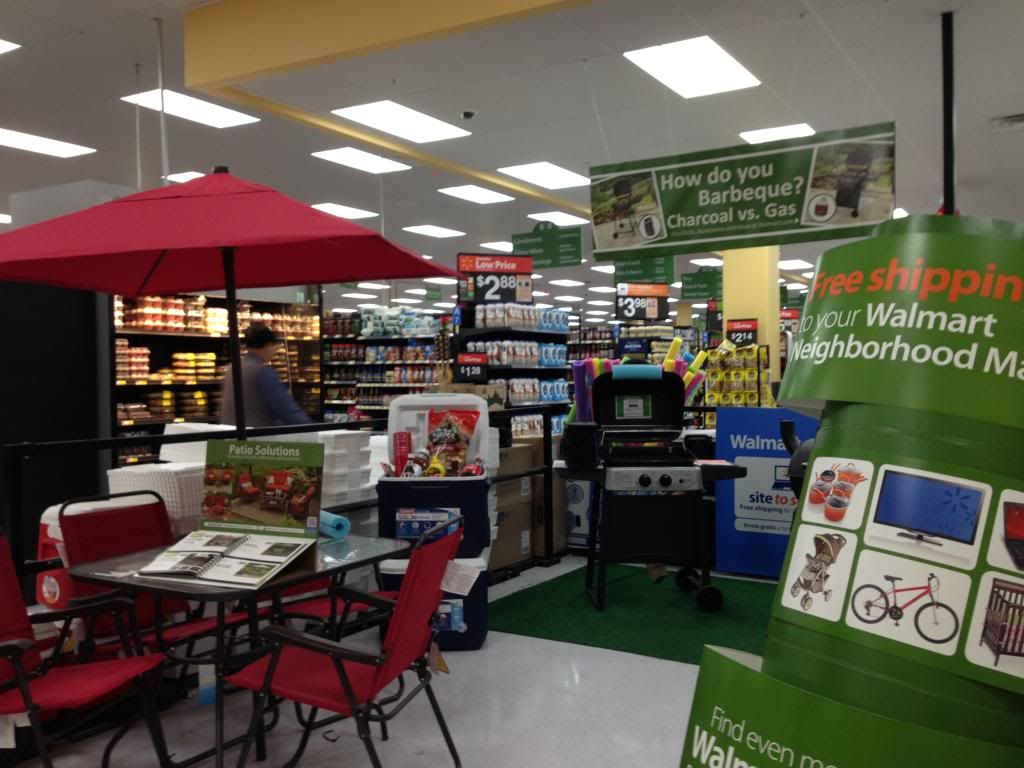 And, of course, it's Walmart so they carry the staples ...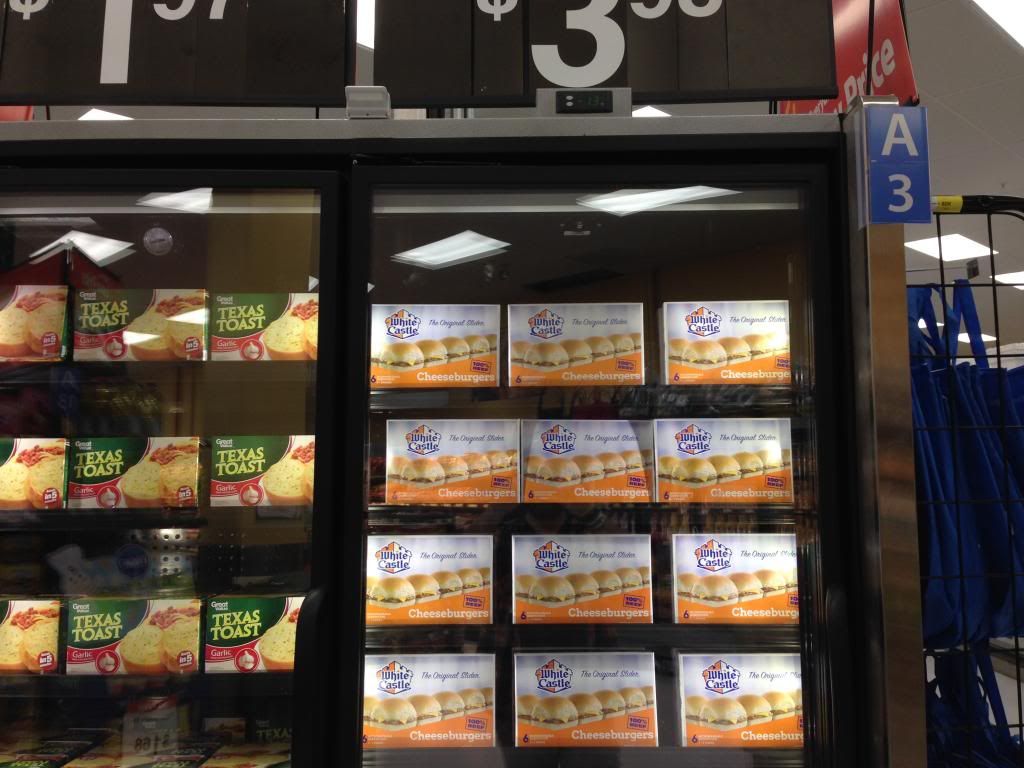 In the shell of a nut -- all else equal (as in I didn't know Walmart's history, never wrote last week's article and fielded the response to it) -- I would shop here. Gladly. Relative to what's out there, it's a beautiful store. Generally a step or two below great local markets and Whole Foods or Trader Joe's. But it works. And works well. Based on the $8 billion number, it appears that, in the literal sense, it's working really well for Walmart also.
If Walmart could send some of the TLC this store obviously receives to South LA, the other trashed stores we have heard about this week and its employees across the board ... then we would really have something.
--Written by Rocco Pendola in Santa Monica, Calif.