NEW YORK (TheStreet) --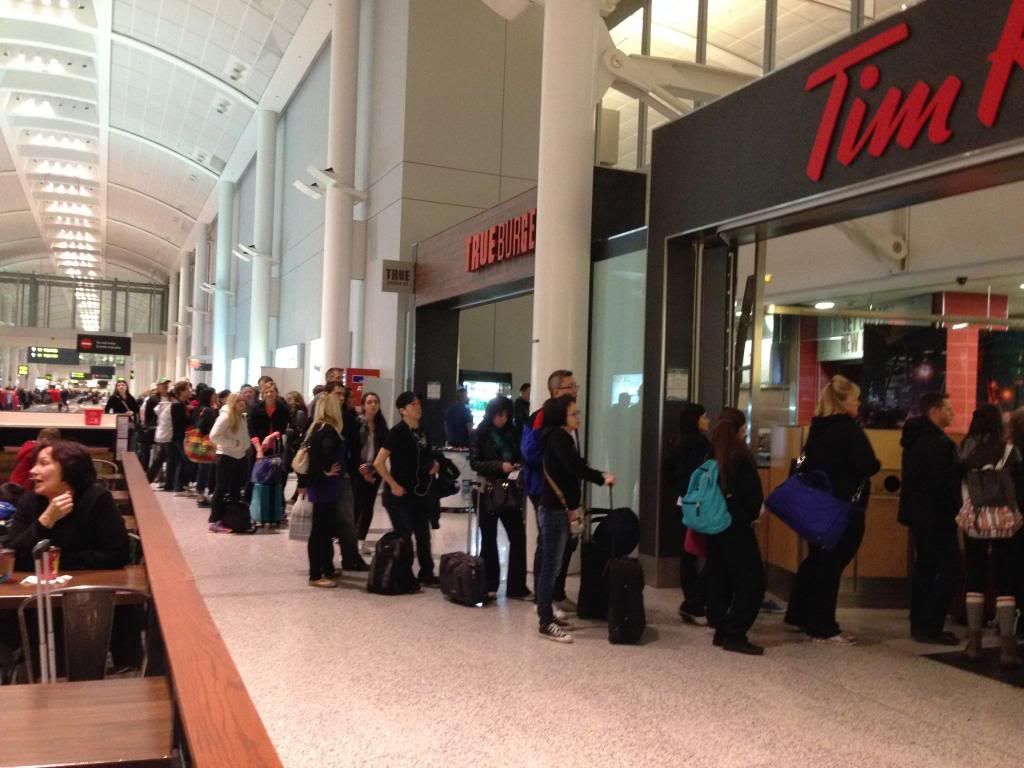 That was the scene this past Sunday morning inside Terminal 1 at Toronto's Pearson International Airport. A line, presumably full of Canadians and other human species, waiting a long time ... a long, long time ... to secure coffee and donuts from Tim Hortons (THI).
I see that line and I'm like no way. So it's onto the newsstand across the corridor for a bottle of Evian and the temptation I overcame for a Coffee Crisp. That'll hold me over until I settle in for a subpar flight on an airline -- sadly -- not named Virgin America.
But here's the deal -- I hear lots of people saying buy Tim's stock because of U.S. expansion. That's not where the upside resides for me. While the company says it will be "strategic" as it opens about 50 stores in the States this year, the competition it faces will be fierce. A majority of the stores Tim Hortons opened in 2013 and will open in 2014 will be outside the U.S., particularly in Canada where the real action's at.
In the U.S., Tim's competes with Dunkin' Donuts (DNKN), Starbucks (SBUX) and McDonalds (MCD).
I've consumed my share of Tim's products. And as much as I (sort of) love them, they're not even close to superior to the same or similar offerings at Dunkin', Starbucks and McDonalds. I'm not a coffee drinker, but I have to think the same holds true there.
The edge Tim Hortons has in Canada is the same edge the sport of hockey has. It's engrained in Canadian culture. They'll wait in line for it over there. They'll support Tim's in Canada simply because it's Tim's. That same dynamic simply doesn't exist here. At first, Tim Hortons will be a novelty in new U.S. markets. Once that wears off, it has to stand on its own against already-established American giants.
Looking at it that way, I A) wouldn't get too excited about the company's chances in the States, but B) I would give it a look thanks to a still aggressive expansion in Canada, where it can count on a healthy dose of nationalism to help fuel its success.
--Written by Rocco Pendola in Santa Monica, Calif.